How to Install Additional SOLIDWORKS Add-Ins – Composer, Plastics, Inspection, MBD, and Simulation 
Now you're ready to upgrade to SOLIDWORKS 2023. You've gone through the What's New content and you're excited about the new features. But you have a question: How do I install my additional SOLIDWORKS add-ins beyond CAD?
Well, the first thing to know is that you install all of these products through the SOLIDWORKS installation manager. To download the installation manager, you will need to click the SOLIDWORKS download link.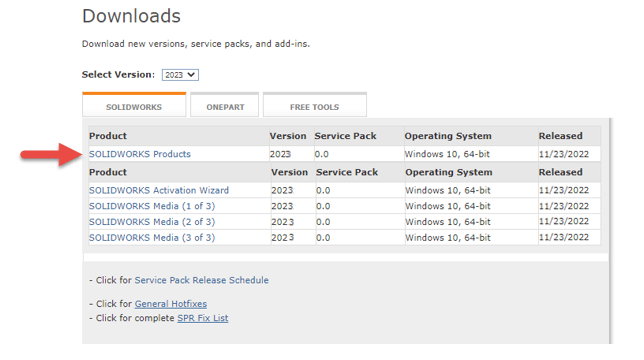 Next, run the installation manager and enter the serial number for your products.
If you have all your licenses set up to be renewed at the same time, you may have only one SOLIDWORKS serial number for all your assets. In this case, you only need to enter a serial number under the SOLIDWORKS serial number and not each individual product.
If you have separate individual seats of Composer, Plastics, Inspection, MBD, or Simulation that are not tied to your SOLIDWORKS seat, then you will have a separate serial number for each product.
Breaking Down The Additional SOLIDWORKS Add-Ins
Let's break down each of the tools you might be working with. Then, I'll show you the process to follow when you're ready to install your additional SOLIDWORKS add-ins. First up, let's dig into SOLIDWORKS Composer.
SOLIDWORKS Composer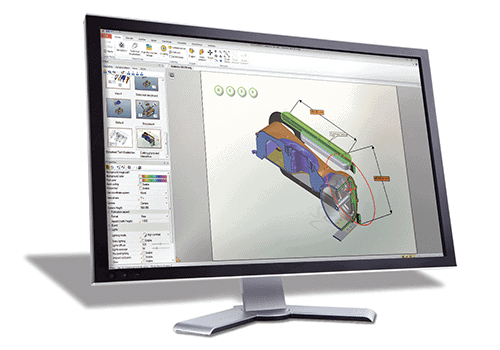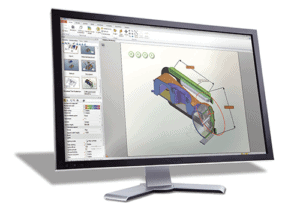 Composer is a desktop content-creation system that enables the reuse of digital 3D data from CAD and other sources. Easy-to-use, Composer lets you quickly create assembly and disassembly procedures, technical illustrations, interactive 3D animations, training materials, marketing materials, sales tools, and more.
Composer Capabilities
Composer allows users in sales, marketing, customer service, training, support, and manufacturing to create associated 2D and 3D product deliverables directly from digital product data – without requiring CAD knowledge or CAD training.
SOLIDWORKS Composer has the following capabilities:
Based on a lightweight, open, XML-based architecture.
Creates 3D interactive documents such as interactive assembly and service procedures.
Creates high-resolution raster images including BMP, JPG, PNG, and TIF files.
Produces 2D line art as SVG and CGM files with automatic hidden line and construction line removal.
Adds annotations, labels, dimensions, arrows, images, and cutting planes that can be used in any way and format the user wishes.
Controls visual consistency of content using styles.
Imports data from many 3D CAD systems and can be maintained in the file system or in any PLM system.
Outputs industry-standard file formats, including PDF, HTML, AVI, and graphics formats like SVG and CGM.
Document a product while it is incomplete, push updates to all deliverables quickly and the animation timeline easily.
Uses occlusion detection to find internal, non-visible parts on a single view, all views, or
Uses decimation to reduce the tessellation of selected parts to reduce the size of the .smg file.
What is the Composer Player/Player Pro
Composer Player includes:
A standalone executable (.exe) file that does not require any installation or advanced operating system permissions.
ActiveX control that you must register during the installation (advanced operating system permissions are required for the installation only).

Note: The Composer Player ActiveX plug-in requires Internet Explorer.
With a Composer Player Pro license, you get all the capabilities of the free Composer Player and the following additional premium features:
The ability to save content that has been edited in the Player. (Saving content also requires the Save Right Manager right.)
An advanced ActiveX API that enables enhanced integration and interaction in custom applications.
Composer Player and Composer Player Pro are the same executable file. A Composer Player Pro license is required to enable Pro features.
What is Composer Sync
Sync and Enterprise Sync batch convert 3D CAD files and other 3D formats into Composer formats. Sync and Enterprise Sync automatically incorporate design changes in geometry, metadata, and product structure directly into Composer content.
Both Sync and Enterprise Sync let you configure and perform conversions from the graphical user interface. Enterprise Sync also includes:
A command-line interface that lets you integrate with other software, such as product lifecycle management (PLM) systems. For details about the command-line interface, see the Composer Programming Guide.
The ability to run scheduled batch conversions.
SOLIDWORKS Plastics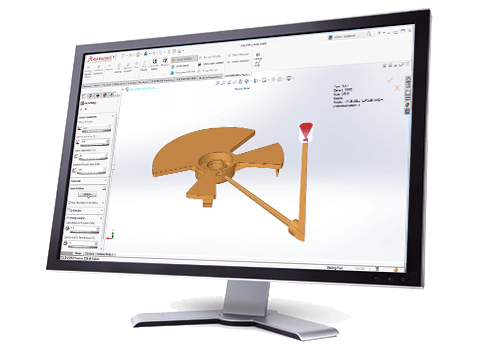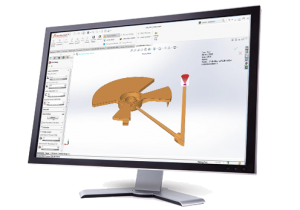 SOLIDWORKS Plastics is a powerful injection molding simulation tool that helps you optimize the design and manufacturability of your plastic parts and injection molds. It is fully integrated with the SOLIDWORKS application.
SOLIDWORKS Plastics simulates the injection molding manufacturing process where melted plastic material (in the form of small pellets) flows under high pressure through a heated barrel and into a mold cavity. Once the plastic material cools down, it solidifies into the shape of the mold contour and conforms to the geometry of the desired part.
Plastics is not a standalone application, so you will need to install SOLIDWORKS as well. If your Plastics has the same serial number as SOLIDWORKS you will not need to fill in the SOLIDWORKS Plastics serial number.
SOLIDWORKS Inspection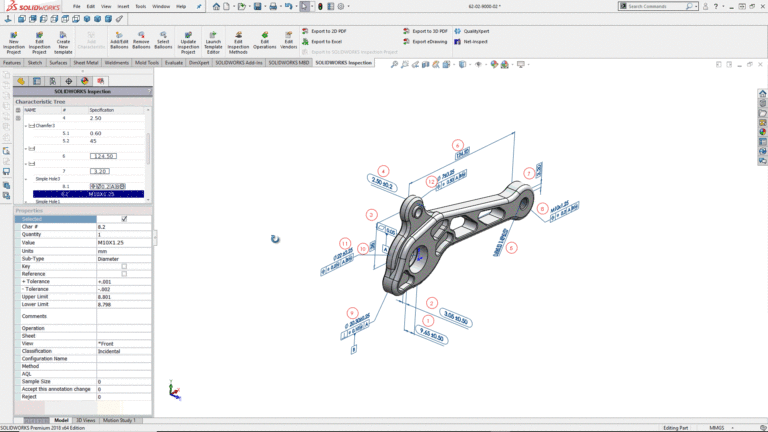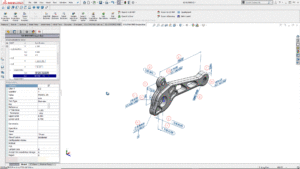 SOLIDWORKS Inspection software automates the creation of ballooned inspection drawings and inspection sheets for First Article Inspection (FAI) and in-process inspections. Save time and virtually eliminate errors by speeding up this repetitive manual process.
SOLIDWORKS® Inspection helps you leverage your existing 2D legacy data, regardless of whether files are SOLIDWORKS, PDFs, or TIFFs.
Inspection can be installed as an add-in inside of SOLIDWORKS or as a standalone application. If you are installing it as an add-in you will need to install SOLIDWORKS as well. If your Inspection has the same serial number as SOLIDWORKS you do not need to fill in the SOLIDWORKS Inspection serial number.
SOLIDWORKS MBD (Model Based Definition)
SOLIDWORKS MBD (Model Based Definition) is an integrated drawingless manufacturing solution for SOLIDWORKS. MBD helps define, organize, and publish 3D Product Manufacturing Information (PMI) including 3D model data in industry-standard file formats. It guides the manufacturing process directly in 3D, which helps streamline production, cut cycle time, reduce errors, and support industry standards.
SOLIDWORKS MBD (Model Based Definition) lets you create models without the need for drawings giving you an integrated manufacturing solution for the SOLIDWORKS software. You can use SOLIDWORKS technologies such as annotation views, dynamic viewing of annotation planes, and 3D views to organize 3D PMI in a structured, easy-to-locate fashion.
Besides the native SOLIDWORKS file formats, SOLIDWORKS MBD creates output files such as 3D PDFs and eDrawings.
The SOLIDWORKS MBD add-in:
Operates within the SOLIDWORKS environment with its own Command Manager.
SOLIDWORKS MBD CommandManager for parts

SOLIDWORKS MBD Command Manager for assemblies
Like SOLIDWORKS Plastics, MBD is not a standalone application, so you will need to install SOLIDWORKS as well. As well, if your MBD has the same serial number as SOLIDWORKS you won't need to fill in the SOLIDWORKS MBD serial number.
SOLIDWORKS Simulation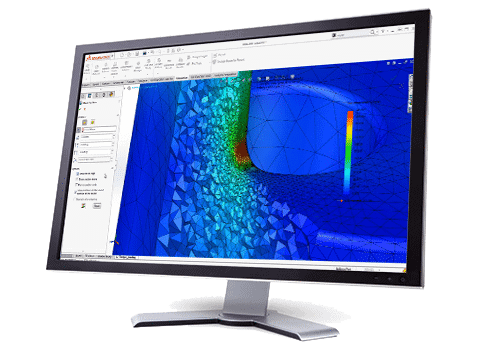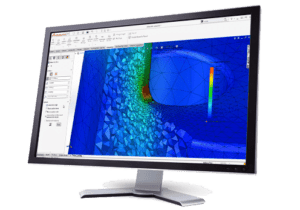 SOLIDWORKS® Simulation is a design analysis system fully integrated with SOLIDWORKS. This provides simulation solutions for linear and nonlinear static, frequency, buckling, thermal, fatigue, pressure vessel, drop test, linear and nonlinear dynamic, and optimization analyses.
Powered by fast and accurate solvers, SOLIDWORKS Simulation enables you to solve large problems intuitively while you design. SOLIDWORKS Simulation comes in three bundles: SOLIDWORKS Simulation Standard, SOLIDWORKS Simulation Professional, and SOLIDWORKS Simulation Premium to meet your analysis needs.
SOLIDWORKS Simulation shortens time to market by saving time and effort in searching for the optimum design.
Simulation is the same story that we've seen before. It is not a standalone application, so you will need to install SOLIDWORKS as well. You may have a separate serial number for SOLIDWORKS Simulation, in which case, you'll enter that separately from CAD.
SOLIDWORKS Flow Simulation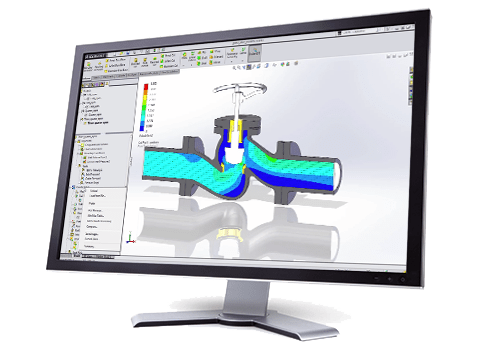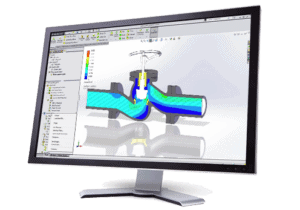 Flow Simulation is a software fully integrated with SOLIDWORKS for computing fluid (gas or liquid) flows inside and outside SOLIDWORKS models, as well as heat transfer to (from, between, in) these models due to convection, radiation, and conduction with a proved computational fluid dynamics (CFD) technology.
The outstanding feature of Flow Simulation is its intuitively clear and comfortable interface including a preprocessor for specifying data for the calculation (with Engineering Database on substances properties), a co-processor for monitoring and controlling the calculation, a postprocessor for viewing the obtained results, giving you more time to study the results and varying the calculations.
Designed by engineers for engineers, Flow Simulation is widely used in many industries and for various applications, where design optimization and performance analysis are extremely important, such as valves and regulators, hydraulic and pneumatic components, heat exchangers, automotive parts, electronics, and many others.
Once again, Flow Simulation is not a standalone application, so follow the same rules we've discussed previously.
SOLIDWORKS Motion
SOLIDWORKS Motion works inside the SOLIDWORKS window and uses existing assembly information to build motion simulation studies. By combining physics-based motion with assembly information, you can use SOLIDWORKS Motion for a broad span of industry applications like estimating peak motor torque, understanding robotics performance during operation, optimizing or minimizing the force imbalances in rotating systems, etc.
The Motion serial number could be separate from SOLIDWORKS but it is the same installation. As we've said for several previous applications, SOLIDWORKS Motion is not a separate tool.
How To Install Your Additional SOLIDWORKS Add-Ins
The installation process is pretty straightforward. First, launch the installation manager that you downloaded earlier. Once you get to the serial number screen, enter any serial numbers for additional products.
Now, SOLIDWORKS will validate the serial number. This can take a few seconds.
Next, you have the option if you want to upgrade a previous version of SOLIDWORKS or start fresh. You can have multiple versions installed, it just takes up more disk space.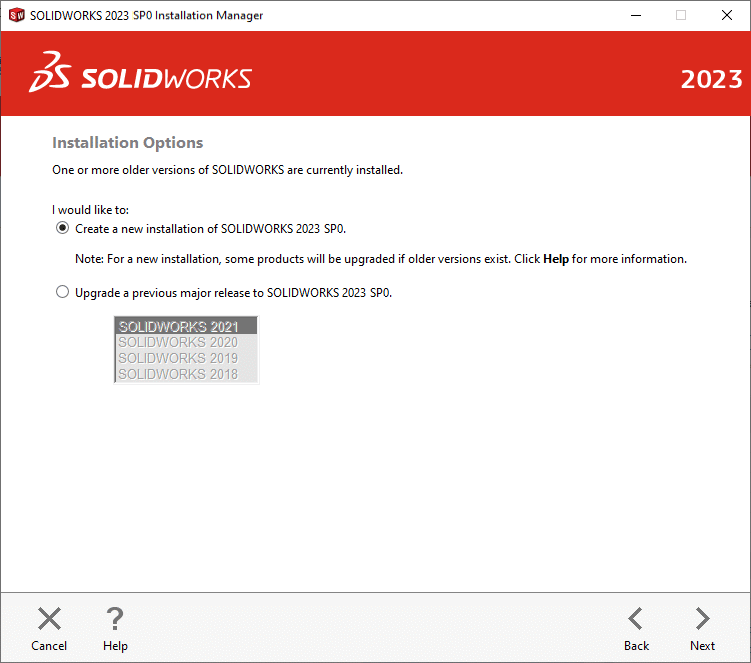 On the Summary page, SOLIDWORKS displays all of the products that it's adding to your installation. If the list doesn't contain every additional SOLIDWORKS add-in you want to install, select Change under the Products header and add them from the list.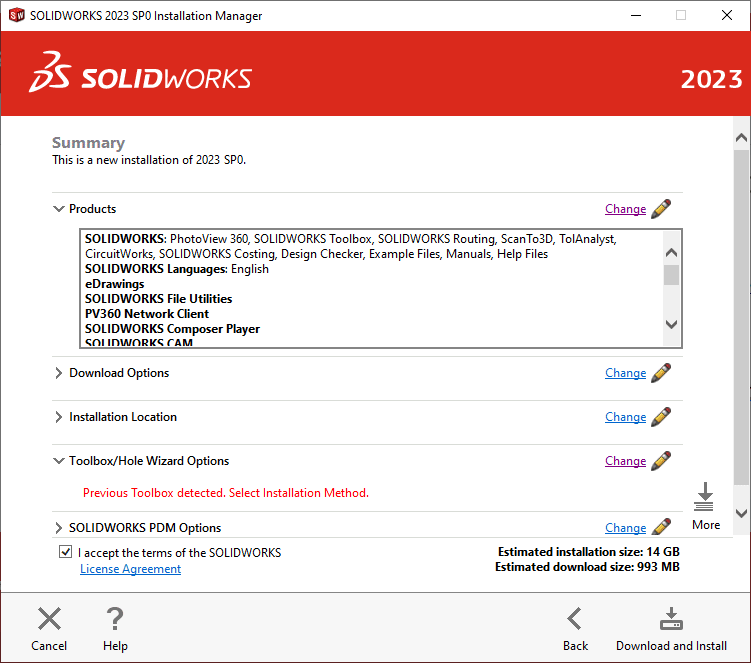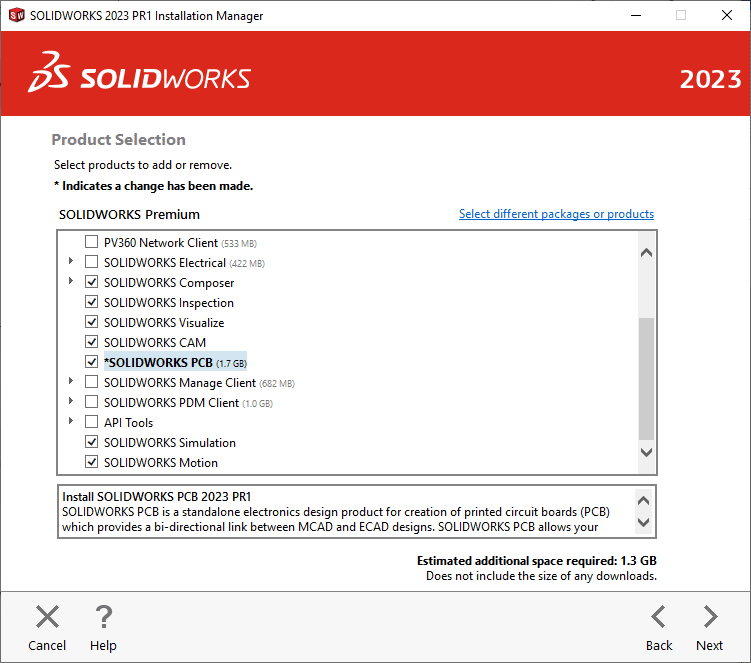 Finally, click the Install Now button.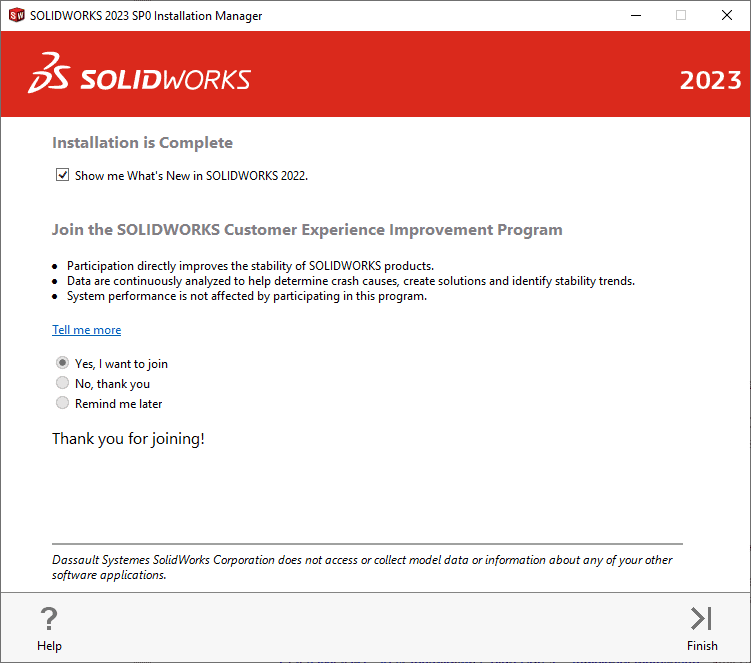 As for the SOLIDWORKS Customer Experience Improvement Program, it is voluntary. That said, we strongly encourage participation. Participating will not slow down your system! SOLIDWORKS automatically creates the performance log files in the background whether you participate or not. So please make sure to opt in!! This program helps SOLIDWORKS improve product quality and determine product usage trends.
We hope this series has given you insight into how to successfully install SOLIDWORKS 2023. Please check back to the CATI Blog as the Dedicated Support Team will continue posting new series of articles every month that go further into the details of many of the SOLIDWORKS tools.
Blaze Johnson
Support Engineer
Computer Aided Technology,LLC.