Installing SOLIDWORKS 2017 Visualize Products
Installing SOLIDWORKS 2017 Visualize Products
In the world of photo-realistic rendering software, SOLIDWORKS Visualization Products are hard to beat. Introduced in 2016, SOLIDWORKS Visualize was a "quantum leap" addition to the existing SOLIDWORKS Photoview 360 in terms of rendering functionality and quality. In this article, we will be talking about some of the changes to look out for regarding licensing/installation aspects of Visualize 2017 as well as clarifications on Visualize 2016.
Recall that SOLIDWORKS Visualize is offered in both Standard and Professional and can operate as a standalone program. A complimentary seat of SOLIDWORKS Visualize Standard is included with each SOLIDWORKS Professional and Premium CAD license on active subscription. For a list of the current features in each package of the SOLIDWORKS Visualize software, see the matrix at the following link:
http://www.solidworks.com/sw/products/visualization/solidworks-visualization-matrix.htm
Unlike SOLIDWORKS Photoview 360, which is installed by default as part of SOLIDWORKS Professional and Premium CAD packages, the 2016 SOLIDWORKS Visualize installation process requires a bit more finagling. To see a very thorough description of this procedure, please refer to the following blog article:
https://www.cati.com/blog/2016/07/how-to-install-activate-solidworks-visualize/
One of the major differences with SOLIDWORKS Visualize 2017 is that it now takes its own unique serial number and is included as an option in the Installation Manager, much the same as other SOLIDWORKS standalone products such as Simulation, Inspection, and PDM. This makes the installation process much simpler.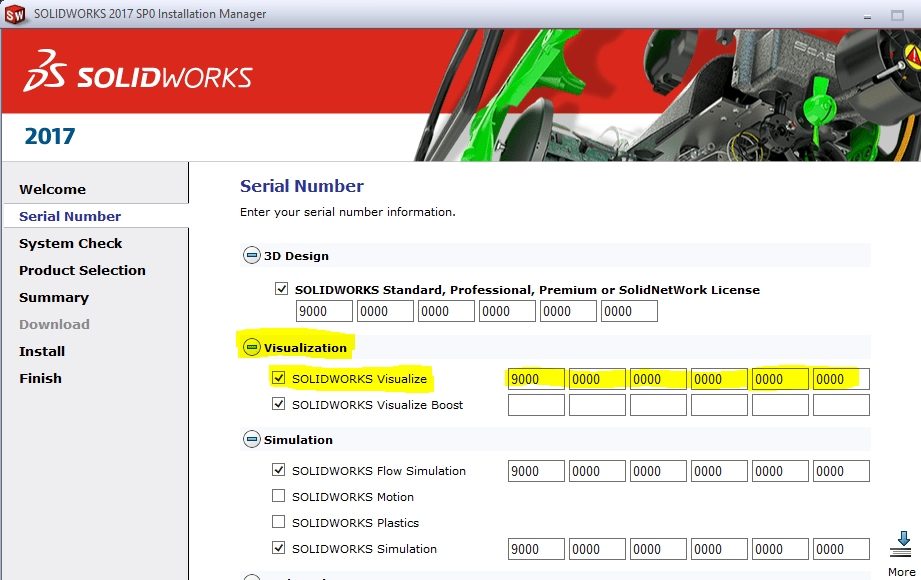 Notice there is also an option for Visualize Boost, a standalone software (with its own serial number) that can be installed on peripheral machines. This way users can continue working on their primary computers without getting bogged down during the rendering process. It should be noted that Visualize Boost is a product add-on for Visualize Professional only – it does not work with Visualize Standard. It should be installed on a system separate from the one running Visualize Professional.
Although SOLIDWORKS Visualize Standard is complementary for Professional and Premium CAD packages, please note that using your 2016 SOLIDWORKS CAD Professional or Premium serial number will no longer activate a seat of SOLIDWORKS Visualize Standard beyond 2016. If you have given a complimentary seat of Visualize Standard to someone else in your company, please make sure they enter the new serial number issued for Visualize Standard 2017 so they can continue accessing the software. This serial number can be obtained by logging into the SOLIDWORKS Customer Portal and clicking My Products. For those who didn't know they already received Visualize Standard as a complimentary addition to their 2016 SOLIDWORKS Pro or Premium, go to the SOLIDWORKS Customer Portal and click any of the 'Download Visualize' links to get started. This complimentary seat can be given to anyone in your company, and does not tie up a seat of SOLIDWORKS CAD!
Concerning SOLIDWORKS network licensing, all Visualize 2017 and beyond products now support SNL (floating) offerings. Existing SOLIDWORKS SNL customers do not need to pay for another network server fee for Visualize SNL offerings. They can use their existing SOLIDWORKS SNL for these network Visualize licenses.
As always, if you have additional questions about this or any other SOLIDWORKS topic, don't hesitate to contact CATI Technical Support for help. Happy rendering!
James Carlin
Application Engineer
Computer Aided Technology