My Stratasys Desktop 3D Printer is in Emulation Mode(What do I do?) - Stratasys 3D Printer Support Tip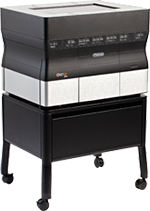 In the event that your 3D printer goes into Emulation Mode, there are some things you can do to fix it yourself. The printer may go into emulation mode when/if the config files become corrupt or the Hard Drive is starting to fail. This procedure may not resolve the issue if the Hard Drive is going bad.
So, what we are going to do is find a copy of known good config files and replace them on the printer. They are stored on the HOST PC.
For Win 7 – go to the host PC and hit the
Start button. And do a search.
Type in hidden. Folder options will come up. Open that
A little ways down select the option to show hidden files folders and drives.
Then close out of that.
Then open C: drive. Open program data open then objet studio folder.
Then embedded CFG backup. Then open embedded_CFG. Then into configbackup. There you will see a bunch of zip folders all dated.
We want one from a day or two ago. Open the .zip folder and copy the folders to a USB drive. Go to Step 9 Below
For Windows XP –
Open My Computer.
From the Tools menu, choose Folder Options….
Click on the View tab in the Folder Options window.
In the Advanced settings: text area, locate the Hidden files and folders category. **Note: The Hidden files and folders category should be viewable at the bottom of the Advanced settings: text area without scrolling down. You'll see two options under the folder.
Choose the Show hidden files and folders radio button under the Hidden files and folders category.
Click OK at the bottom of the Folder Options window.
You should now be able to view all files and folders with the hidden attribute turned on.
8. From here, go to My Computer > Documents and Settings > All Users > Application Data > Objet Studio. Select the Embedded CFG zip file and open it to show the previously dated Zip files inside of it. Select the zip folder with the date back to and open it up. In there you will find a list of files. Extract all these files to a location you can retrieve them easily (I.E. desktop)
9. Then put the USB in the back of the Objet printer. Go to computer/C: alaris30. Next, copy the files from the USB to the alaris30 folder. It will replace the bad config files. Launch the Objet software and it should not be in emulation mode anymore.