Mapped Drives not shown after installing SOLIDWORKS?
After a new installation of SOLIDWORKS, you may find something looks unfamiliar. One of those items might be mapped network drives under My PC not showing.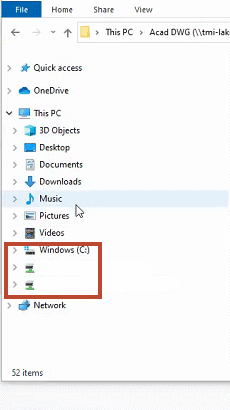 I hate that helpless feeling of not knowing why….. but help is on the way.
According to Microsoft, it's the UAC that's to blame. UAC stands for User Account Controls. Because of the UAC, the Shell runs with standard user permissions, and it cannot see the mapped drives that were configured by the SOLIDWORKS application running with admin rights. So, instead of uninstalling and reinstalling SOLIDWORKS, here is a workaround step:
To configure the EnableLinkedConnections registry value:
Click Start, type regedit in the Start programs and files box, and then press ENTER.
Locate and then right-click the registry subkey HKEY_LOCAL_MACHINESOFTWAREMicrosoftWindowsCurrentVersionPoliciesSystem.
Point to New, and then click DWORD Value.
Type EnableLinkedConnections, and then press ENTER.
Right-click EnableLinkedConnections, and then click Modify.
In the Value data box, type 1, and then click OK.
Exit Registry Editor.
Restart the computer.
For a more detailed explanation of Mapped Network Drive Not Showing in Windows 10/8/7, click on this link.
https://www.easeus.com/computer-instruction/mapped-network-drive-not-showing.html
I hope you found this helpful! Thanks for reading.
Judy Marlo, CSWE, CSPP
Application Engineer Manager
Computer Aided Technology, Inc.