Rock The (SOLIDWORKS) Vote!!
It's that time of year again everyone!!
Time to make YOUR decisions on what should qualify for the TOP 10 SOLIDWORKS ENHANCEMENTS for 2016!
The results will be presented at SOLIDWORKS WORLD 2016 in Dallas TX on Wednesday, February 3rd.
This link will get you there.
Then make sure you are logged in!!
1 select Content.
2. optionally select one of the types
3 Then set your filtering
4 Then to see a post or vote on it you click on the post name
Then find the box shown below for the idea (the number is the number of votes) and click up for Positive, down for negative.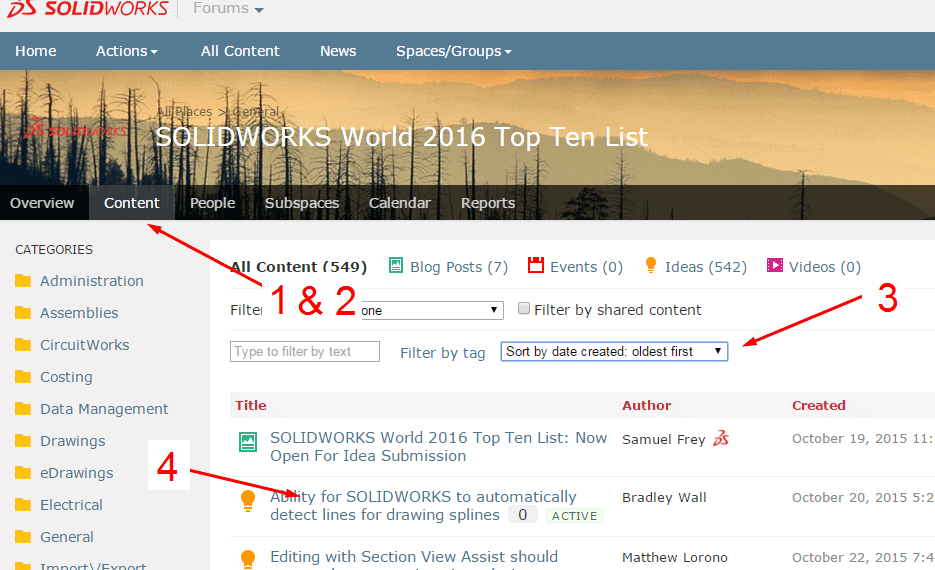 There are over 525 iedas submitted this time around.
Around 80% of the ideas that make it into a final SOLIDWORKS World Top Ten list are implemented in SOLIDWORKS products (sometimes within the very same year).
Voting will close on Friday, January 22, 2015.
Remember, you don't have to attend SOLIDWORKS World to vote!
Here is a reminder of what got selected last year:
10. Variable Pull Direction Draft
9. Topology Optimization from Tosca for all Engineers
8. Both Direction Pattern
7. Selecting Inner Loops of a Selected Face (Available in SOLIDWORKS 2016)
6. Ability to make Inferred Relations Permanent in Sketch
5. Display the Exact Item Causing the Error
4. Selection List Box too Small! Should be Bigger or Flexible Size
3. Export Sheet Metal Parts of an Assembly to .dxf/.dwg in Flat State
2. Bidirectional Sweep (available in SOLIDWORKS 2016)
1. Support Zero Thicknes Geometry
What do you think is missing in SOLIDWORKS 2016? Let us know in the comments section below!