Rocket Science is Easy! The Build
The previous two installments of this blog 'Rocket Science is Easy!' we learned how the rocket was designed, and how the rocket is predicted to perform. With the third blog I wanted to do something a little different and include a video showing the assembly of the rocket. In the video my sons Matthew and Henry help out with the build. As the video progresses you will see that the cool factor of a rocket brought more curious kids from the neghborhood out to see what was going on. The more the merrier.
Select the link below for the full set of instruction made in SOLIDWORKS Composer. Print the instructions in landscape format. In the fouth and last blog in this series 'Rocket Sceince is Easy! The Launch' I will provide the model files for you to print your own V2 Rocket. As always the Statasys UPrint 3D printer did a fantastic job with fit and finish of the parts.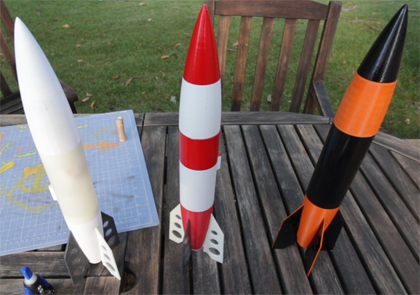 V2 Rocket Assembly Instructions
Many thianks to Justin Maxwell for producing the video. Please let me know if you enjoyed the video and stay tuned for the launch or the rocket. Have fun and build a rocket!