SOLIDWORKS 2015 - The What's New You Didn't Hear About (Part 03 - Dynamic Reference Visualization)
When perusing a model in SOLIDWORKS that was not your own, you really need to understand the feature manager design tree for the file you are looking at. In previous versions of SOLIDWORKS you would right mouse button click on the features and display the parent child relationship dialog.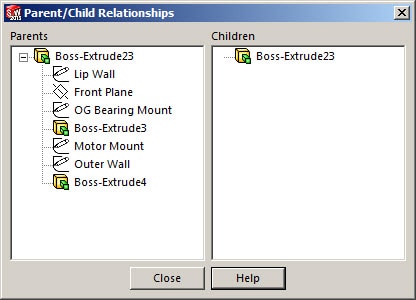 Now, with SOLIDWORKS 2015 you can experience a quicker way of viewing those inter-feature relationships by using the "Dynamic Reference Visualization" tool. You can turn in on by right mouse button clicking on the top level of the Feature Manager Design Tree and click the following icon, notice there is no text with it and is at the top of the right mouse button menu.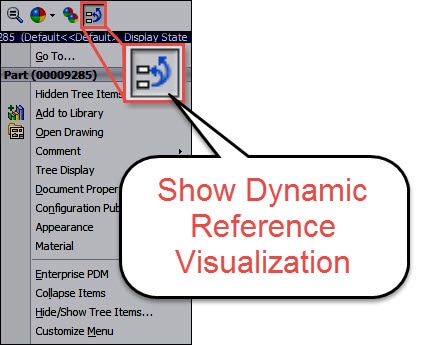 This will allow you to see feature relations like this.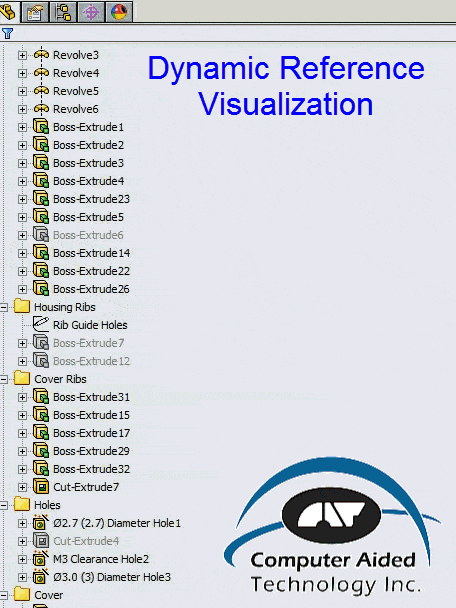 Cheers,
Bob McGaughey, CSWE
Computer Aided Technology, Inc.
What you missed in SOLIDWORKS 2015 What's New Blog Series Links
Part01 – Configuration Toolbar
Part03 – Dynamic Reference Visualization
Part04 – Identify Last Saved in File Version
Part05 – View Selector Preview
Part06 – Selective Delete in Assemblies
Part07 – Equations in Assemblies
Part08 -Selecting by View
Part09 -Angle Mates
Part10 -Open Summary Report on Assembly opens
Part11 – Saving Component Instances as New Files
Part12 – CircuitWorks
Part13 – Composer 2015 SP 2.0
Part14 – Decimal Rounding
Part15 -Enhanced Angle Dimension
Part16 -Duplicate filename warnings
Part17- EPDM SNL
Part18 – Encrypted PDF SUPPORT
Part19 – SOLIDWORKS Model Based Definition
Part20 – Asymmetric Fillets
Part21 – Delete Keep Body
Part22 – Over-Run fill Pattern
Part23 – Sheet Metal
Part24 – Spline on Surface
Part25 – Weldments