SOLIDWORKS 2020 What's New – You'll get 2020 vision into your vault with the new PDM Searches
PDM Pro and Standard got a significant search feature boost in the 2020 release.
The ability to search across multiple variables at once in edit boxes
"AND", "OR" and "NOT" Operators
Quick search from within Windows Explorer – you don't have to use search cards anymore
The ability to search across multiple variables at once
When editing a search card, there is a new property for Edit boxes: "Multi-variable". When you check that option the variable drop list changes to a list of check boxes. Add check-marks next to the variables you would want included in the search.
As an example, imagine you wanted to find all files that were either approved by OR released by a specific person. Before 2019, you would probably do something like this on your search card:

The problem is that the user couldn't put the person's name in both Edit boxes because then PDM would only find files that were approved by AND released by the same person. So to get the proper results, you would have to do two searches. Once for approved by, then again for released by, then combine the results.
In 2020, in the card editor… (notice all variables checked are in the pipe delimited list)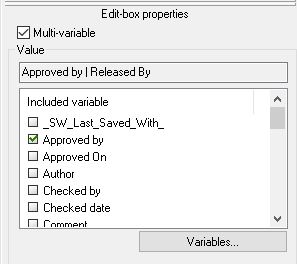 Your search card now would maybe look like:

Your users can now type the name once, and PDM will search both variables for the requested value.
Be aware, the more boxes you check, the longer the search may take because PDM has to look through more variables to find the desired files.
Currently this option is only available for edit boxes. Hopefully we'll get this ability for drop lists soon!
"AND", "OR" and "NOT" operators in search
In edit boxes we can now easily do searches like:
Find all files where the material is "304 Stainless Steel" or "316 Stainless Steel" (use the keywords "OR" or "|")
Find all files where the the finish contains the word "Anodized" but not "Red Anodized" (use the keywords "NOT" or "!")
Find all files where the material contains the words "Carbon" and "Steel" (use the keywords "AND" or a space between the words). We've always been able to a variant on the AND search. A search for "Carbon Steel" would find "Plain Carbon Steel", but the words had to be in the exact order. So be careful, searches with spaces in them now work differently than they did in 2019. Searching for "Carbon Steel" or "Steel Carbon" now will give you the same results.
There are many other variants you can use now. Look at the what's new or help file to learn more. [Wild card searches are still available.]
Quick search from within Windows Explorer
Last week Davis Raye did a nice overview of this feature. Here is how to further customize it!
Out of the box, with PDM 2020 you can do searches on folders or file names. Type the name in the bar, hit the enter key and the search starts. You don't have to open a search card.



If you would like to have the ability for this quick search to search through your variables too, you'll need to make a list of variables in the administration tool. Remember in PDM Pro the node named "Lists (for cards)"? It has now been renamed to "Lists". Under "Lists" is the "Card Lists" (which has not changed) and new is "Quick Search Variable Lists"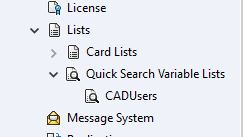 Here you can create multiple lists for different groups within your organization. In the image above you see I have created a list for my CAD users. Add your desired search variables to this list.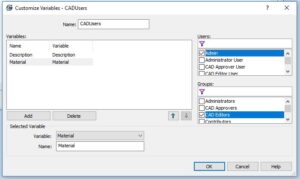 Now users can click the drop arrow in the search and modify how they want the quick search to behave. Users can search across multiple variables, file names, chose the searching folders, etc. then run the search. PDM remembers these settings for the next time.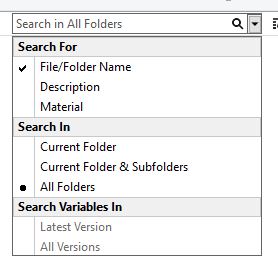 I hope this part of the What's New series gives you a better understanding of the new features and functions of SOLIDWORKS 2020. Please check back to the CATI Blog as the CATI Application Engineers will continue to break down many of the new items in SOLIDWORKS 2020. All these articles will be stored in the category of "SOLIDWORKS What's New."
Design Innovation Month – October 2019
What is DI Month? We're declaring October Design Innovation Month—again! It's a month-long series of special events focused on what's new in design and manufacturing technology. You'll learn about enhancements in SOLIDWORKS 2020 that deliver new capabilities for improved performance, streamlined workflows, and a connected design ecosystem. Find out what's new in 3D printing applications and 3D scanning to integrate into your design process. So, get ready to do things differently. It's time to innovate!
Jeff Sweeney
Senior PLM Consultant