SOLIDWORKS 2022 Installation Guide Part 3 – Electrical
SOLIDWORKS Electrical can be broken down into two parts: SQL Metadata and Electronic Program Data.
SQL Metadata has
All data about everything… (All the CAD document data is contained here.)
Electronic Program Data
Program Files – The application (without this the program will not run).
Program Data – The data (without it the program will run…but will have no content)
Licensing scheme for SOLIDWORKS Electrical:
SOLIDWORKS Electrical Schematic
SOLIDWORKS Electrical 3D
SOLIDWORKS Electrical Professional (limited to 1 PC)
Use the SOLIDWORKS Installation Manager. The installation manager is a simplified process that will help guide you through the install.
First a few important questions…
Do you want to share the data now or in the future?
How many people will share the data?
Do you want to use an existing SQL Server instance?
Is it a local or server installation?
SOLIDWORKS Electrical Individual Installation
There are two scenarios when installing SOLIDWORKS Electrical for a single-user local installation. You can start with a new install/upgrade or add it to an existing installation of SOLIDWORKS. To access the download for the software, please refer to the first part of our installation guide here: [insert link]
New Install/Upgrade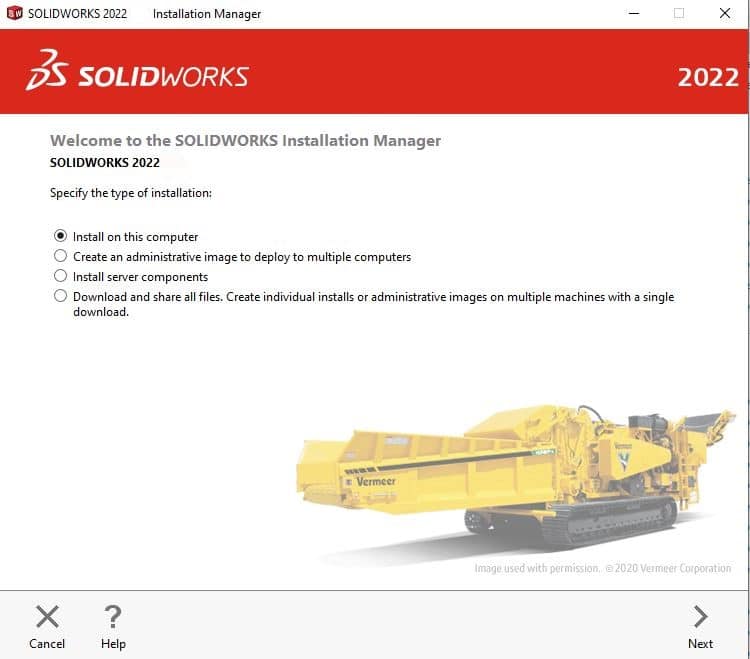 Please select the "Install on this computer" option and click "Next".
Adding to an Existing Installation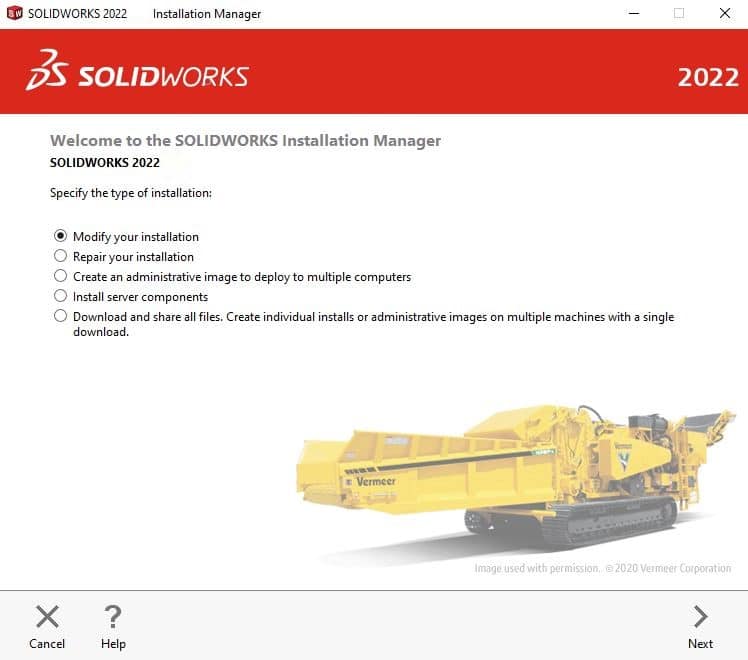 Please select the "Modify your installation" option and click "Next".
On the next page, you can add the serial number for SOLIDWORKS Electrical. If the SOLIDWORKS Electrical software is included with your serial number for SOLIDWORKS, you can leave the serial number field empty for SOLIDWORKS Electrical Schematic. After your serial number(s) have been entered, click "Next".
The Product Selection page and the "More" button on the Summary page give you the options to install the desired products and configure the file locations, etc. The below image shows the appropriate settings for an Individual Install with the end user machine being the SQL Server host. Under Products click "Change" and then check the boxes for SOLIDWORKS Electrical and its associated installation components:
SOLIDWORKS Electrical Schematic
SOLIDWORKS Electrical 3D (SOLIDWORKS 3D CAD is required to install and use this)
Collaborative server
Data
Click "Next" to get to the SOLIDWORKS Electrical Options menu.
Specify the SQL Server Name and Data Location
All other settings can be customized as desired after the default "localhost" entry (ex. SQL Server: "localhost\TEW_SQL2020")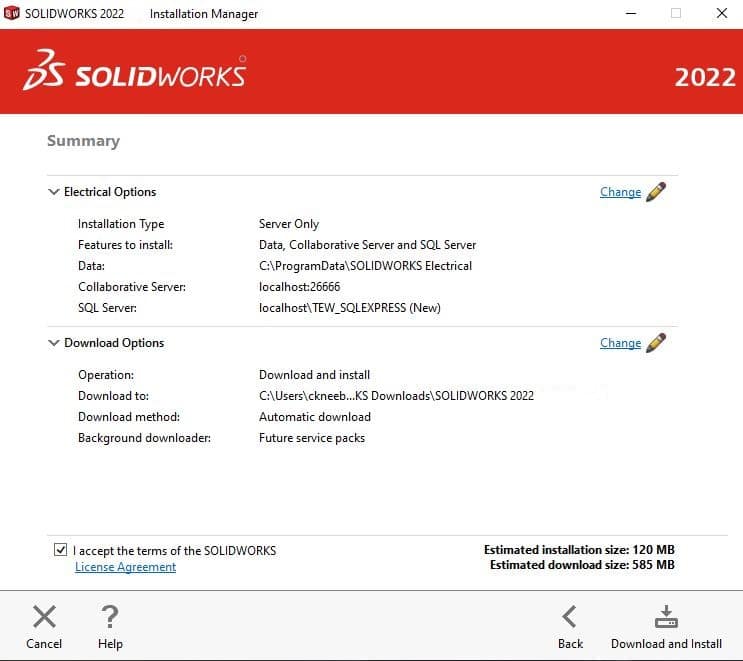 Please enter your existing SQL Server instance settings by selecting "Change". By default, the SQL Server Authentication login password for the "sa" user is blank if you're not sure what to enter here. These steps are only required if SOLIDWORKS Electrical is already in use at your organization.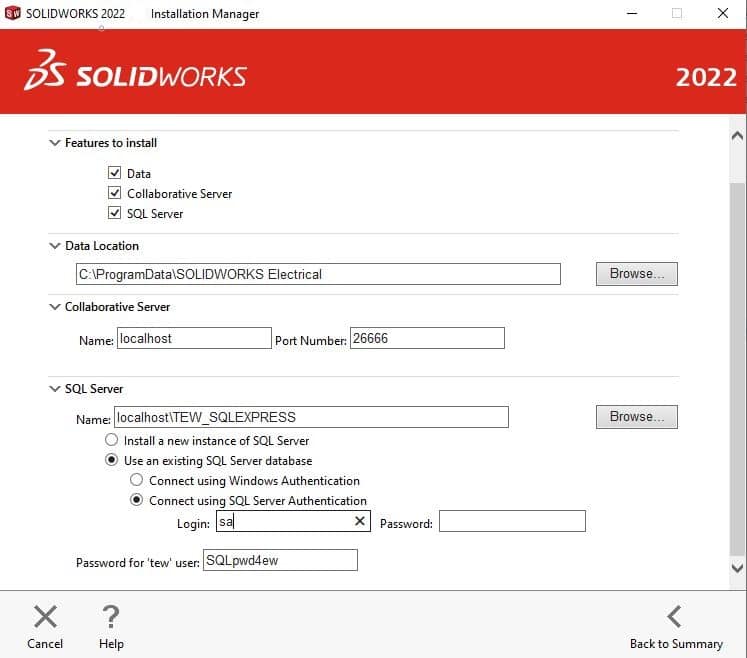 If you have not set up a SQL Server instance before, you can install a new one on the next page. You can specify the name of the new instance and give it a password below. The password must meet Windows security requirements, which you can find more information on in the "Potential Errors" section at the bottom of this article.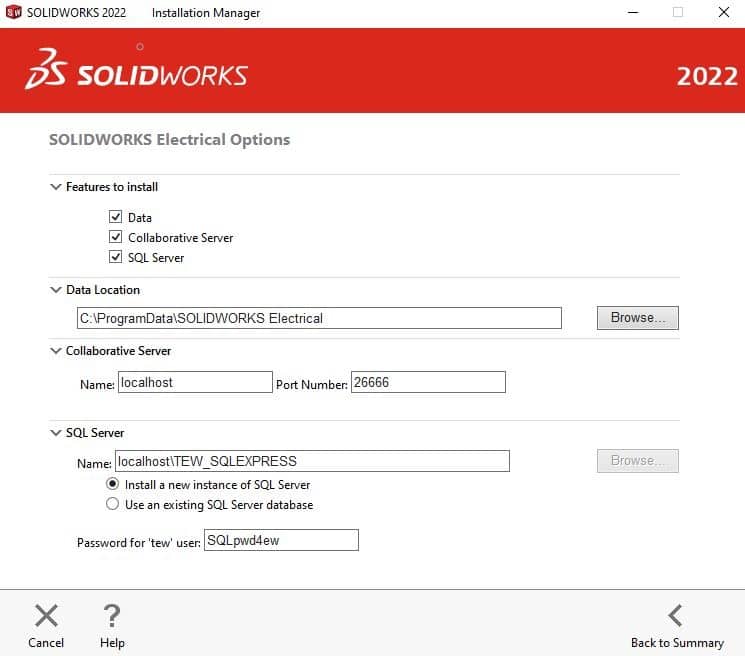 Click "Back to Summary" to return to the Summary page and click "Install Now" (or "Modify Now" if adding to an existing installation of SOLIDWORKS).
If you are upgrading an existing installation of SOLIDWORKS Electrical, you will arrive at the System Check Warnings page below after clicking "Next" from the Product Selection page. It is likely that you already have an existing SQL Server instance on your system, so you can safely proceed with using the information already saved from the previous version.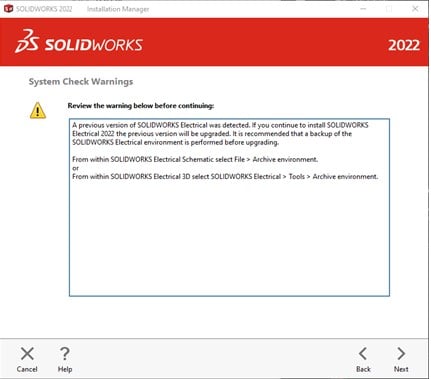 Please take note of the warning shown in the previous image above. It's important that you create a backup of your environment in SOLIDWORKS Electrical by creating an Environment Archive before upgrading an existing install. Please open your current SOLIDWORKS Electrical installation and access File -> Archive Environment from the Command Ribbon as shown below:

By creating an Environment Archive, you can prevent potentially losing data due to a failed upgrade. In fact, we recommend that you create Environment Archives regularly for that peace of mind if your system experiences a hardware failure or data corruption. From the Archiving Environment wizard, click "Next" and proceed to archive "All objects" on the next page. You can change your selections as needed on the following pages. Once your selection is ready to be archived, select "Finish" to begin archiving your environment. Depending on the size of your SOLIDWORKS Electrical environment, this may take a while.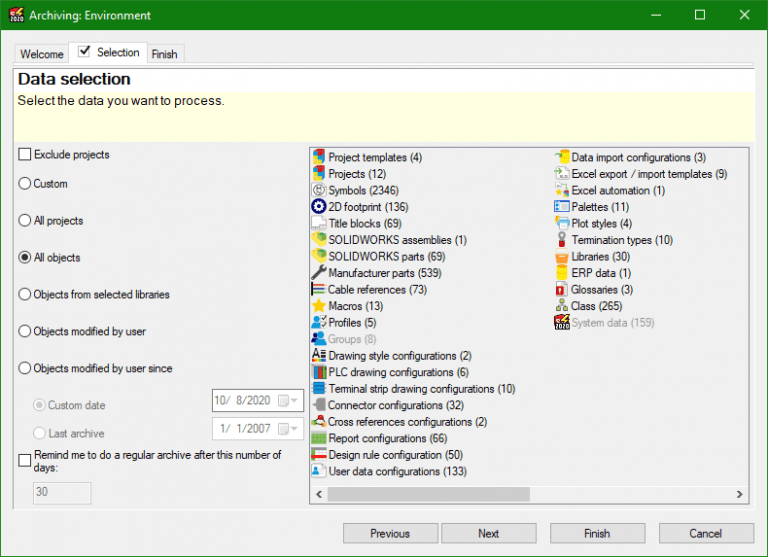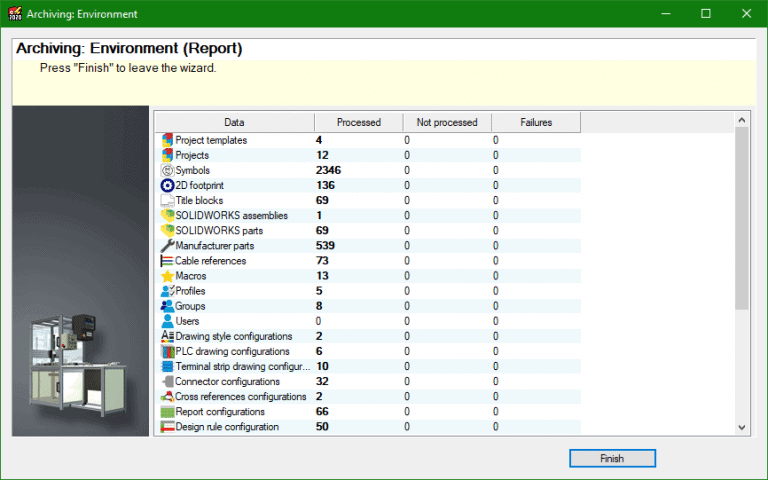 Please make sure to save the Environment Archive (.tewzip file extension) to a file location you will remember. If you decide to continue creating backups, we suggest that you store these on an external drive for effective data backup and recovery.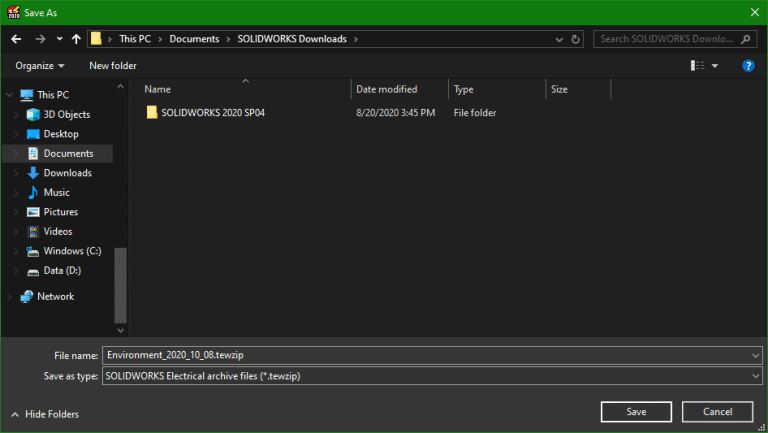 SOLIDWORKS Electrical Network Server Install or Upgrade
If you intend to have a collaborative environment for the SOLIDWORKS Electrical software, you can follow the steps below to install or upgrade the SQL and SOLIDWORKS Electrical Servers on your server host system. Please note that this must be done on the server host system and should not be installed from the client system unless your system is set up as the SQL Server host and sole user.
You can continue following the steps we provided above for the Individual Install/Upgrade process until you reach the SOLIDWORKS Electrical Options page. You will want to install all features for the server and specify the following:
Data Location

Please work with your IT department to determine a suitable location for the Data Location.
This can be set on the C:\ drive of the server or set elsewhere on another drive local to the server host.

Collaborative Server

Name (you can leave this as "localhost")
Port Number (by default this is "26666" but can be reconfigured as needed for your network firewall)

SQL Server

Name (formatted as [Name]\[SQL Instance Name], by default this is "localhost\TEW_SQLEXPRESS")
Password for 'tew' user (by default this is "SQLpwd4ew")
Network Client Install or Upgrade
The instructions to upgrade a Network Client are nearly identical to the Individual install. The main difference is that you can uncheck the "Collaborative Server" and "Data" options on the Product Selection page, since these will be provided by the network server.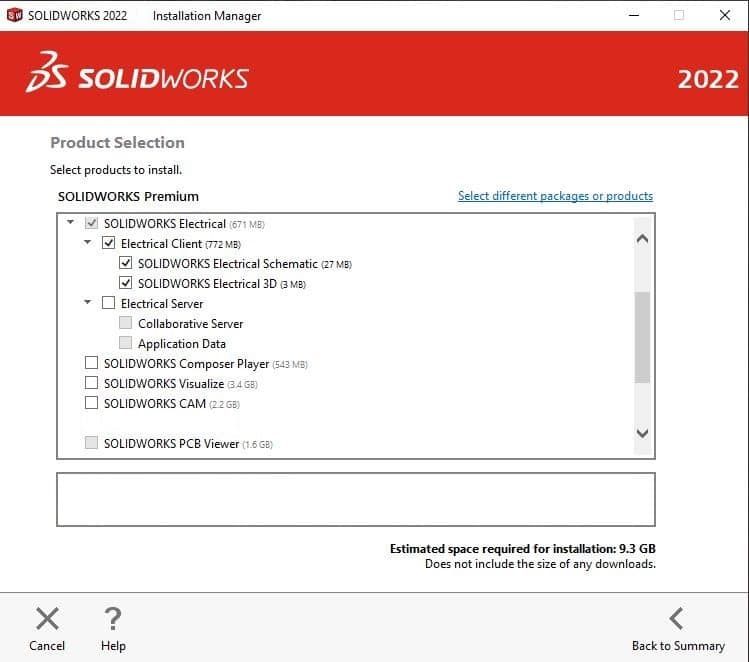 Potential Errors:
Causes:
Invalid permissions
Connection
Firewalls
Anti-virus
Network connection
Install settings
Password
Incorrect password
TEW password length (also seen as 27506)
Sometimes this error comes up as 27502 (if they have epdm) sometimes it's 27506 (if there is no epdm but password restrictions are enabled)
Install settings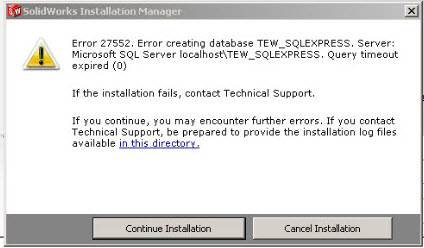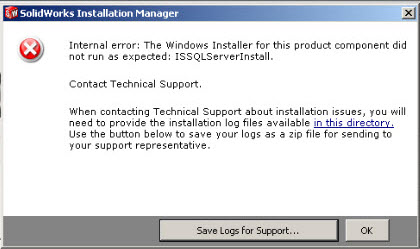 Causes:
Invalid permissions
Upgrade from major version
SQL database owner
Installation settings
Incorrect options chosen
Admin image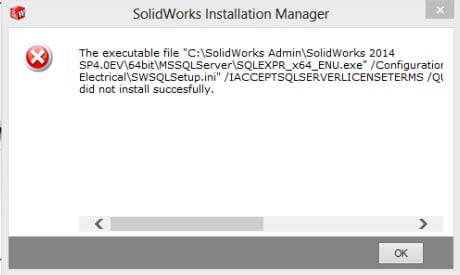 Causes:
SQL cannot create an instance
Permissions
System restart
If you have subscription services with us and need help with any errors please don't hesitate to contact us for support at 888-285-2284 or email to support@cati.com
Please note that as of SOLIDWORKS 2021, SQL Server 2014 is no longer supported for use with SOLIDWORKS Products. You can refer to the System Requirements (https://www.solidworks.com/support/system-requirements) page on the SOLIDWORKS website to verify if your installed version SQL Server is compatible with SOLIDWORKS 2022.
Curran Kneebone
Support Engineer
Computer Aided Technology