SOLIDWORKS 2023 Top Enhancements in Drawings
What's New in SOLIDWORKS 2023 Drawings?
Here we are, coming up on the release of SOLIDWORKS 2023. Over the years, SOLIDWORKS has given us several great enhancements for Drawing Mode and this year is no different. Today, let's take a look back at some of those highlights, as well as what's new in SOLIDWORKS 2023 drawings. You can watch this in video format too:

SOLIDWORKS Drawing Mode Performance
The year 2020 brought us Detailing Mode and that changed everything for large assembly drawings. Detailing Mode is useful if you need to make minor edits to large drawings or drawings with many sheets, configurations, or resource-intensive views. Additionally, we saw big performance improvements thanks to the SOLIDWORKS graphics pipeline.
In 2021, Detailing Mode continued to evolve and impress us. Here, we got functional enhancements to create and modify additional view types, dimensions and annotations. We also saw further display performance improvements, saving a significant amount of time when creating massive drawings.
In 2022, Detailing Mode received additional system options that improve performance, and it also replaced Quick View Mode. Our context toolbar for dimensioning arcs and circles now include options to display the dimension as a radius, diameter, or linear diameter dimension. I loved that one!
Now, in 2023, because we have all this awesome functionality in Detailing Mode, Detailing Mode replaces Detached Drawings, which are no longer supported. Existing detached drawings will work as they do today, but if you save a detached drawing as a regular drawing, you can't go back.
Enhancements for our Bill of Materials
SOLIDWORKS 2023 drawings also have a couple of great enhancements to our bill of materials. Quite often, we need to make manual edits to our BOMs. But previously, there was no easy way to indicate that we've changed a value. In 2023, we can assign a system color to modified BOM cells.
When the BOM is active, the overridden values turn whatever color you chose in the System Options, giving clear feedback that someone modified this cell. When the BOM isn't active, the cells display and print normally. You can restore the overridden values to their original value by right-clicking on a cell, row, column, or table. You can also lock cells, rows, columns, or the table to prevent unwanted changes to the BOM.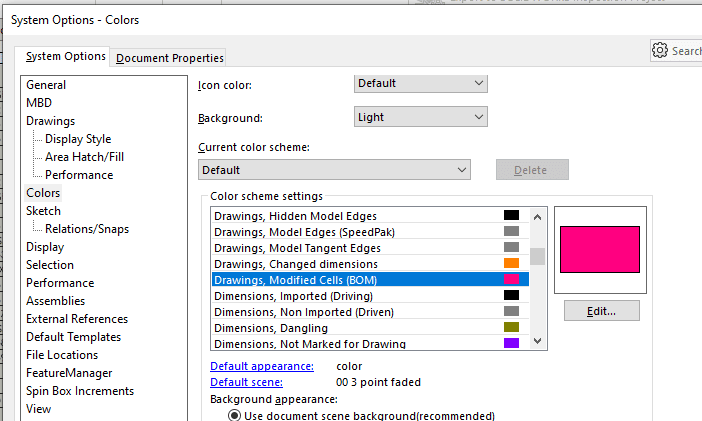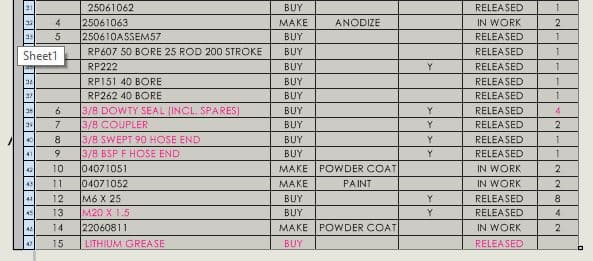 SOLIDWORKS Drawing BOMs – Customizable Filter
The second enhancement to the BOM is the ability to customize a BOM based on a filter. This is significantly easier than manually hiding rows and columns, as we did in the past. In 2023, each column header has a dropdown arrow to select the filter criteria and show only those specific items. The filters can be stacked across several columns, further customizing the BOM. What's really nice is that the associated balloons will update with the bill of material.
And now we can also export this custom BOM to an Excel file. There is a little filter icon in the column header, indicating we have an active filter. Click on it again to remove the filter or right-click and clear all filters. Now our bill of materials works just like a spreadsheet. That is huge!
Auto-Balloon with Quantity on SOLIDWORKS 2023 Drawings
Speaking of balloons, we now have the ability to add a quantity value to Auto-Balloons. Previously, adding the quantity value was only available when you manually created balloons.
In the Property Manager, turn on the Quantity option and select the designator (for example X, x or PL). For any balloons with a quantity of 1, deselect the quantity option for that specific balloon. This saves us tons of time.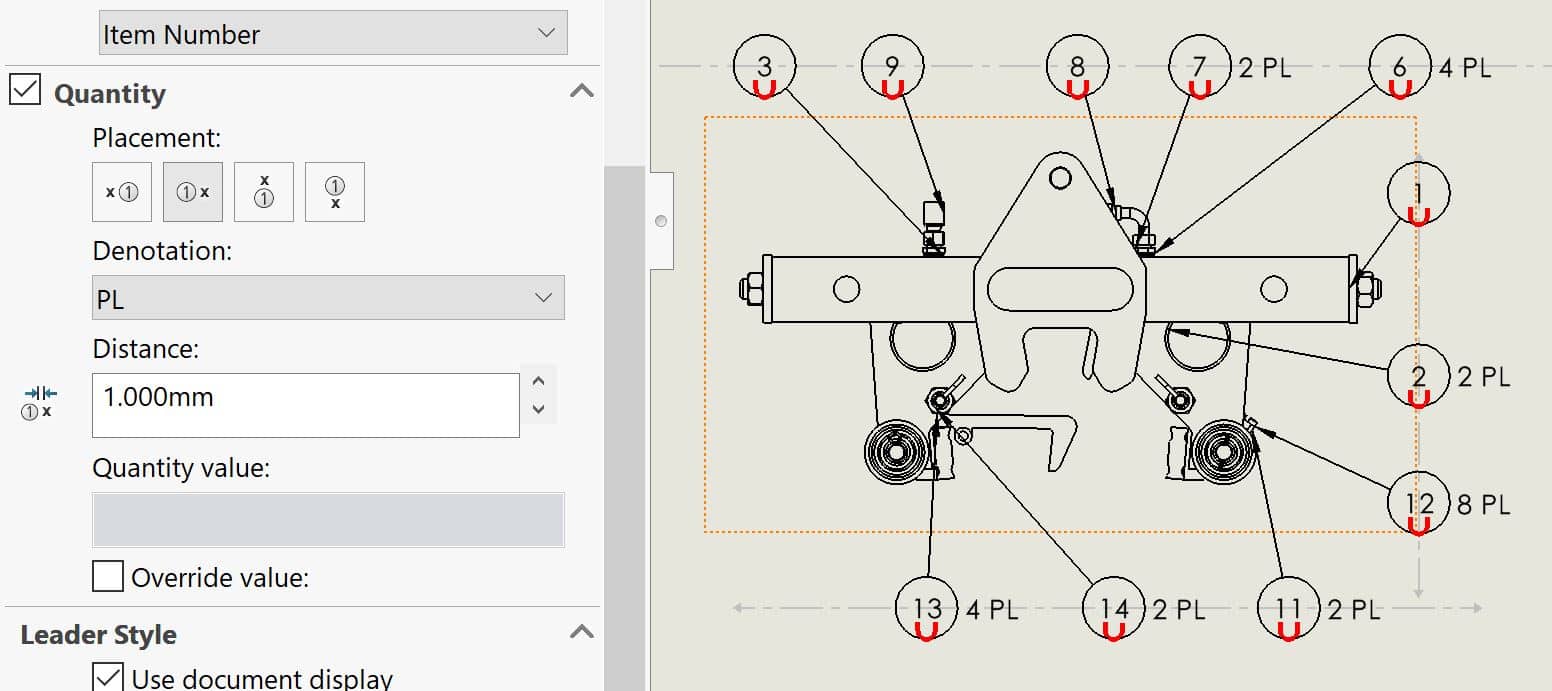 Added Appearances to Drawing Views
We add an appearance to our parts to communicate the end-state material. In the past, to show a transparent component in the drawing, we set the views' display to Shaded or Shaded with Edges. In 2023, there is an option in the views' Property Manager to see through transparent components.
If you have a transparent body in a part or a transparent component in an assembly, it can be displayed as transparent when the view is in Hidden Line Removed or Hidden Line Visible display modes. It works on single or multiple views, and it can be set in the Document Properties and stored in the template. This option adheres to a new ISO standard and it allows us to clearly communicate our designs in a 2D drawing.
Open a Drawing from a Drawing
And finally, another great new enhancement is being able to open a drawing from a drawing – just like we can open a drawing from part mode or assembly mode.
From FeatureTree – Right-click on the component and select Open Drawing,
You can also pick a Table Entry and select "Open Drawing".
You can right-click a component in the graphics area, from the popup menu, and select the icon to open the drawing.
Now, you don't have to open the referenced model. Instead, you can open the drawings right from other drawings. There are some caveats. First, this does not yet work in Detail Mode, your drawings need to be resolved. And second, the reference files do not need to be open, but they need to be in system memory.
Final Thoughts
Drawing Mode has had some great advances over this multi-year enhancement project, and it continues in 2023. Dassault Systèmes has given us some outstanding enhancements to performance, functionality, and workflow – how will we ever get along without them!?!?
I hope this part of the What's New series gives you a better understanding of the new features and functions of SOLIDWORKS 2023. Please check back to the CATI Blog as the CATI Application Engineers will continue to break down many of the new items in SOLIDWORKS 2023. All these articles will be stored in the category of "SOLIDWORKS What's New."
Laura Nickerson
Sr. Application Engineer
Computer Aided Technology
What is Design Innovation Month?
DESIGN INNOVATION MONTH 2022 – Live Events, Webinars, Virtual Showroom, Contests
Design Innovation Month is CATI's "What's New in 2023" event for SOLIDWORKS, 3DEXPERIENCE, and 3D Printing & 3D Scanning technology. This year we're going back to the future to bring you in-person events, live and on-demand webinars, demonstrations, in-depth blog posts, and prizes! Best of all, it's free of charge! Check the DI Month Hub for all the details and to sign up for your nearest live event.