SOLIDWORKS 2023 Weldments What's New - Top Enhancements in Structure Systems
It's that time of year when we are all getting excited about the latest release of SOLIDWORKS 2023. Every year new tools and enhancements come from SOLIDWORKS customer feedback and end up inside the software. Without all that great customer feedback, this software wouldn't be nearly as powerful and user-friendly as it is today. Today, I want to share some of my top enhancements for SOLIDWORKS 2023 Weldments and Structure Systems. If you'd prefer to watch this content, here it is below:

What's New in SOLIDWORKS 2023 Weldments?
Structure System was introduced back in 2019 and it works really well when building your SOLIDWORKS Weldments. The goal was simple, to be able to create a complex structure faster and easier with more flexibility during the design phase. Since 2019, we've seen several enhancements that made this tool even more user-friendly and powerful. If you use Structure Systems, then you're in for a real treat for 2023.
Better Corner Management
In 2023, Structure Systems have been improved in multiple areas. You can now group similar corners and apply a corner treatment to that group. Now you can even edit the groups by removing or dissolving a corner group as required. These new enhancements to the Structure System tool will make quick work of those once time-consuming changes.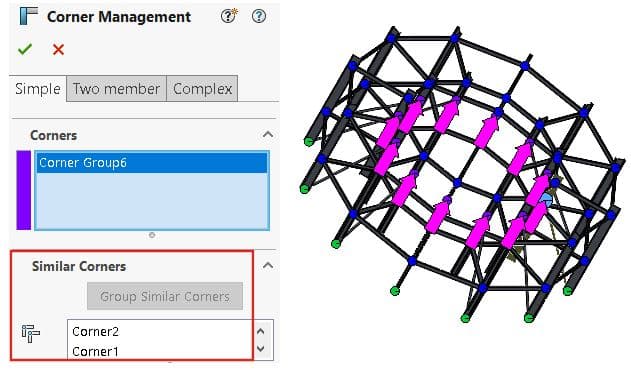 Within the pattern connection element property manager, you can insert a connection element that is at a corner to similar corners as the image below shows. You now can identify similar corners, ignore corners that have connection elements, and skip instances as required.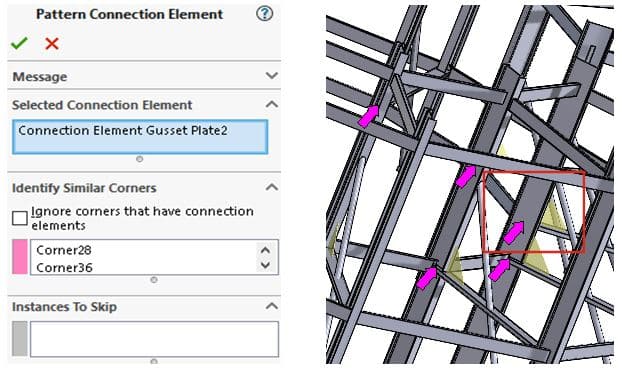 Configuration Specific Weldment Members
In 2023, you can change the size of your weldment members all at once for a specific configuration if you select the same size and type of weldments that you want to change. This new option will give you the ability to make configurations and experiment with your designs faster than ever before.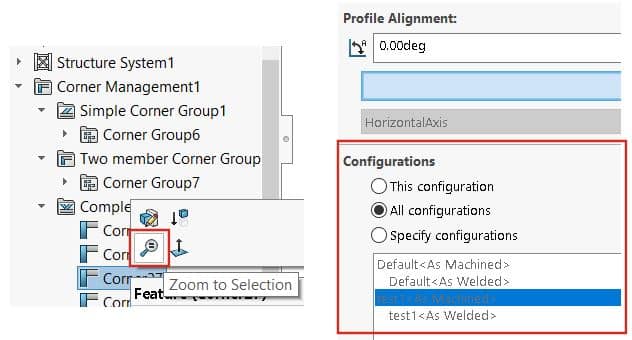 I hope this part of the What's New series gives you a better understanding of the new features and functions of SOLIDWORKS 2023 Weldments. Please check back to the CATI Blog as the CATI Application Engineers will continue to break down many of the new items in SOLIDWORKS 2023. All these articles will be stored in the category of "SOLIDWORKS What's New."
Dale Rice
Sr. Applications Engineer, Specialist Electrical
Computer Aided Technology
What is Design Innovation Month?
DESIGN INNOVATION MONTH 2022 – Live Events, Webinars, Virtual Showroom, Contests
Design Innovation Month is CATI's "What's New in 2023" event for SOLIDWORKS, 3DEXPERIENCE, and 3D Printing & 3D Scanning technology. This year we're going back to the future to bring you in-person events, live and on-demand webinars, demonstrations, in-depth blog posts, and prizes! Best of all, it's free of charge! Check the DI Month Hub for all the details and to sign up for your nearest live event.