SOLIDWORKS and Engineers Week 2015
Next week February 22nd – 28th is National Engineers Week or EWeek. Founded by NSPE (National Society of Professional Engineers) in 1951, EWeek is dedicated to ensuring a diverse and well-educated future engineering workforce by increasing understanding of and interest in engineering and technology careers.
Today, according to the NSPE and DiscoverE websites EWeek is observed by more than 70 engineering, education, and cultural societies, and more than 50 corporations and government agencies. Dedicated to raising public awareness of engineers' positive contributions to quality of life, EWeek promotes recognition among parents, teachers, and students of the importance of a technical education and a high level of math, science, and technology literacy, and motivates youth, to pursue engineering careers in order to provide a diverse and vigorous engineering workforce. Each year, EWeek reaches thousands of schools, businesses, and community groups across the U.S.
Last year to do my part in educating the next generation of engineers I went to visit my son Conner's Kindergarten class and talk to them about Engineering and SOLIDWORKS. A class is full of 5 and 6 year olds are hard to keep their attention we had to talk about the basics. I showed them that they are already Engineers with what they do every day when they play and build things in class. To show them how SOLIDWORKS fits into their world we used every little and big kids favorite toy, Lego's. Showing them how they could easily use the tools in SOLIDWORKS can not only build and assemble but change the size shape and color of anything they wanted.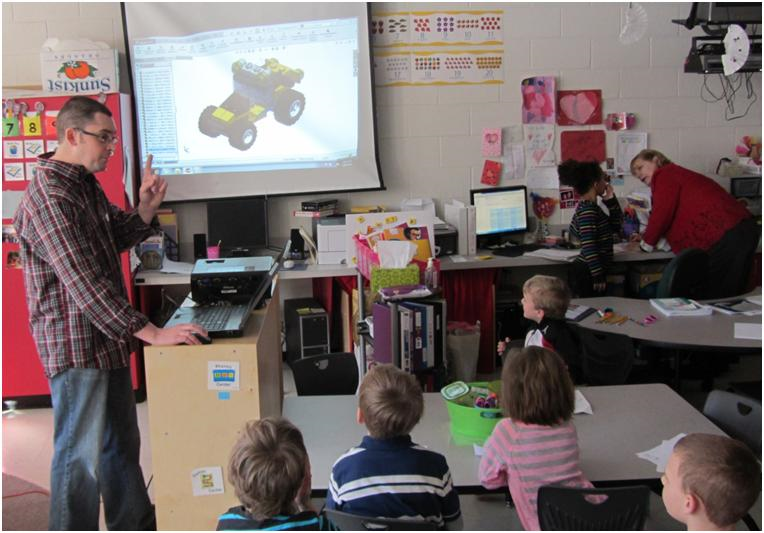 Next week I will be once again working on meeting with some of these young future engineers and as fellow Engineers I ask that everyone please take a moment out of your week to see what events are going on in your area and make the time to help educate the next generation of Engineers.
To see last year's full article please go to http://blogs.solidworks.com/tech/2014/02/the-future-generation-of-solidworks-engineers.html
Thanks,
Josh Altergott
CATI Support Manager