SOLIDWORKS Inspection: Simplify and Automate your First Article Inspection Process
SOLIDWORKS Inspection: Simplify and Automate your First Article Inspection Process
Paperwork….UGH! It seems never ending when designing new products. One of the most important tasks after designing is the in-process or receiving Inspection process. What if there was a software to make that task easier, faster and with minimal errors? We have the tool for you!
Introducing SOLIDWORKS Inspection. This tool is a First Article Inspection (FAI) tool that will simplify and automate the process of ballooning inspection drawings and creating quality inspection reports.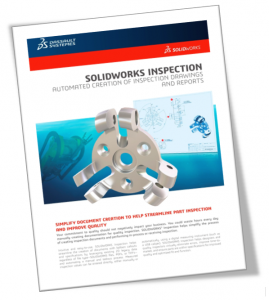 SOLIDWORKS Inspection streamlines the creation of your inspection documentation. It helps alleviate the manual process of ballooning drawings and allows the data to be extracted into a customizable Excel report eliminating the need to manually create reports. Reports templates for AS9102 and PPAP included.
SOLIDWORKS Inspection is available as a separate purchased standalone product or an add-in application that is used with SOLIDWORKS Standard, Professional and Premium. The Standalone application enables users to leverage their legacy data regardless of whether they have PDF's, TIFF's, AutoCAD DWG files, PTC Drawing Files or CATIA V5 CATIDrawing files. (No separate SOLIDWORKS license required for the standalone). The SOLIDWORKS Add-in version is for use within the SOLIDWORKS environment with SOLIDWORKS Drawing files.
SOLIDWORKS Inspection Professional extends the capabilities by giving users multiple ways to entering measured valued directly into an inspection project. Digital Caliper and Coordinate Measuring Machine (CMM) results are automatically imported into reports to help simplify the part inspection process.
By using SOLIDWORKS Inspection, the typical time savings up to 90%.
Why waste any more time by manually creating inspection documents. Why not call us today for a SOLIDWORKS Inspection Demo so we can show you this amazing, easy and intuitive tool that will help designers and quality inspectors virtually eliminate errors, improve time-to-market, and ensure parts are within specification for improved quality and optimized fit and function.
Judy Marlo, CSWE
Application Engineer
Computer Aided Technology, LLC