SOLIDWORKS WORLD 2015 Presentations
Did you miss our presentations this year at SOLIDWORKS World? Check out the 3DVision Technologies presentations from SOLIDWORKS WORLD 2015, presented by our award winning engineers.
Hands-On Introduction to SOLIDWORKS Routing (Tubing/Conduit/Piping Only)
Have you heard about SOLIDWORKS Routing/Piping capabilities but never used them? This session will give you hands-on exposure to what SOLIDWORKS can do to help you in the world of Tubing, Conduit, and Piping applications.
3DVison Technologies Presenter:

Randy Simmons
SOLIDWORKS Elite Application Engineer
Randy Simmons has over 18 years in the CAD/CAM industry working for several leading companies. He is a CSWE who has been demoing, implementing, and training people in SOLIDWORKS for the past 13 years.
---
Deliver Interactive, 3D, Step-by-Step Instruction Sets with Composer
This session will show how to use SOLIDWORKS Composer to create 3D, interactive animations that can be used as step-by-step instructions for product assembly, repair, or training. It will also demonstrate how to deliver the animations using the free Composer Player.
3DVision Technologies Presenter: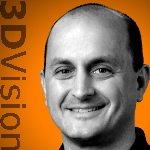 Chris Snider
Application Engineer Lead- Project Management
Chris Snider is an application engineer for 3DVision Technologies, a Certified Composer Professional, and CSWE. He has shared his knowledge of Composer and SOLIDWORKS via demos, training, and support in Kentucky and Indiana for the past five years.
---
5½ Things You Didn't Know You Could Do with SOLIDWORKS EPDM's BOMs
This will be a fast-paced presentation of many useful tips and tricks of EPDM's named and calculated bill material creation, management, and distribution. Learn about calculated BOMs, BOM overrides, updating data cards from the BOM table, comparing BOMs, formatting BOM when exported to Excel, named BOMs, their creation, and editing, updating, and pushing them through workflows—bridging the gap between engineering and procurement.
3DVision Technologies Presenter:

Jeff Sweeney
Engineering Data Specialist
Jeff Sweeney has been teaching, implementing, and customizing EPDM for over eight years, using SOLIDWORKS since 1995