Stratasys 3D Printing: French Foundry 3D Prints Sand Casting Models in Hours
French Foundry 3D Prints Sand Casting Models in Hours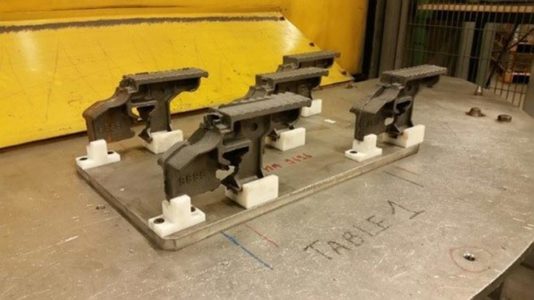 The French foundry and machining company VHM Fonderie has slashed its product development time and increased its manufacturing capacity since introducing Stratasys' PolyJet 3D printing company-wide. Formerly known as Heinrich Fonderie, VHM Fonderie specializes in the production of industrial iron castings using a traditional sand casting process. The company now uses a Stratasys Connex Multi-material 3D Printer throughout product development, from making functional prototypes to master models for the sand casting of manufacturing tools. 3D printing is also pressed into service for making assembly jigs and even spare parts for certain tooling machines.
Mastering the Master Mold
For complex sand casting applications in particular, VHM Fonderie is using Stratasys' advanced simulated polypropylene material, Rigur, to produce 3D printed models that are then used to make sand casting molds. "To manufacture an object using the sand casting process, we need to first produce a master model of the specific part," explained Laurent Poux, Industrial Director, VHM Group. "This is then used to make a mold, from which the desired object itself is then manufactured. In the context of the end-to-end manufacturing workflow, the level of time-saving enjoyed with 3D printing isn't merely improvement or progression – it's transformational."
Using 3D printing to create the models for the sand casting molds saves about a month of production time and allows for quicker delivery of orders to customers.
VHM Fonderie is able to reduce product development time for the many castings it manufactures for its clients. As well as the VHM Group's other businesses, this comprises a number of external clients – among them, Paris landmarks like the Le Jardin des Tuileries, Le Caroussel du Louvre and La Place Vendôme, as well as companies like flow management solutions provider Flowserve.
Sign up for a free webinar on "The Value of 3D Printed Sand Casting"
So Successful, They Opened Up Their Own 3D Printing Service Bureau
"Use of Stratasys 3D printing technology has given us a level of self-reliance that has not only revolutionized some of our traditional production processes, but it has allowed us to become significantly more flexible as a company when it comes to manufacturing," explained Poux. The company has established a 3D printing bureau, Reali3D, to maximize the benefit from its Stratasys Connex Multi-material 3D Printer. "We're really excited to be able to extend the benefits of 3D printing to our customers through Reali3D, where we expect to produce everything from concept models and fully-functional prototypes, to assembly tools for the production line," said Poux.
3D printed molds are just one application for which VHM Fonderie uses their Stratasys 3D Printer. They also use it to produce various tooling items, such as positioning jigs that are used across the assembly line to increase production efficiency. Another important use is replacing older parts for the company's tooling machines, such as its belt sander machine – hard-to-find parts are now no further than the 3D printer bed!
"VHM Fonderie is the perfect example of how a growing number of manufacturers are not merely exploring the use of 3D printing in a limited capacity, but are reaping multiple benefits through its widespread integration across all areas of production," said Andy Middleton, President, Stratasys, EMEA. "Stratasys remains committed to educating the market and working closely with customers to ensure that, like VHM Fonderie, they maximize the full potential of 3D printing technology to reduce time and costs within their manufacturing operations."
Read the full article here >>