Stratasys 3D Printing: New in the Fortus Line
Stratasys 3D Printing: New in the Fortus Line
The newest changes to the Stratasys Fortus line of 3d production systems are a big step forward for fused deposition modeling (FDM) technology. These large scale machines have been improved in many ways. By increasing ease of use, reliability, repeatability, and build speed, these notably reliable machines have been made even better.
This product upgrade has replaced four of the current Fortus machines with two. The new 380mc and 450mc will have the capabilities of the old 360mc and 400mc, but with the added benefits that will be discussed below.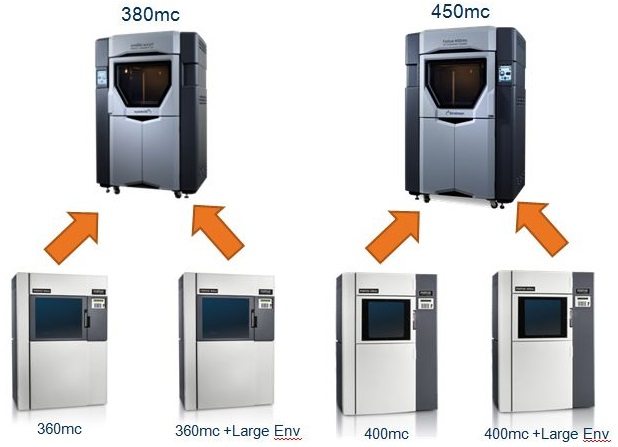 One major change that has been made is the ability to buy material bundles with a new machine, rather than choosing a particular material that will run on that machine and upgrading later. The standard bundle includes ABS-M30, ABS-M30i (biocompatible per ISO 10993), ABS-ESD7, and ASA. These are our most popular and most widely used materials. The engineering bundle includes PC, PC-ISO (ISO 10993 approved), and Nylon 12. These are tougher materials that are commonly used in engineering applications. The high performance bundle currently includes Ultem-9085, and more materials will be added in 2015. Ultem-9085 is FST certified is chemical resistant and has the highest tensile strength of all the Stratasys FDM materials. The Fortus 380mc will have the option of using the standard, engineering, or both material bundles. The Fortus 450mc will have all bundles and any combination available.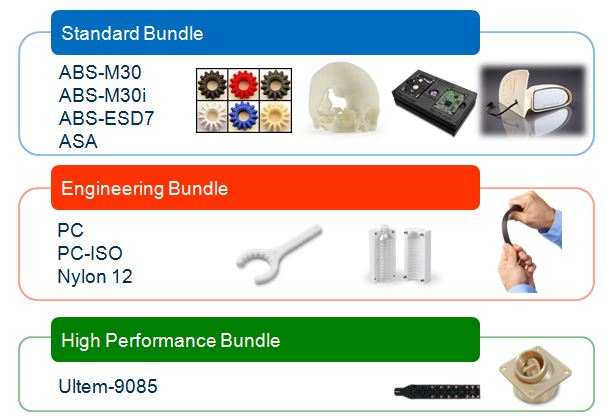 Reliability and repeatability in FDM technology relies heavily on temperature stability, and highly accurate mechanical and electrical components. The new Fortus machines have improvements in both these categories. The new ovens have demonstrated a 75% reduction in temperature variation throughout the build chamber. This means that an already reliable process has been improved. Mechanical and electrical improvements have been made to the Gantry, Z-stage, Head, Controller, power supply, and several other areas. These improvements result in a 20% lower annualized failure rate, and an increased resistance to power variation. An onboard compressor has also been added, which eliminates the need for maintenance and service to an out-board compressor unit. Finally, preventative maintenance now only needs to be performed every 24 months.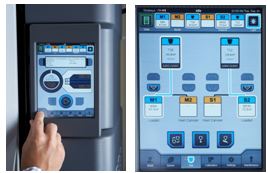 The last upgrade I will discuss is the new touch screen control system. This new interface will make operation of the machine intuitive and "app-like". Many details will be shown on screen in a natural and visual format. This makes it possible to monitor many more aspects of the machines status in real time, and makes maintenance procedures faster and easier.
All these improvements, and some that were not mentioned all add together to make the most powerful and reliable FDM 3d production system on the market, and make it possible to leverage time and creativity on a large scale.
Blog Post By: Nick Weldon