Stratasys: Air and Sea Applications Land in the Desert at AMUG 2014
Air and Sea Applications Land in the Desert at AMUG 2014
Chalk up another resounding success for AMUG. The 2014 Additive Manufacturing Users Group (AMUG) Annual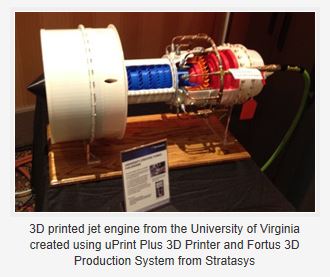 Education & Training Conference in Tucson, Arizona drew a record number of people, with over 600 total registrants from 15 different countries – all users of commercial additive manufacturing.
A full week of conference sessions kept attendees busy with presentations, workshops, competitions and networking. Over 75% of the own/operate with Stratasys FDM and PolyJet 3D printing technologies and use one or both in their work or research.
Several Stratasys customers presented their applications and displayed their models. This included, from the University of Virginia's Rapid Prototyping Lab, a 3D printed jet engine based on the 8000 pound thrust Rolls Royce AE3007 in use on many midsize regional jets. Consisting of over 50 unique 3D printed ABS plastic parts (plus two machined aluminum shafts and four bearings), it was produced on a combination of uPrint Plus 3D Printer and Fortus 3D Production System from Stratasys.
Not to be outdone, the US Navy presented a sea-going application – a uPrint SE Plus 3D Printer installed on the USS Essex as part of the CNO's Rapid Innovation Cell experiment called 'Print the Fleet'. Following a two-week training period, the 3D Printer was turned over to the crew for shipboard use. The intent of this ongoing experiment was to determine the utility of shipboard additive manufacturing, crew training requirements, and supply chain integration issues related to shipboard additive manufacturing.
Stratasys employees also presented the latest innovations in applications and best practices. The workhorse of Stratasys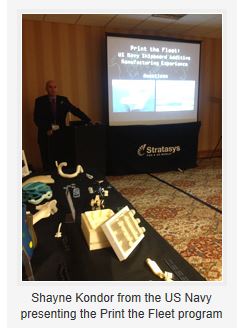 FDM Technology, the Fortus 900mc 3D Production System came along for demos as well together with lots of other Stratasys all stars like the uPrint SE Plus and the hot new Objet500 Connex3 Color Multi-material 3D Printer. Live injection mold demos were performed using the Babyplast Injection Molding Machine.
During the exposition portion of AMUG, the Stratasys booth was packed with attendees, which gave everyone a chance to chat with Stratasys employees and other users.
One AMUG highlight was the awarding of the prestigious "DINO" (Distinguished Innovator Operator) Award to Scott Crump, Stratasys co-founder, chairman and chief innovation officer, for his 25 years of service to the additive manufacturing industry.
AMUG 2015 will be in Jacksonville, Florida. Stratasys is once again looking forward to playing a vital role in this premier event of the additive manufacturing community. In the meantime, we're offering our best wishes to the newly selected 2014-15 AMUG board:
President: Mark Barfoot, Hyphen
Past President: Bret Bordner, Laser Reproductions
Vice President: Steve Deak, GE Aviation
Vice President: Dana Foster, rp+m
Secretary: Kim Killoran, Stratasys
Event Manager: Thomas Sorovetz, Chrysler Group
Advisor: Mark Abshire, Somos Materials by DSM
Advisor: Gary Rabinovitz, Reebok International
AM Industry Advisor: Todd Grimm, T. A. Grimm & Associates
Thank you to all that made this event a success.
Stratasys would like to send out a special thanks to our customer and partner presenters:
Shayne Kondor, US Navy
John Cross, Burton Snowboards
Bob Steffan, St. Cloud State University
Nic Neath, Formech
Mark Barfoot, Hyphen Services
Dwight Dart, University of Virginia
Piet Meijs, Rietveld Architects
David Espalin, University of Texas-El Paso
Mark Bringle, Joe Gibbs Racing
Scott Pryer, Triform Sheet Hydroforming
Nick Busch, Triumph Composite Systems