Stratasys and Worrell Announce Collaborative Partnership to Optimize Medical Devices
In the medical device industry, innovation and optimization of new products is paramount to ensuring that breakthrough ideas are able to come to fruition and aid in achieving patient health. The challenges that medical device manufacturers tend to run into, however, are high tooling costs and meeting very strict FDA regulations. This is where additive manufacturing becomes a very valuable tool to manufacturers, as 3D printing is ideal when complex parts need to be produced in low volume.
Earlier this week, Stratasys, a world leader in the 3D printing industry, along with product development firm Worrell announced collaboration between the two companies, the goal being to educate medical device manufacturers on the cost savings and speed 3D printing brings to the industry. The current plan is to have both companies strategically market and promote at international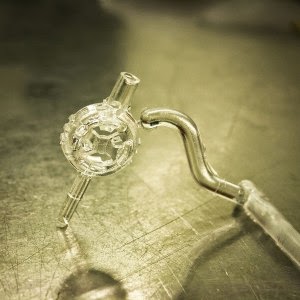 Medical device created via a
3D printed injections mold
trade shows, and also to promote a series of educational workshops. According to Nadav Sella, Senior Manager of Manufacturing Tools at Stratasys, "We have recognized a significant under-utilization of the 3D printed injection molding process in medical device development and we're working with Worrell to help fill this gap."
The partnership was sparked when Worrell was asked to develop a new medical device and began running into the challenges faced by traditional manufacturing methods. According to Worrell CEO Kai Worrell, "We were recently approached by medical device startup MedTG to design and engineer a dual-flow needleless blood collection system that reduced the need for multiple injections, thereby increasing patient comfort and hospital efficiency. Utilizing 3D printed injection molds to prototype the device, we were able to reduce the costs associated with traditional tooling by approximately 70%, as well as cutting times by 95%." It is this type of time and cost savings that the two companies hope to promote in the future.
Learn more about 3D printers at our website.