Stratasys Heads to the Hill to Demonstrate the New Shape of Manufacturing
Stratasys Brings 3D Printing to Capitol Hill
Strengthening competitiveness, reshoring jobs, and increasing supplychain efficiencies – all important topics of conversation yesterday, October 16, as Stratasys hosted a 3D printing showcase event on Capitol Hill in Washington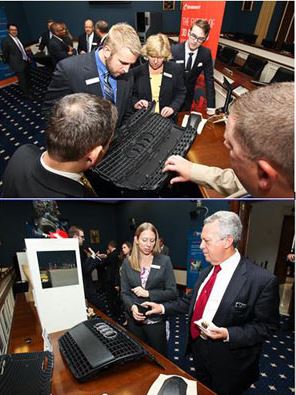 D.C. The main topic of discussion – how additive manufacturing can move the economy forward by fundamentally changing the way companies bring products to market through on-demand production of parts and production tools.
More than 100 Capitol Hill opinion leaders including Congressional staffers, administration and
relevant trade association and think tank executives were in attendance. As part of the event, Stratasys executives and 3D printing experts shared their insights on how many manufacturers are using the technology across a variety of industries including automotive, aerospace, medical device, and consumer products. Attendees also saw demonstrations of different Stratasys 3D Printers, including the Fortus and Objet Connex, and interacted with numerous parts on display demonstrating a range of manufacturing applications from prototyping, tooling, jigs and fixtures, and parts used by manufacturers.
While everyone has heard about 3D printing as a disruptive technology with significant promise, attendees at the Capitol Hill event walked away with a much deeper understanding of how additive manufacturing is being used today to reshape how many manufacturers are bringing products to market faster and more cost-effectively.