Streamline Product Documentation With 3DVIA Composer - Part 1
Today, product developers are gaining competitive advantage, saving time, and cutting costs with a new class of integrated software tools. With 3D authoring software like 3DVIA Composer, your company can use 3D CAD data to automate the product documentation process—without modifying product designs. By addressing the changing nature of CAD data, this associative documentation tool seamlessly and effortlessly keeps your documentation up to date. This 7 Part series will explain the benefits of streamlining your product documentation across the manufacturing enterprise.
Part 1. Introduction
While 3D CAD has made designers and engineers more productive and efficient, the innate value in the CAD models they create often ends with the delivery of 2D drawings or printed materials to manufacturing. As manufacturers strive to find ways to become leaner, more efficient, and more competitive in global markets, generating CAD data to satisfy all the product documentation requirements of the manufacturing enterprise may hold the greatest potential for improving productivity.


Product Documentation is often a separate step that currently takes place after product design in many product development processes, creating delays and the need for additional rework. Shortening this step by using a 3D authoring tool to develop documentation content concurrently can accelerate time-to-market and increase competitiveness.
While many organizations already leverage 3D CAD content in some fashion, a 3D authoring tool allows you to avoid the rework associated with updating CAD models to incorporate engineering changes into downstream documentation. Software that updates content directly from the CAD model can distribute design modifications throughout all related deliverables.
As the design changes, 3D authoring software enables technical illustrators to create and update exploded views. Manufacturing specialists can develop and update graphics in assembly instructions, and customer service personnel can do the same in service documentation.
By implementing a documentation authoring solution, your company can realize greater accuracy, increased efficiency, and a more significant return on investment (ROI) within the first year.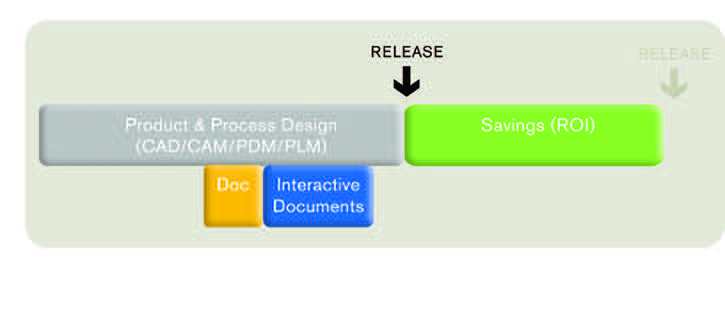 Using a 3D Authoring tool like 3DVIA Composer, Manufacturers can generate CAD data to meet the documentation, assembly, manufacturing, training, service, and marketing content needs, automatically and simultaneously.3DVIA Composer enables you to produce documentation as much as 30% faster than with conventional methods, and realize significant ROI by reducing documentation, training, and localization.
Check back tomorrow for Part 2 of 7 covering "Automating manufacturing and assembly instructions."
To learn more about 3DVIA Composer, visit cati.com or email us at cati@cati.com.
*This article provides excerpts from the "Streamlining Product Documentation across the Manufacturing Enterprise with 3DVIA Composer White paper, published by DS SOLIDWORKS Corp.