Title Blocks - Not Just for Drawings
I am going to start this blog with a bold statement
"There is no information that you can put in a Drawing that you can't put in a 3D model"
I know that will get a reaction and some of you may cry foul. It has long been commented by those opposing MBD that a Drawing is needed to completely document a part for manufacturing. The Drawing contains the standard notes, title block information including Part Number, Revision, signed approvals (authorization), dates , material specs, even a proprietary legal statement. But we can document them without a Drawing.
So can we have a single file that would integrate all the data you would but into a Drawing and the contain the 3D model? Yes, you can. You can embed all the information from a Drawing into the 3D model and have a single source of the truth for manufacturing and quality – the SLDPRT. And all the information is consumable in a in the free viewer eDrawings. The ability to document a physical part, create the toolpaths needed to manufacture, and create inspection documentation can all be had in the one SLDPRT file type. Not that I like to draw comparisons to ancient Drafting software, but this is kind of like the old days where one file had paper space and model space to define a part.
We all know that SOLIDWORKS has DimXpert to dimension a model in 3D space. I always tell people that we model for Design Intent, and we break a model into features to make it easy to edit. That means that our sketch dimensions aren't necessarily what the manufacturing people need to see. We can document those dimensions in the 3D model with DimXpert. But that is a pretty well known capability.
So let's focus on some of the lesser known capabilities SOLIDWORKS has to offer here like all the important information that goes into the title block. The ability to embed a Title Block came out with the introduction of MBD way back in 2015, but you don't need a MBD license to use this function. That Title Block is going to look and behave just like you would expect. It will contain approvals, dates, and model metadata. For those of you using PDM, all the approvals and metadata will interact with 3D Title Block the same way it would on a drawing. When you couple that with the ability to add your standard note block, there is no information missing that would necessitate a Drawing. Here is what it would look like when opened in SOLIDWORKS. The Title Block and standard notes are associated with the "Notes Area" annotation view which can be set to "Show on Open", ensuring the information is not hidden.
From a licensing standpoint, it is functionality that is embedded in all levels of SOLIDWORKS so you can experiment with this using the license you already own. The MBD license gives you the ability to organize all this data into easy to consume 3D Views. Much like the old paper Drawings had a Front, Top and Right view we can create 3D Views that have the same information in them. You can see in the screenshot above that I have multiple view icons across the bottom to represent and give quick access to those views.
All this information is consumable in the free Version of eDrawings as well. Including access to the predefined 3D Views.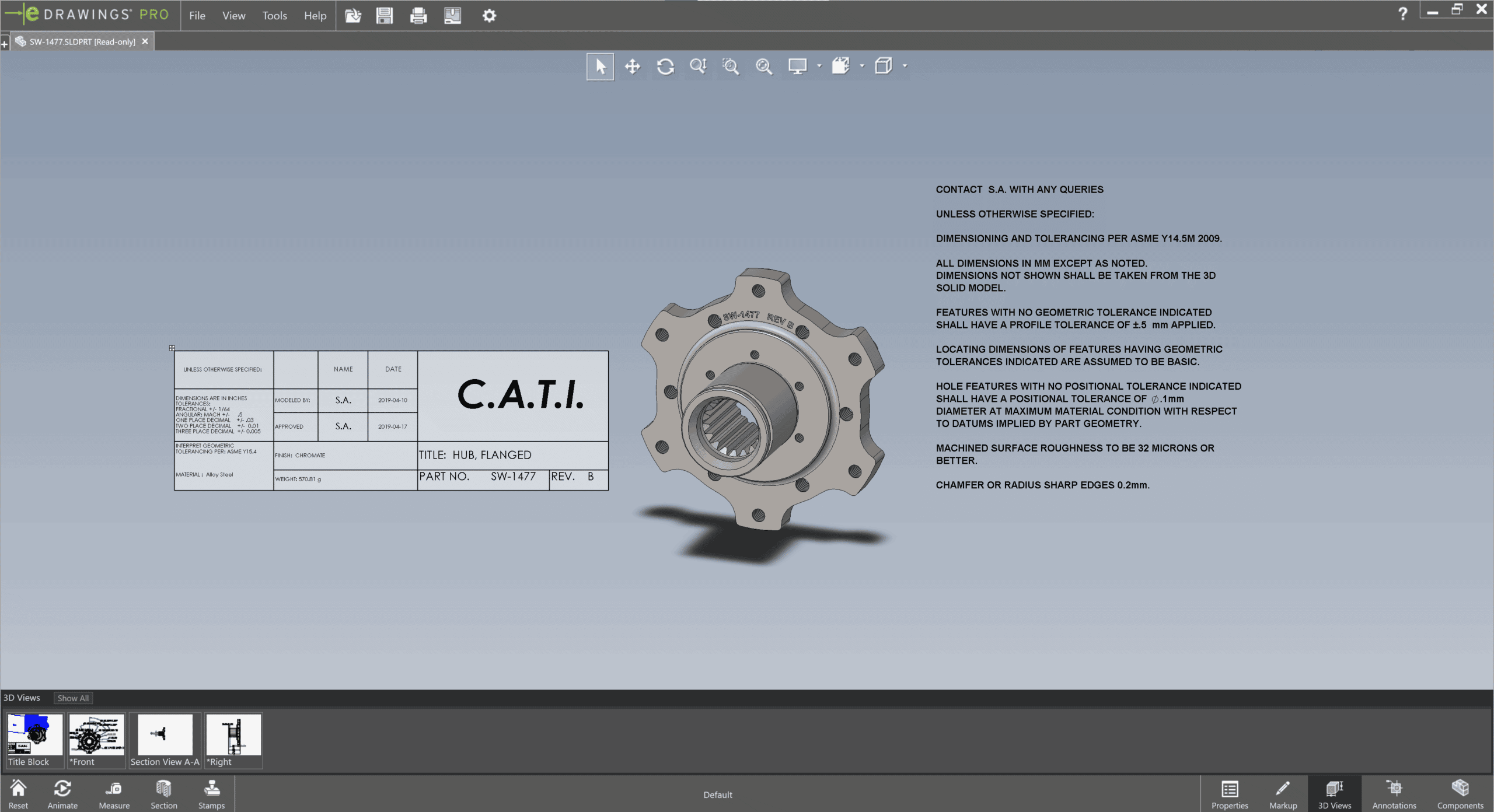 I think it goes without saying that I am an advocate for Model Based Design. In fact, check out a CATI podcast where Nick, Bryan and I discuss the value of drawings and whether or not we need them in the modern world.
Just to fess up though, there are a couple of shortcomings with MBD that involve tables that can't go into a 3D Model. The Weldment CutList, Punch List and the Hole Tables are not available for insertion into 3D. The Weldment Cutlist can be had by using a BOM though. Indented BOMs with a "Detailed Cut List" option will have the proper info as long as there is a Length column.
Hopefully, I have piqued your interest enough to investigate MBD as an option. I think you'll see it is a comprehensive option for documenting your models without the need for a secondary file. Even SOLIDWORKS Inspection can create reports directly off the 3D!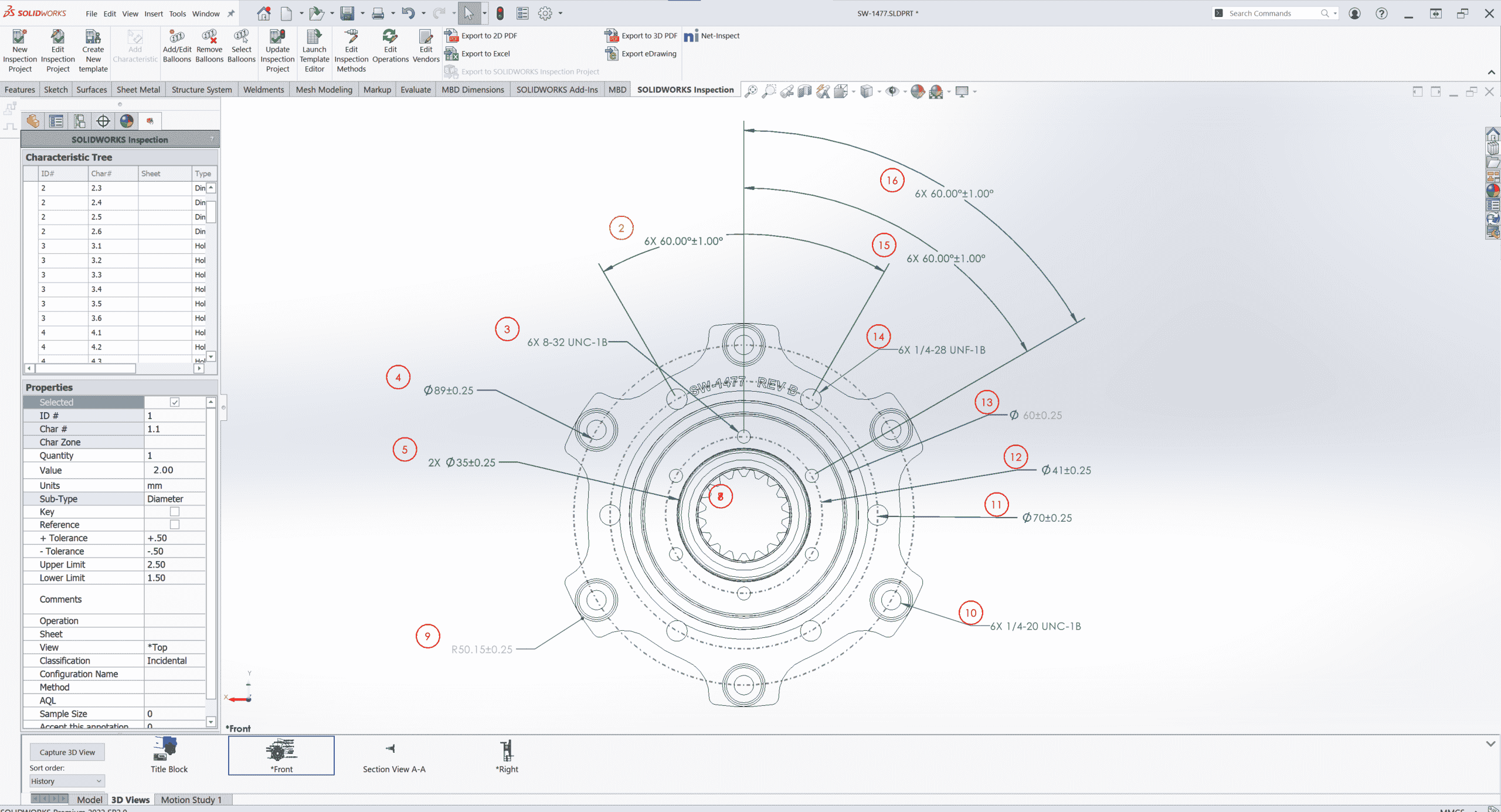 Jay Pinheiro
Manager, Strategic Solutions
Computer Aided Technology