Using the Costing Tool in SolidWorks
The SOLIDWORKS Costing tool helps you calculate how much it costs to manufacture sheet metal and machined parts by automating the cost estimation and quotation process.
The tool helps designers make design decisions based on the cost to manufacture, and helps manufacturers create quotes for customers. Whenever you change a design, you can see the new, updated cost immediately, along with a detailed cost breakdown. Additionally, you can generate automatic cost reports. To use this tool, you can go to Tools, SOLIDWORKS Costing and select Sheet Metal or Machining Costing.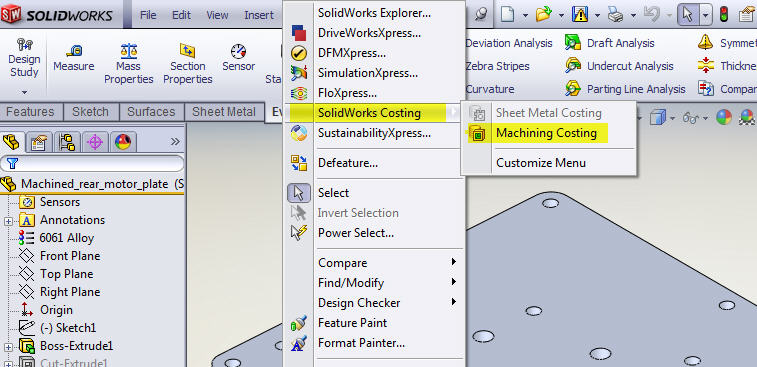 The Costing tool is driven by manufacturing and material information in templates that determine the manufacturing cost. In the templates you can specify the material used to create the part, the manufacturing processes (such as laser cutting, bending, or milling), and the associated costs of these materials and manufacturing operations. The templates also let you create custom operations such as packaging, ERP entry, painting, or cleaning.
The Costing tool is divided into two functional capabilities:
Sheet Metal Costing
Use the Sheet Metal Costing tool for parts that are manufactured from sheet metal. To use this tool, the part must contain sheet metal features such as flanges, bends, and forming tools. Features such as holes and cuts are recognized as manufacturing cut paths for operations such as laser, water jet, and plasma cutting.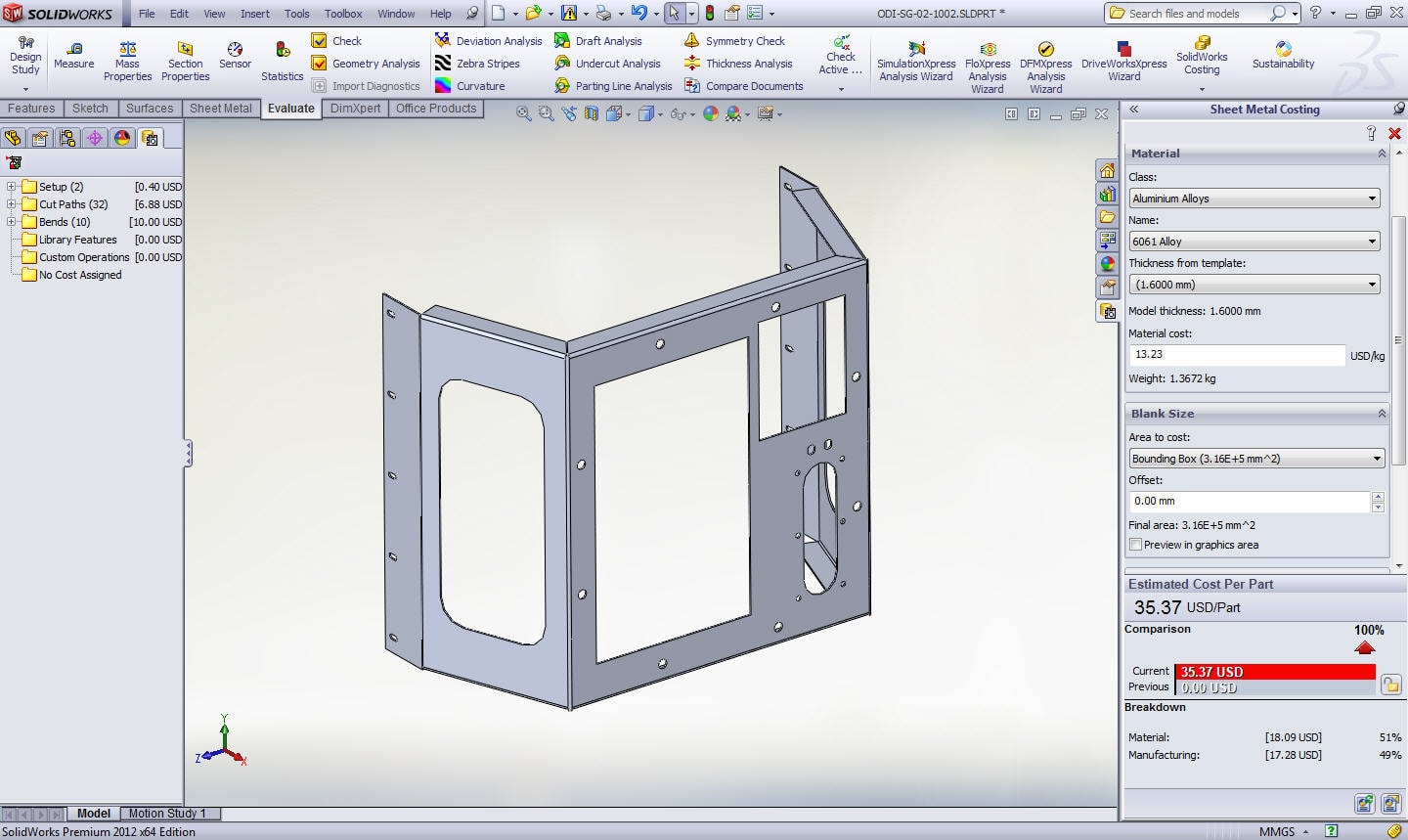 Machining Costing
Use the Machining Costing tool for parts that are machined from solid block and plate stock material. Parts machined from blocks use manufacturing techniques such as milling and drilling. Parts made from plate use manufacturing techniques such as laser, water jet, and plasma cutting, in addition to milling and drilling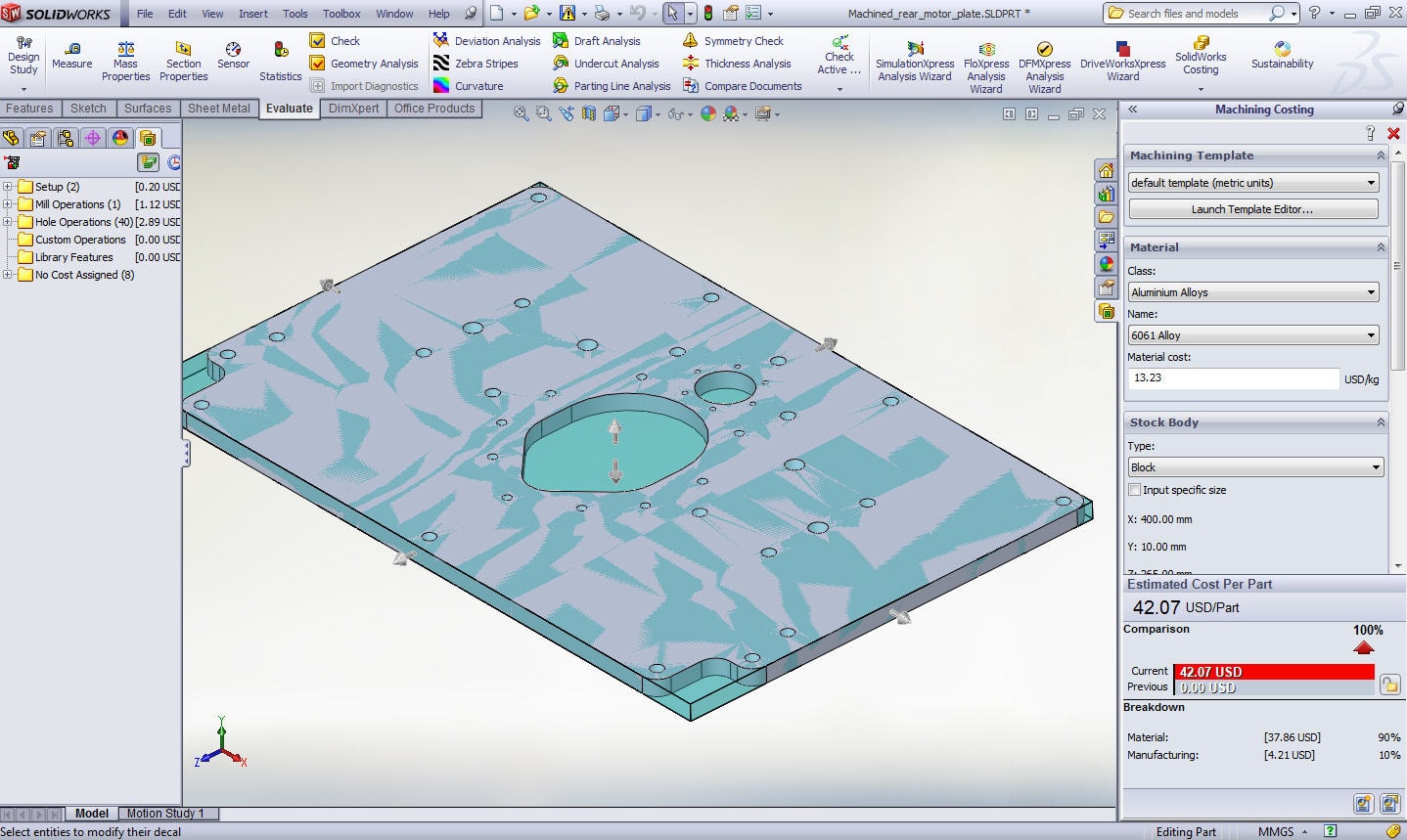 The costs calculated by the Costing tool are as accurate as the data in your templates. Although SOLIDWORKS provides pre-populated templates, it is best to create custom templates based on your manufacturer's costs. It is recommended that you work with your in-house manufacturing departments and external manufacturing vendors to create custom templates that reflect actual costs.
A great way to get familiar with this tool is to go through the tutorials. Go to Help, SOLIDWORKS Tutorials, Productivity Enhancements, SOLIDWORKS Costing.
Phil Whitaker
Technical Analyst