What is the GrabCadPrint Server?
What is the GrabCadPrint Server?
GrabCAD Print Server serves 5 purposes:
You can log into GrabCAD Print from any computer and connect to your office printers.
Receive email notifications for your print jobs.
Log into print.grabcad.com from anywhere to see the same Schedule View as in the desktop app.
Reports are powered by data collected from GrabCAD Print Server.
Your company account is what links your team members to all of the features of GrabCAD Print Server: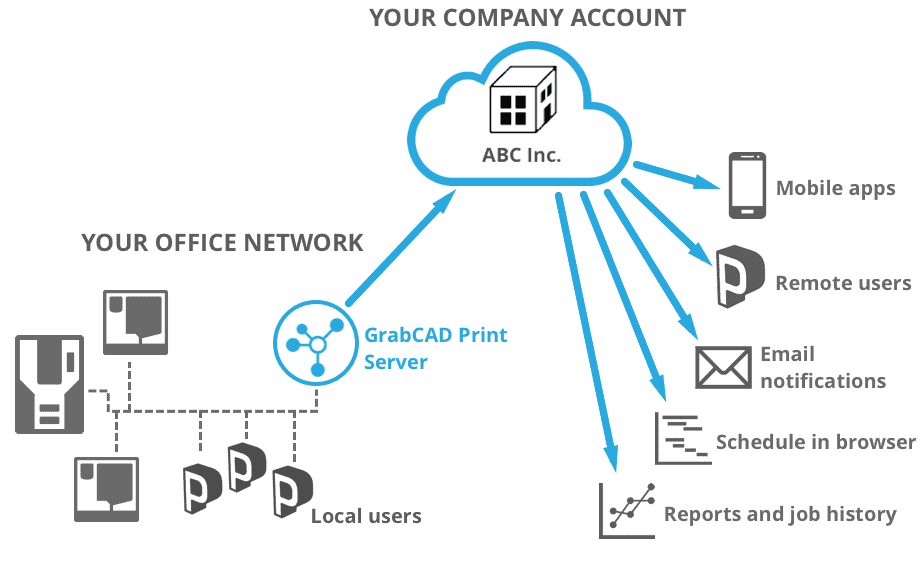 You'll need a computer that is connected to the network at all times. Check out the system requirements for GrabCAD Print Server. You can run GrabCAD Print and GrabCAD Print Server together on the same machine without issue.
Go here to download GrabCAD Print Server
Once you install, log in and select your company account.
…That's it! You can close the window, and the Print Server will run in the background as long as it's connected to the network.
If your PC shuts down or your Windows user logs out, it will restart automatically when you log back into Windows, and it will update itself seamlessly when new versions are released.
If your printers are not showing up, you may need to add by IP
If you have a printer that is not network discoverable, you need to add by IP address in order to connect with it. Go to GrabCAD Print and add the printer by IP as shown here. This will add it to your My Printers list, and GrabCAD Print Server will now be able to find this printer.
Now invite your team to the account
In order to print remotely, your teammates will need to be added to your account.
Here's how you can get your team on the account you just made:
Head to your GrabCAD Print account online: https://print.grabcad.com
As an admin, you will have access to your Company Admin settings from the main navigation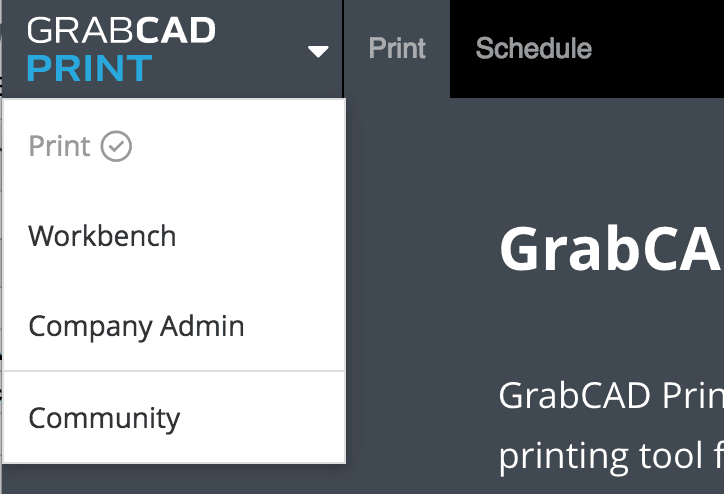 Once in the Company Admin, you can add users by clicking on the Add users button.
They'll need to follow the link in the invitation email to finish the signup process.
Sign into your account on GrabCAD Print, to start printing and monitoring remotely!
If you install GrabCAD Print on a computer outside your network, or you move your computer to a new location, you can access the printer on your network, thanks to GrabCAD Print Server. Just make sure you're connected with your company account, and your printers will show up in the printer panel with a cloud icon.
Security and privacy with GrabCAD Print Server
When you use GrabCAD Print Server, only the people who you have added to your company account are allowed to access your printers. If you would like to restrict remote users from modifying the printer queues in any way, you can set GrabCAD Print Server to Read only mode.