SOLIDWORKS Simulation: 30 Minutes to Smarter Design Decisions
In the past 20 years, I have worked in manufacturing, product design and as a consultant/applications engineer for several simulation software companies. Working with many companies seeking to innovate and differentiate their products, I have seen personally that the decisions engineers make early in the design process often make the difference between success and failure of the products and the companies.
The engineers might be seeking to add new features to a product that has been commoditized by new entrants in the market or to adapt an existing product to serve a new market. Inevitably they run into situations where they have to make choices in areas where they have little experience to draw on. At some point they build a prototype to test out the design, but which one or two of a dozen good ideas should they prototype? If they pick the wrong approach, they waste a month while their competition advances steadily forward to improve their own product.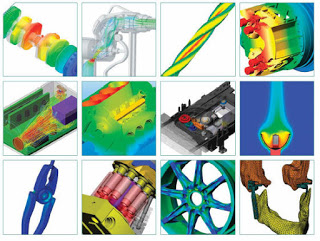 Often these companies compete with one or more large global companies that use simulation to predict the performance of their own design ideas before they build a prototype. Simulation enables these companies to try out more design alternatives and so to achieve a higher level of product performance at an earlier stage in the design process. These larger companies typically use high-end simulation tools that cost tens of thousands of dollars per seat and, because of their complexity, require highly-trained specialists to operate.
But most smaller and mid-sized companies cannot afford the investment
in people, software and hardware that would be required to use these tools.
That's why Corey Gulley, Simulation Applications Engineer for Fisher Unitech,
and myself will be presenting an interactive live webinar to explain how SOLIDWORKS Simulation can greatly reduce the cost and difficulty of accurately predicting the performance of a design concept. SOLIDWORKS Simulation enables small and mid-size company engineers to achieve the same results as high end simulation software with much less expensive and easier to use tools that run inside the familiar SOLIDWORKS environment.
We will present the SOLIDWORKS simulation portfolio which includes a wide array of tools for multiple physics that cover a huge variety of different simulation challenges. We will cover case studies showing how companies like yours have been successful using SOLIDWORKS Analysis tools. In addition we will show you how easily it is to do work directly within the SOLIDWORKS environment.
Finally, we will describe Fisher Unitech's broad array of services that can help you get the most from SOLIDWORKS Simulation. These services include classes covering every type of simulation offered by SOLIDWORKS, individual mentoring to help you apply these tools to your specific challenges and telephone support to help you get out of a jam quickly. We will provide plenty of time in the webinar for you to ask questions about your applications.

About the Author
David Roccaforte earned a BS and MS in Mechanical Engineering from the University of Michigan-Dearborn. He has been working with CAE tools since the mid-1990s when he was an engineering coop and later a product engineer with Automotive System Laboratory. Seeing the value that CAE brings to the
engineering process inspired him to concentrate on CAE during his graduate
studies. While finishing his graduate studies, he worked for Mechanical Dynamics as an engineering intern running vehicle dynamics analysis.
After finishing his graduate studies, David worked in the automotive Industry as an Engineering Analyst with Karmann Technical Development supporting the design of convertible roof systems for North American OEM's. From there Roccaforte joined MSC Software, one of the top companies in engineering simulation, where he worked as a Senior Application Engineer until he joined Fisher Unitech in 2010.