3D Print with Gradient
I think my co-workers would agree, 3DVision Technologies has some of the best and brightest customers on the planet! The smallest detail, would not get past any of you!
Recently, Stratasys announced a new soluble support material for their PolyJet Connex Printers, which is a game changer in that technology. The image below was used on that press release, and within minutes I received a call from a new customer asking how the gradient was achieved.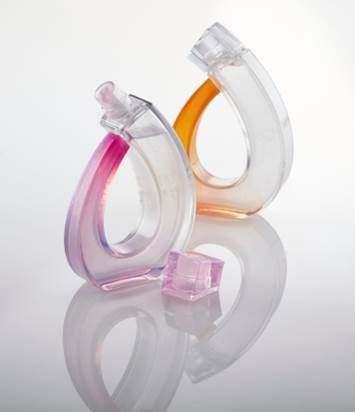 I quickly went to work in SOLIDWORKS to come up with a quick test part. To use different colors on the Connex, I need separate STL files created from an Assembly. I would need at least two colors (Clear and something else) in order to pull off this Illusion. Below is what I came up with.

My assembly contained (2) tapered extrusions all built in the SOLIDWORKS assembly environment (otherwise known as top-down-design). From here just save the assembly as STL which creates a separate STL from each component. There are other ways to accomplish this, but this seemed the easiest at the time.
Here is a link to the files if you'd like to replicate my part.
In Objet studio, I made sure to check the "Assembly" checkbox on the open dialog box. This allows us to assemble the individual files in order to print them in one cohesive part. Once in Objet studio I assigned clear to the bottom section and a semi-transparent black for the top section. You'll need to be in Digital material mode for this to come together.
Below is the final result. I think it turned out pretty well. Can you think of any other uses for this little trick? Let me know in the comments below.