Accessing and Using Your Data in the Cloud with Bookmarks for 3DEXPERIENCE
Storing data on the cloud is one of the most sought-after features organizations are looking for. We see the ability to access, manage, and share data through the 3DEXPERIENCE platform is streamlining workflows and reducing overhead for our customers.
The 3DEXPERIENCE platform stores data in a collaborative space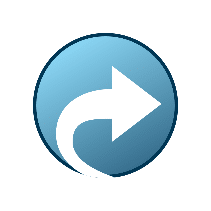 A collaborative space is your data vault. Collaborative spaces can contain and control thousands upon thousands of files. Because of how they handle data, they are not organized with a folder structure and they are not meant for users to scroll through them looking for their files.
Instead, there are two tools that the 3DEXPERIENCE platform offers to make accessing your data fast and easy. One is using the 3DSearch app, and the other is by using Bookmarks.
Creating bookmarks in the 3DEXPERIENCE platform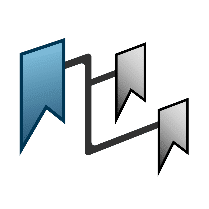 Bookmarks are created using the Bookmark Editor app, which comes with the Collaborative Industry Innovator role. Bookmarks are organized in the Bookmark Editor as Bookmark Workspaces, and Bookmark Folders. Think of a bookmark workspace as a directory which can contain bookmarks and bookmark folders. Bookmark folders are used to further categorize bookmarks like a familiar folder structure.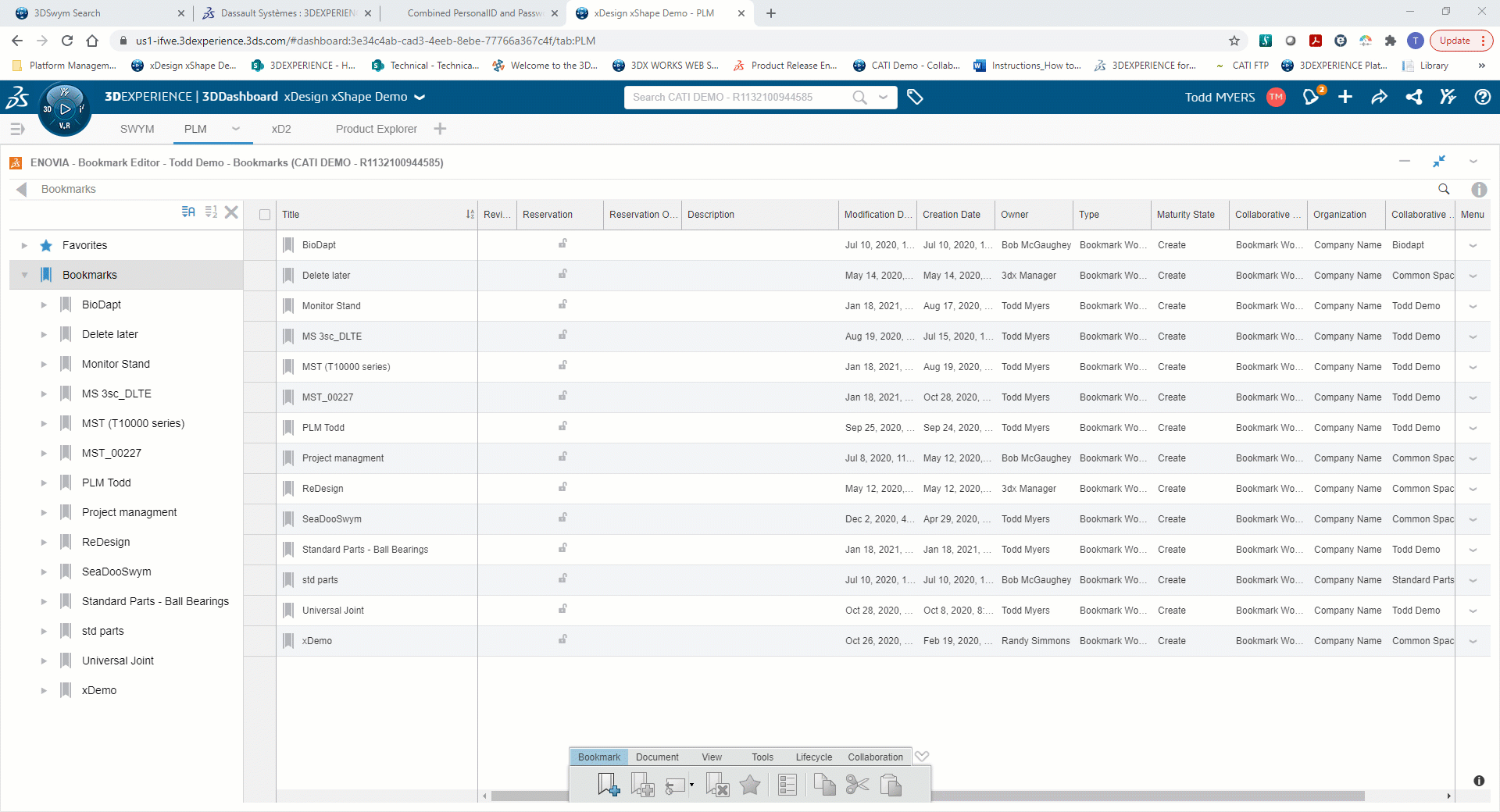 A bookmark folder can have new or existing data added to it. Data contained in a bookmark can exist in any collaborative space that the user has access to, which makes keeping data from an entire project readily available for use or review. Metadata is available to review in the columns of the Bookmark Editor, and custom properties from SOLIDWORKS files are captured automatically. For CAD generated from the cloud-based design apps, metadata can be created by editing the properties of the CAD file.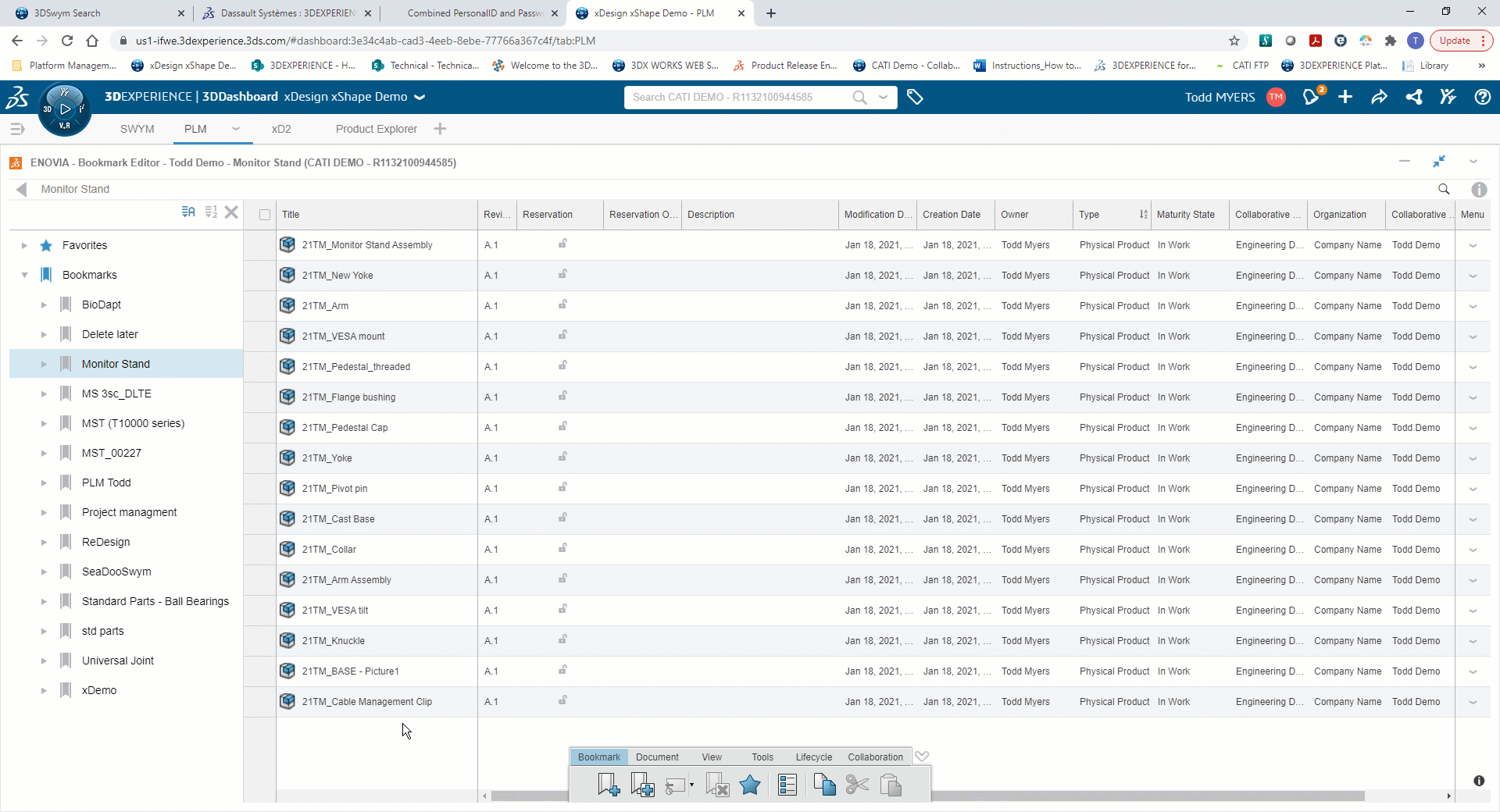 One of the best practices for SOLIDWORKS data is to create bookmarks upon the initial save to the 3DEXPERIENCE platform. Choosing "Save With Options" will give the user the choice of existing bookmark folders or to create a new bookmark to contain the file references.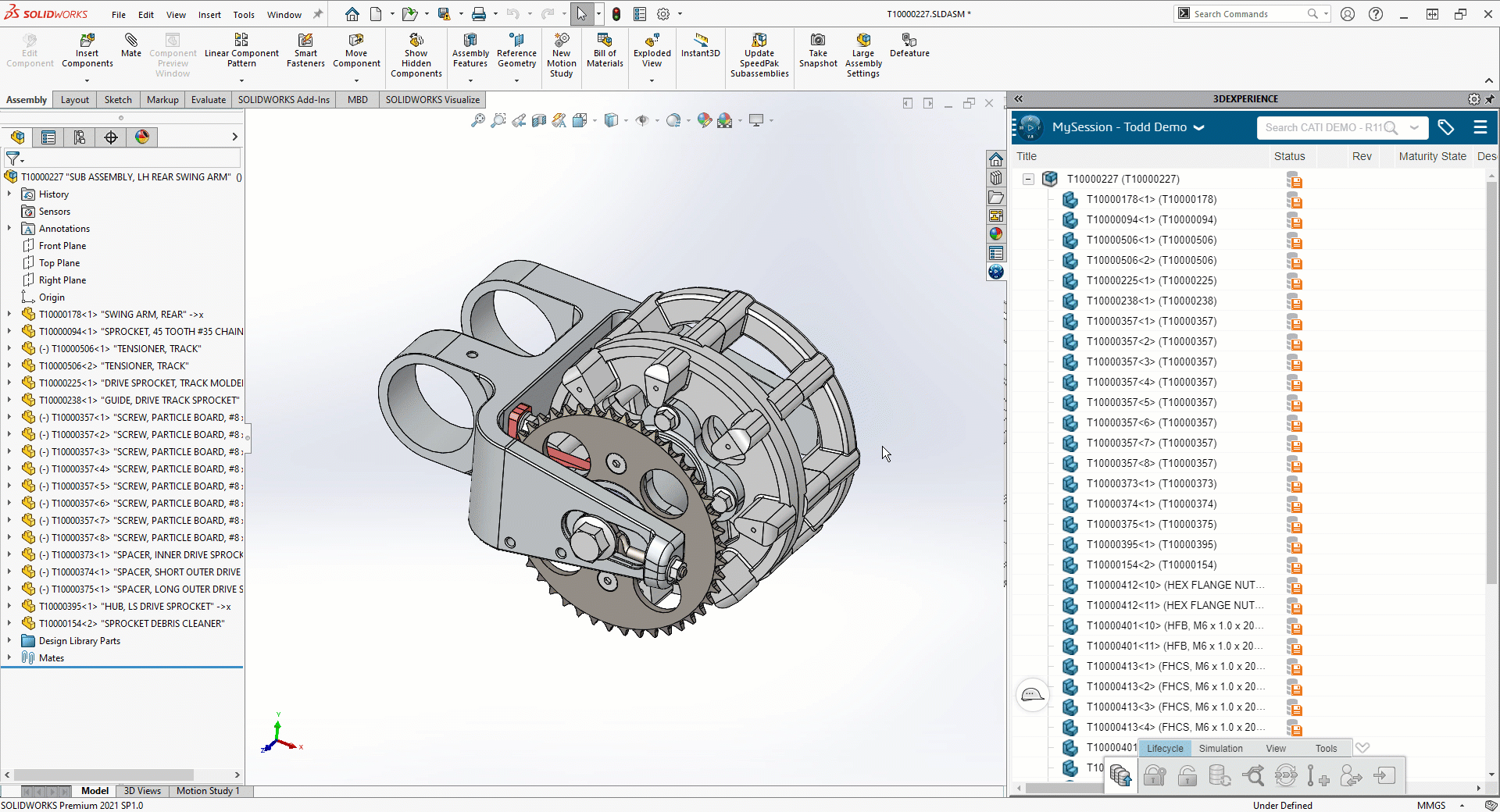 What can you do with bookmarked files?
Bookmarks can be shared with others in your organization. And you are not limited to one bookmark per file, which allows users to rearrange, copy and paste, and customize bookmarks however they wish.
Bookmarked files can then be easily browsed, and the referenced contents can be dragged and dropped into other apps, like 3DPlay to preview files, cloud-based design apps like xShape, and xDesign, and even into a desktop session of SOLIDWORKS. Users can also reserve and unreserve data here, to control who has read and write access to specific data.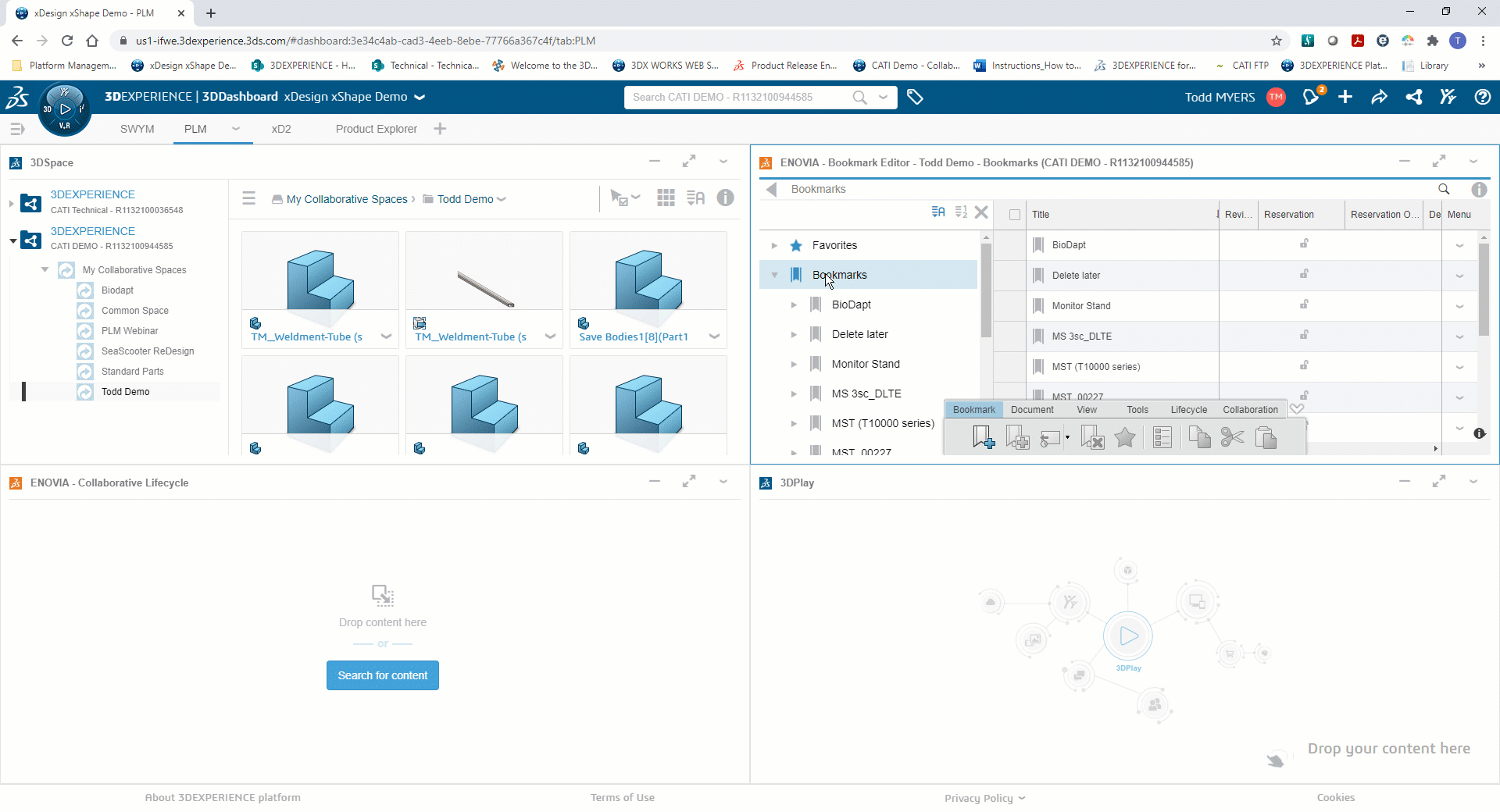 Content from your local computer can be directly uploaded to, and other data downloaded from, collaborative spaces through the Bookmark Editor app. File types include images, video, audio, documents, and many 3D model varieties.
| | |
| --- | --- |
| Images | jpg, jpeg, png, gif, tif, tiff, bmp, svg |
| Video | flv, avi, mov, wmv, mpg, mpeg, mp4, rm, webm, mkv |
| Audio | mp3, wav, aac, m4a, wma, ra, ogg |
| 3D model | 3dxml, stp, step, stpz, ifc, smg, ifczip, omf, rvt, rfa, stl |
| documents | doc, docx, ppt, pptx, pps, ppsx, xls, xlsm, xlsx, pdf, zip (incl .rar), txt, csv, json, xml |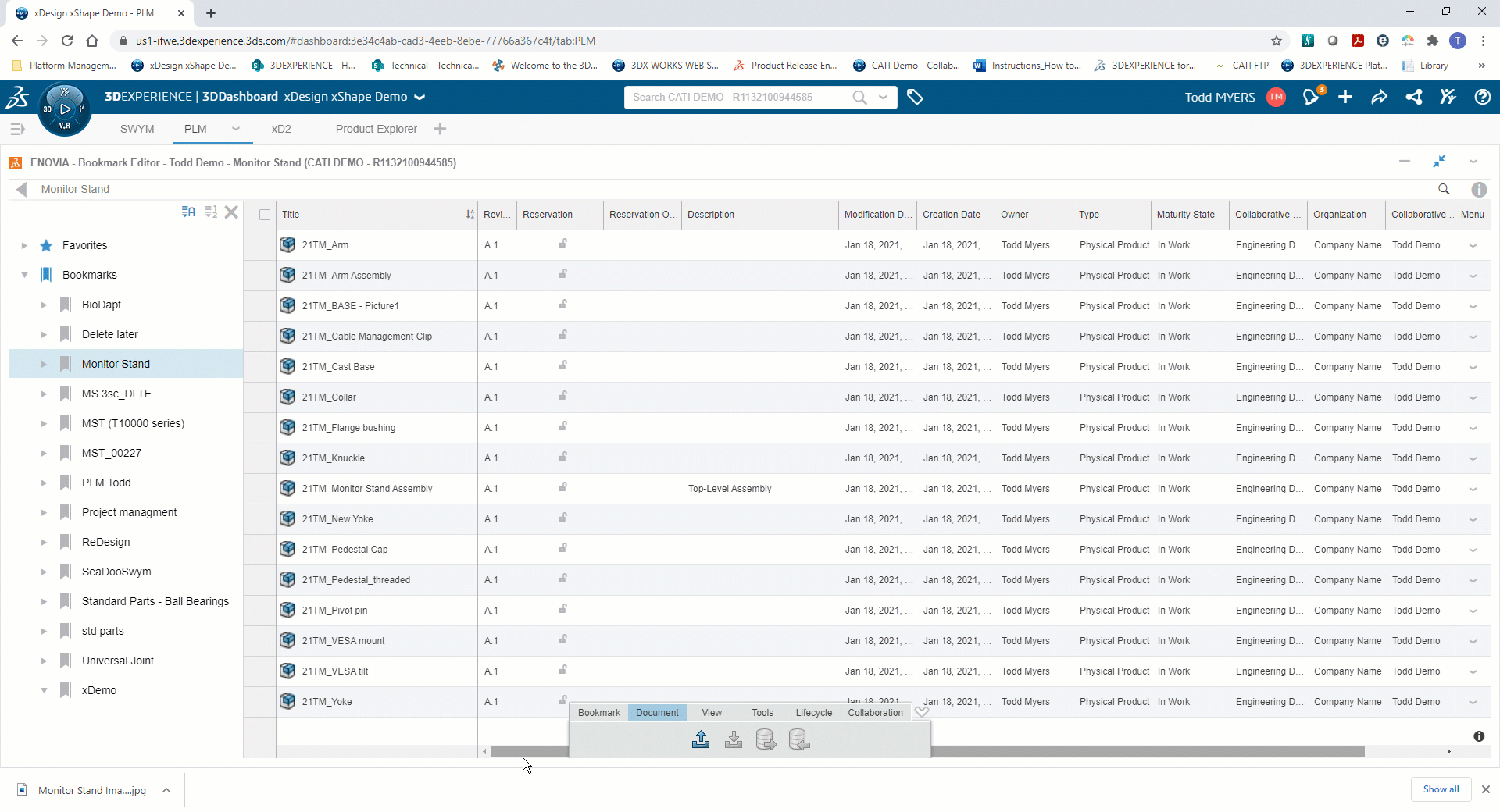 Subscribing to a document keeps you connected with the state of data as it progresses through a workflow. If CAD or a document undergoes a maturity state change, or a new revision is generated from it, the subscriber will receive notifications and links to view the process that the data is undergoing.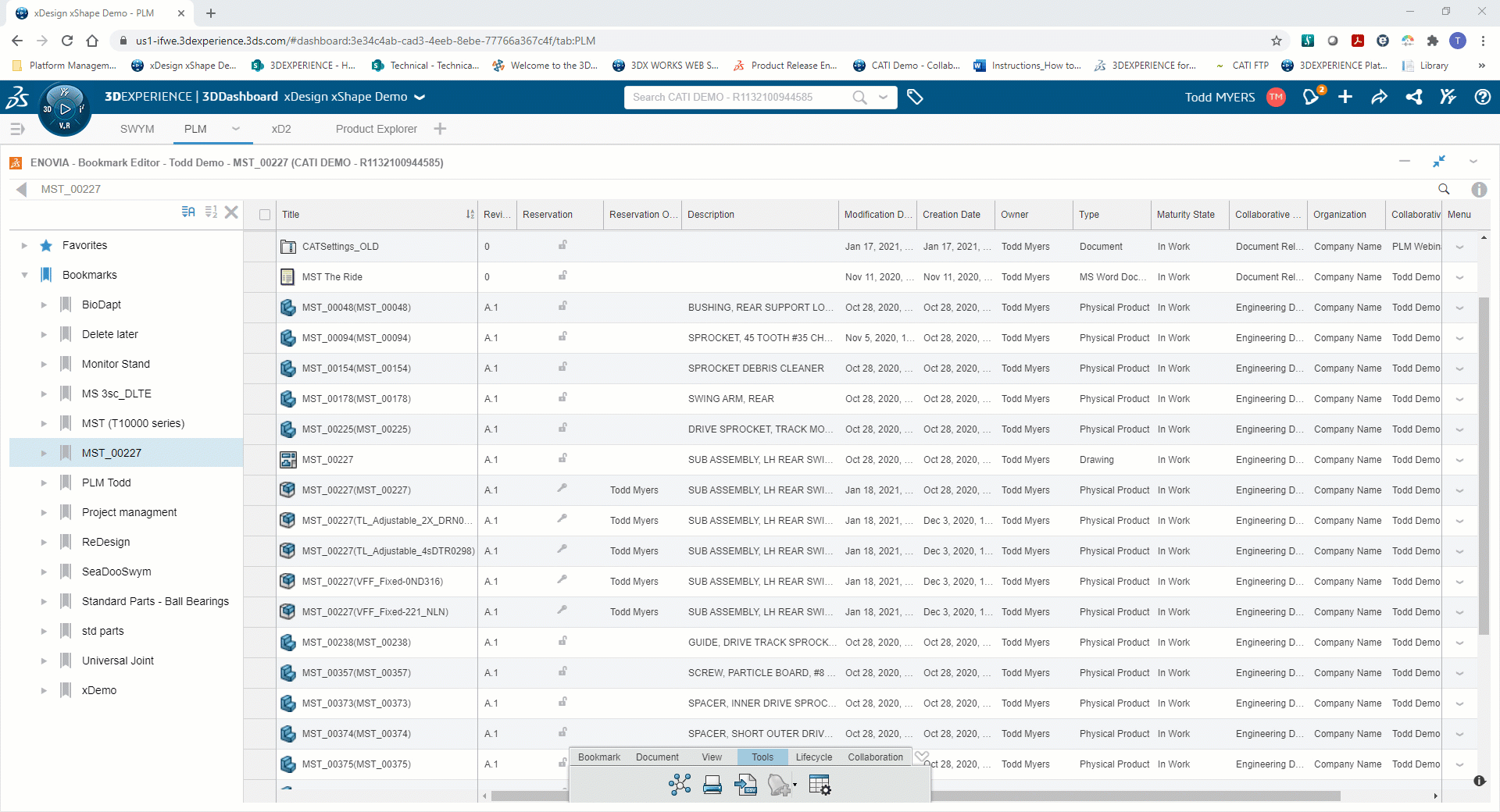 Another benefit to keeping a bookmark of commonly reused data is the ability to generate a new set of design data from an existing design, very similar to Copy Tree in SOLIDWORKS PDM. By selecting a file in the Bookmark Editor, you can choose to duplicate the file and a prefix. If the file is an assembly, you can choose to include its contents in the duplication or select Advanced Duplicate to choose which files to duplicate, reuse or skip. You also have options for finding and replacing text or adding a prefix or suffix.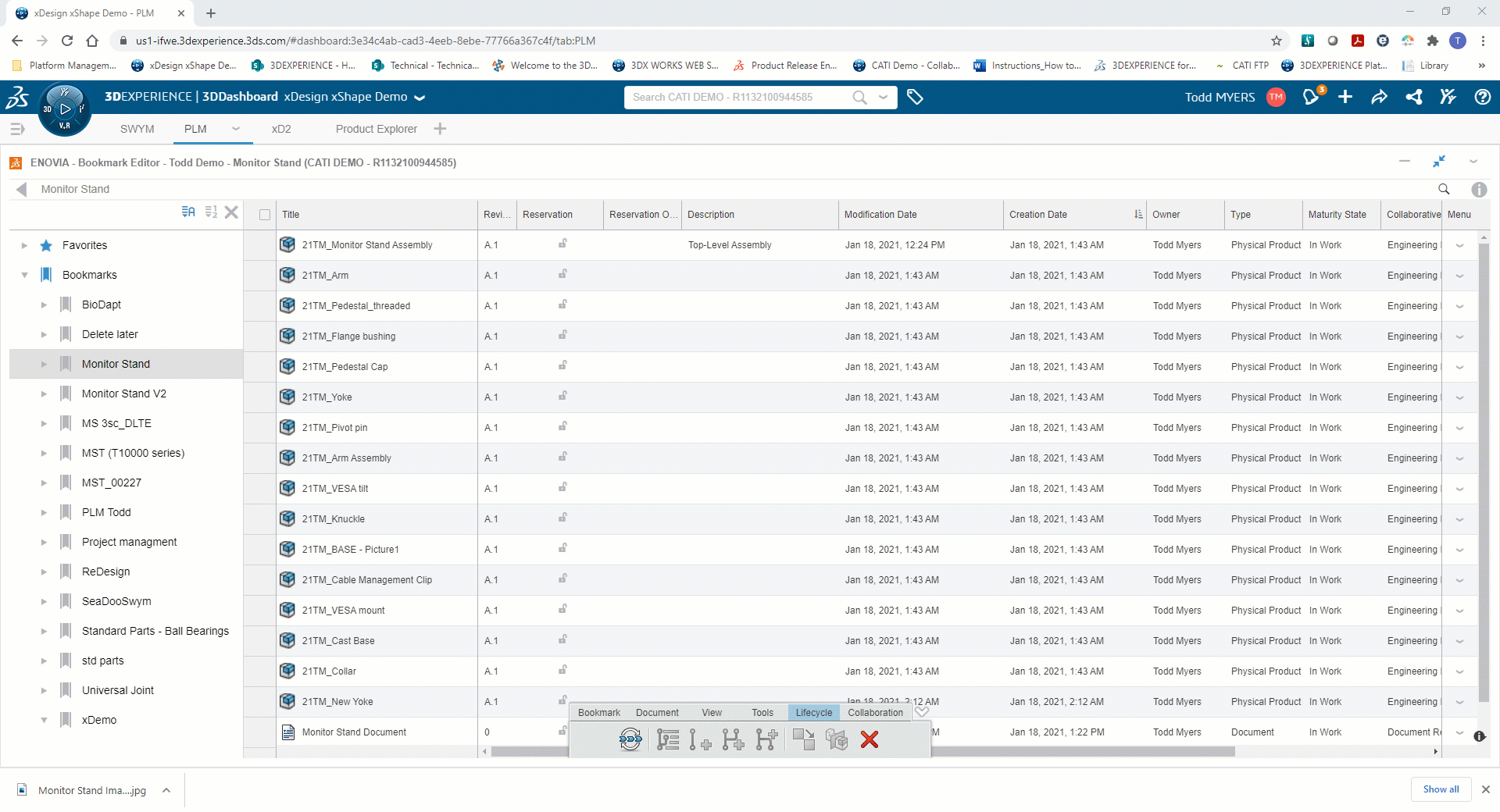 Organizations typically use a single collaborative space for containing and controlling their data. In addition, data in the 3DEXPERIENCE platform is assigned an owner, and this is typically the user who first saved or uploaded the data.
An organization may decide to create separate collaborative spaces for projects, or standard parts libraries, and the owner of a file may need to change. With Bookmark Editor, all these needs can be satisfied. By selecting "Move" on the Collaborate tab of the toolbar, a user can relocate files from one collaborative space to another, they can change which organization controls the data, and can reassign ownership of the data to a different user.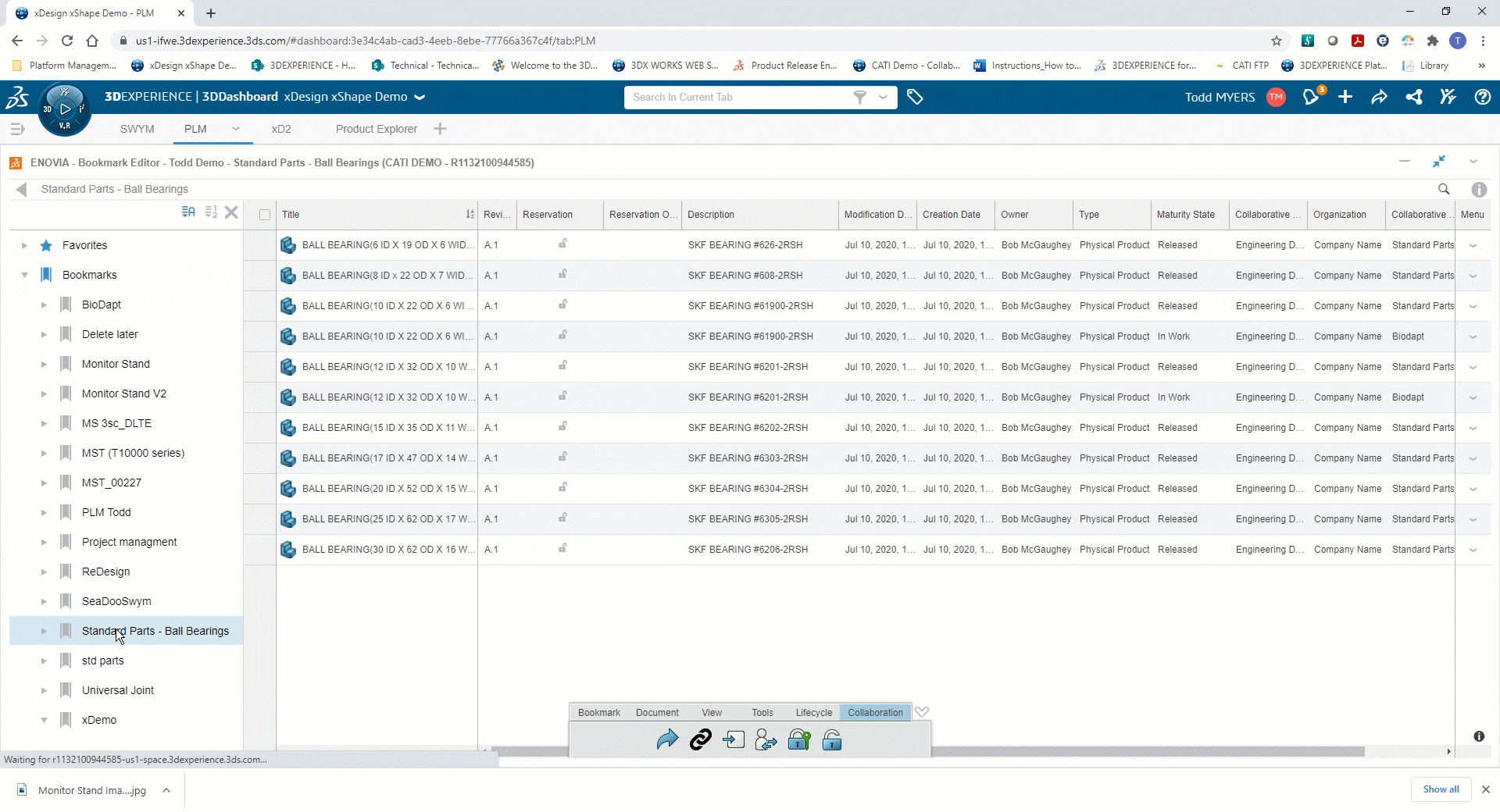 Using bookmarks to delete files from the platform
Lastly, one of the most important benefits of using bookmarks is how they can be used to delete entire groups of data. Using a bookmark folder containing references to data that needs to be removed allows you to select all the components at once and choose to delete them. For assemblies within this bookmark folder, you have the option to delete the entire structure of the assembly which will include all the components, whether subassemblies or parts. The only other option to delete files from the platform is to do so one at a time using the Collaborative Lifecycle app.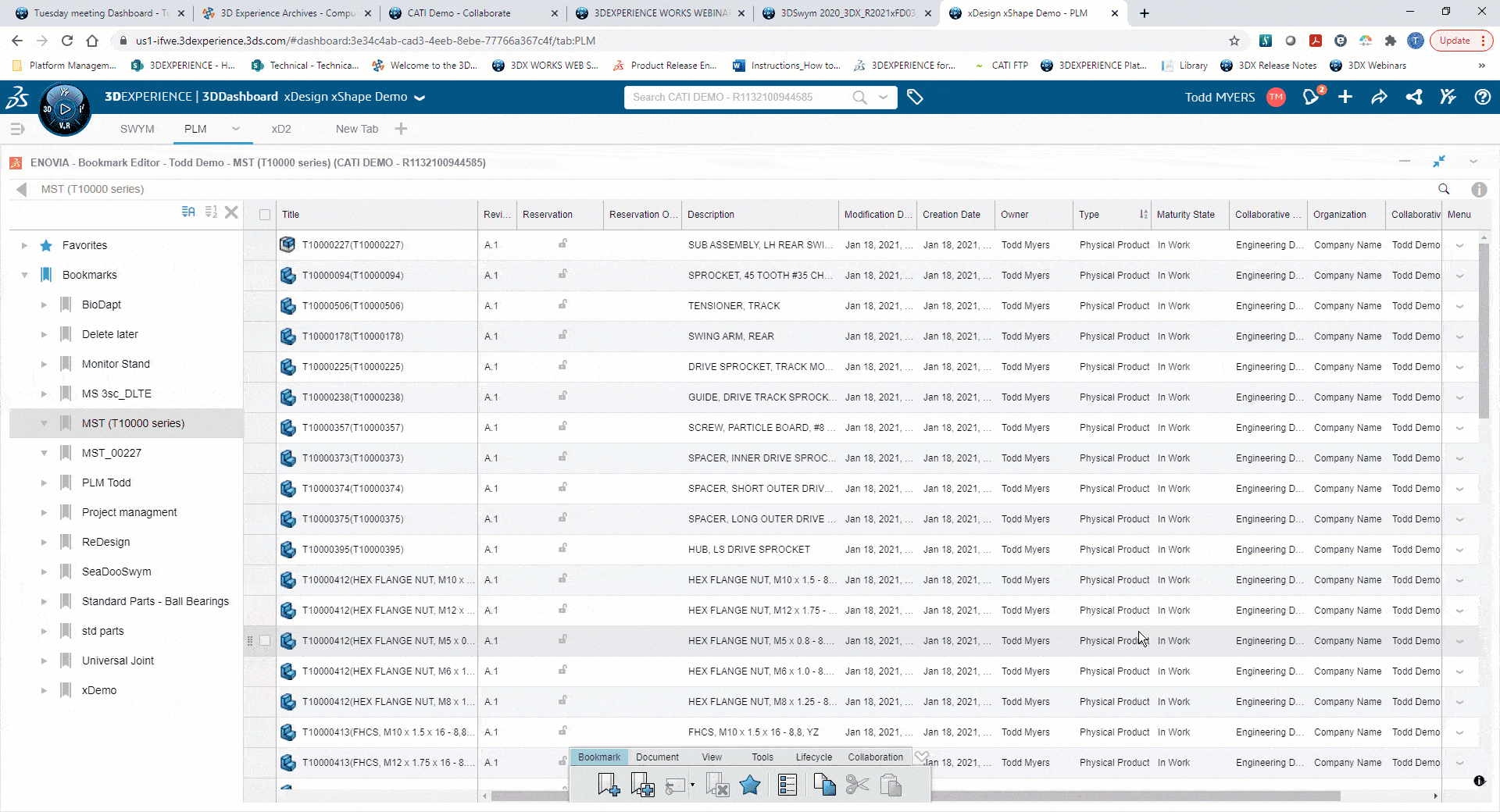 The features of the Bookmark Editor and the many ways it allows users to access, utilize, modify, and share their data, makes it a top app for 3DEXPERIENCE users.
Todd Myers
Application Engineer
Computer Aided Technology, Inc.