Adding Parts to the Design Library that have existing Custom Properties


Like any good redneck I like it when they make a button that will make your job or life simpler. What I do not like is when that button that was suposta make you life easier breaks what you have already done, and that is what we have here. Below is a great feature that SW has but it has a little flaw in it, we have reported this issue to SOLIDWORKS and it is in the process of being corrected by SW Development and has been issued SPR 432438. If you would like to be added to the notification list when this is corrected please contact your VAR to get added to the SPR.
If you have an existing Part or Assembly file that you want to add to the De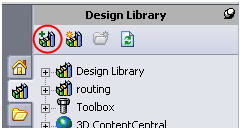 sign Library you can do so pretty easily. In the Design Library Pane there is a button for Add to Library. This tool makes it easy to add a file to a specific location in the Design Library and change the file name.