Auto Update Word Fields
SolidWorks Enterprise PDM's datacards make it easy for you to put information from the datacard directly into your Microsoft Word document. Simply connect the datacard's variable to the Word's custom file property, then link a Word field to that custom property.
The problem is that Word does not automatically update fields when you open the file. (Excel will, why won't Word?!) I know many people use some API code to automatically update the fields every time the document is opened (there is some sample code in the administration manual showing you exactly how to do this) but what if you don't like to use API?
Wouldn't it be nice if Word had a setting to automatically update the fields before you save the document? Unfortunately, as far as I can tell it doesn't….but I may have the next best thing. In Word 2007 go to "Word Options"

then at the bottom of the display section you should see: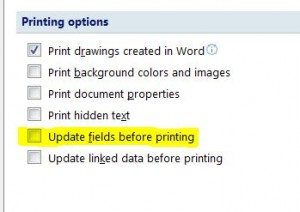 [For Word 2003 look in the Tools menu, click Options, and then click the Print tab. Hopefully someone out there can tell me where it is for Word 2010.] At least with this method all hard copies should be correct.
Going back to the API solution. If you put the field update code mentioned above in your "Normal.dotm" file, even files you created in the past will begin to automatically update –and as a bonus you will not be bothered to "Enable Macros" every time you open your documents.