Automate Your Designs Now by Activating DriveWorksXpress
Did you know that you have a powerful tool that's fully loaded and ready to go sitting right in your seat of SOLIDWORKS? DriveWorksXpress can be used right now with your existing designs to transform them into easily configurable, time and money saving machines.
So if you're an engineer who spends too much time modifying existing designs instead of creating new ones, DriveWorksXpress can substantially automate your process allowing you to focus more of your time doing what you love and what benefits your company most – new product development. Companies have been using DriveWorks design automation to accomplish exactly this for over a decade and have reduced their design time from days to just minutes. So with that, let's dig into what DriveWorksXpress is.
What is DriveWorksXpress?
DriveWorksXpress is a free design automation tool that ships with every seat of SOLIDWORKS. DriveWorksXpress is ready to go out of the box and allows one engineer to automate their job using a form to configure their design. It allows you to drive dimensions, features, and custom properties and also allows you to drive the file names of your new configurations.
How do I activate DriveWorksXpress?
DriveWorksXpress can be activated in these five simple steps.
#1. Within SOLIDWORKS, head over to your "Evaluate" tab. Once there you should see a button for "DriveWorksXpress Wizard."
Note: You may have to expand your menu by using the little chevrons, >>, in order to see it.
#2. The next screen will give you a link to MySolidWorks.com. Press it.
#3. Next, you need to sign in to MySolidWorks.com. If you don't yet have an account, you will need to create one. Otherwise simply log in.
#4. At this point, you will see a screen that provides an activation code.
Copy this activation code to your clipboard and enter it back into SOLIDWORKS.
How do I use DriveWorksXpress?
You can learn how to use DriveWorksXpress in the webcast below where I give an introduction to the tool. During this recorded webcast, you'll learn how to
– Prepare models to be DriveWorks ready

– Create a DriveWorkXpress database

– Capture dimensions, features, and custom properties

– Write rules to control your design

– Create custom variations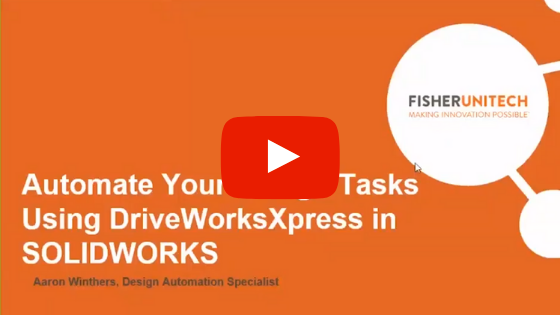 Related Articles
Design Automation Tools: Finding Value For Your Business
BKW Instruments Increases Productivity by 100% Using DriveWorks Pro
DriveWorks Solo Demonstration: Here's How it Works
About the Author

Aaron Winthers has been working at Fisher Unitech since 2014. As an Application Engineer Specialist, he works to assist companies in implementing design automation throughout their organization. He has a Bachelor of Science in Mechanical Engineering degree, concentrating in product design, from the Massachusetts Institute of Technology. Aaron is a Certified SOLIDWORKS Expert with other certifications in Data Management, Composer, Model Based Definition, Training, and Support.