BKW Instruments Increases Productivity by 100% Using DriveWorks Pro
BKW Instruments is a four generation, family-run company based in Manchester, UK. They provide several types of equipment linked to pressure, temperature, level, flow, valves, and analytical instrumentation solutions or services to several industries in the UK.
Earlier this year at DriveWorks World 2018, the DriveWorks team caught up with BKW's Operations and IT Manager, Adam Baker, who told them more about how the company uses DriveWorks Pro to increase productivity.
BKW Instruments was looking for a software solution that would help them meet the following business objectives:

1. Quote and despatch instrumentation within 24 hours
2. Design, assemble, test, fill, calibrate and despatch within 3-5 days
3. Automatically replenish stock within a set of parameters based on stock turn
Integrating DriveWorks Pro with ERP Systems
"We use DriveWorks as a web-based platform that allows our company to interact with our SYSPRO ERP system securely from any device, anywhere in the UK. The application we've developed enables us to organize and speed up everyday business processes and tasks," said Adam.

These include:

• Logging inquiries and orders
• Creating quotes and following up with them
• Approving stock re-orders
• Retrieving information related to a job or sales order
• Sending invoices automatically
• Logging incidents, IT support tickets and returns
• Ordering Friday breakfast!

Saving Time and Increasing Productivity
"With DriveWorks, we have met all of our business objectives, resulting in significant time savings and increased productivity.

At BKW, our people are our most valuable asset and all of our internal team use DriveWorks. It's very easy when training employees to use the system as it only takes a matter of days.

Sales inquiries are logged and entered into the system within 30 minutes. This process used to take around 3 hours to complete. Our internal sales team also create quotes twice as fast as before, resulting in a 100% increase in productivity!

We now design, assemble test, fill, calibrate and dispatch a range of core products, such as Diaphragm Seal Assemblies and Differential Pressure Transmitters, within 5 days, a process which used to take 3 to 5 weeks to complete. Stock items can now be shipped in 24 hours and all quick stock is automatically reordered by utilizing workflow for approval," Adam said.

Providing Exceptional Customer Service
"Our DriveWorks system greatly benefits our customers as it enables our internal sales team to log inquiries and produce quotes quickly and efficiently. This leads to a faster order turnaround and a quicker delivery of products while providing exceptional customer service and maintaining our professional appearance," explained Adam.
Creating Custom Bespoke Software
"For us, the most important thing about DriveWorks is the ability to create custom bespoke software utilizing visual wizards rather than heavy coding. This allows our company to build and customize the application we've created quickly and easily. We now have more time to focus on our workflow and business analytics rather than programming heavy code," concluded Adam.
To learn more about DriveWorks watch the recorded webcast below.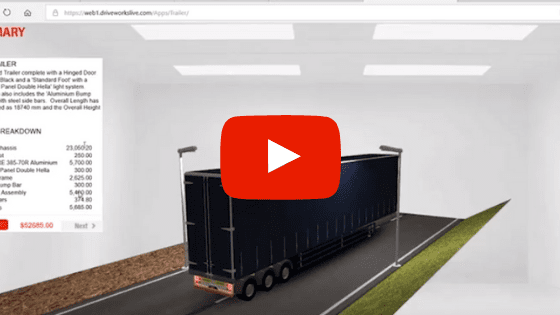 Related Articles
DriveWorks Design Automation: Configure and Customize with a Click
DriveWorks Design Automation is a Game Changer for Steiner Technologies
About the Author

Christa Prokos is a marketing manager at Fisher Unitech. She researches and writes about the latest business trends and technologies impacting manufacturers, including 3D printing, SOLIDWORKS 3D CAD design and product data management tools, product lifecycle management, virtual reality, and the Internet of Things. Christa has worked as a high tech marketing and communications professional since 2000.