Collaborative Industry Innovator - 3DEXPERIENCE
3DEXPERIENCE – Collaborative Industry Innovator
The 3DEXPERIENCE platform is an innovative cloud solution that grows with you. It's governed by roles and apps. Additionally, each additional role gives you access to several apps. Therefore, purchasing additional roles adds more capability to your system. Of course, like any other data management system, the 3DEXPERIENCE platform has its base requirements. Last time we spoke, we talked about one of the basic roles on the 3DEXPERIENCE Platform, the Collaborative Business Innovator Role. This time around, let us dive deeper into the Collaborative Industry Innovator role and what it brings to the table.
As a reminder, the 3DEXPERIENCE Platform is a cloud-based system, designed for collaboration. Each task requires specific roles and apps. The Collaborative Business Innovator and Collaborative Industry Innovator roles are the two most foundational roles that set the stage for the Platform.
Who is it for?
Apart from a basic viewer user (who needs the Collaborative Business Innovator role), everyone on the platform needs this role. It's tailored to every user in your value network. So, whether you're working with Office documents, CAD, simulation products, ideas, or anything in between, you'll need this role.
For example, engineers will use it to store documents, manage their data, request permissions and get approvals. How about marketing? Well, marketing may use to share videos and ideas with others. And we can't forget managers. They can use it to assign tasks, review/ approve documents and review issues. Finally, let's think about IT. They may use it to store documents and keep track storage limits.
Added Capability:
Let's take a quick look at the different apps the Collaborative Industry Innovator role installs.
3D Markup – Simple and intuitive markup tool; use arrows, text, measurements, cuts, or many other markup tools to convey your ideas.
Bookmark Editor – This app solves an essential problem with large databases. It allows users to efficiently keep track of content pertinent to their day to day. Users also have the ability of sharing folder like structures with others.
Change Action – Want a simple change process but have no time to configure it? This app is for you; view, approve, manage, and release products from one simple interface.
Collaboration for Microsoft – This installer will make sure users can keep track of their office documentation easily. It will add save, search, and other functionality to your existing office products.
Collaborative Lifecycle – Similar to workflows is SOLIDWORKS PDM, these preconfigured cycles will keep your files in the correct state. Permissions, and approvals can be associated with maturity cycle changes. Note: There are roles that create vaulting capabilities. However, you do not get them with the Collaborative Industry Innovator role. Capabilities similar to reserve, unreserve, revision control or changing maturity cycles on CAD parts are included with the Collaborative Designer for SOLIDWORKS role.
Compare – How many times have you wanted to compare two different CAD documents? Well, this app lets you to do just that. Now, you can compare two versions of the same document, or two different documents all together. It will even render a 3D image with highlighted changes.
Issue Management and Issue 3D Review – Dealing with issues is a critical component of any engineering team. With these two apps, you can monitor issues and risks to mitigate their potential impact. Capture, assign, track, and close issues while keeping your 3D CAD in perspective. Further, users can approve work on proven issues while disregarding minor items. Keeping everyone in the know has never been simpler
Product Explorer – Navigate existing product structures with ease. With Product Explorer, you can understand and export BOMs together with the ability of branching out separate structures. This app gives you insight on your BOMs like you haven't seen before.
Route Management – This is your app for a custom document approval process. It allows organizations to map and create routes for their users/documents to follow. You can request someone's approval or assign tasks with this app. Now you never have to stray from your processes by using the route management app.
Not all apps available on the cloud are also be available in SOLIDWORKS. In fact, some of them are links back to the cloud. However, most of the day to day features engineers and designers need, are at your fingertips. For instance, use Change Action to understand approved changes. You can easily open documents with the Bookmark Editor or view and open assigned tasks. The list goes on, but these are just some examples how the SOLIDWORKS connector will make your life easier.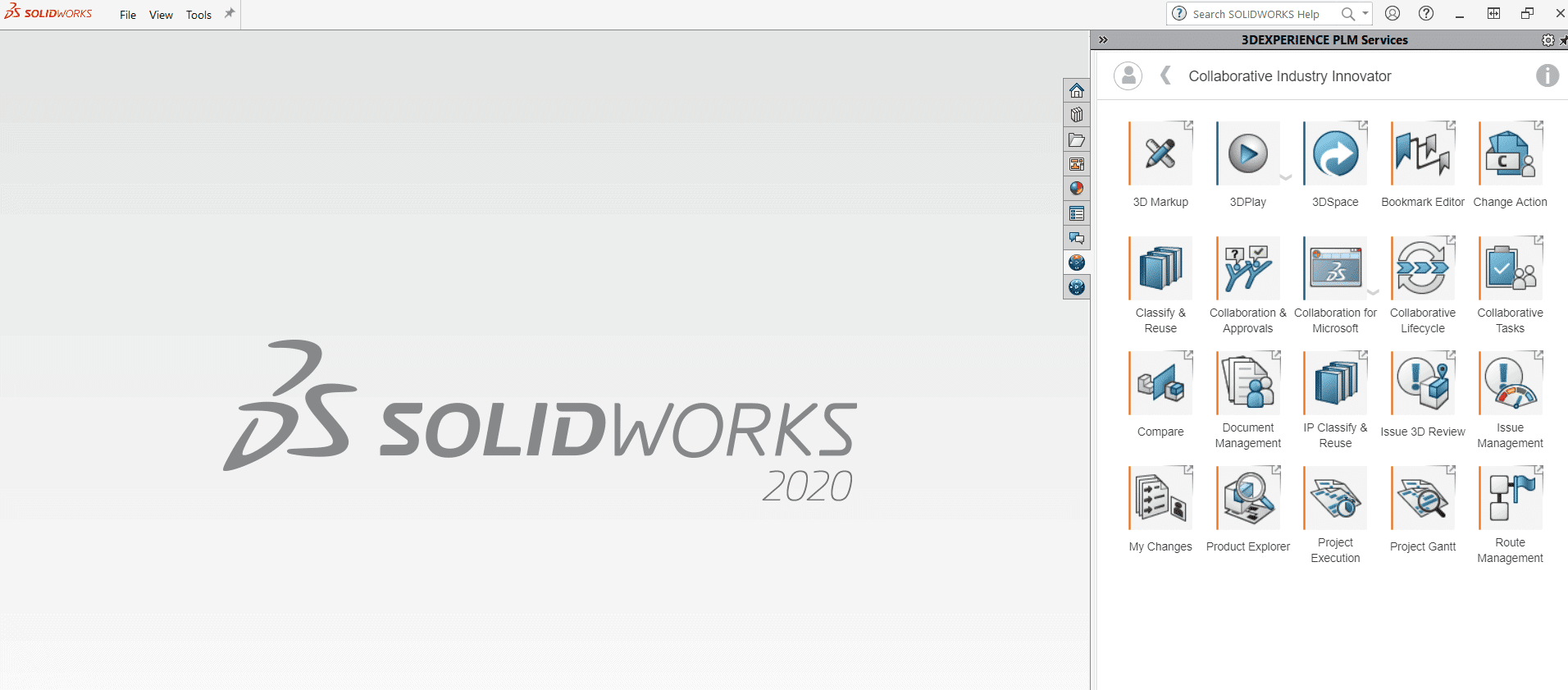 Key Takeaways
The Collaborative Industry Innovator role builds on to existing capability provided by the Collaborative Business Innovator role to complete your foundational suite of tools. Everyone using the 3DEXPERINCE to collaborate with others will need this role.