Objet Connex 3D Printers

Build Precise Multi-Material Prototypes
Simulate the precise look, feel and function of sophisticated finished products. Combine as many as 14 material properties in a single model — and turn your most inspired ideas into realistic prototypes, fast.
120 Material Properties
With Connex multi-material 3D printers, assembly is optional. Future products to be built or assembled from two or more materials can be realistically 3D printed in one fast process and critically evaluated early in the design cycle. Each Connex system offers 16-micron layer accuracy in a range of 120 materials, so you can capture every detail.
Dual-jetting technology lets you take advantage of Digital Materials produced by combining two base resins in specific concentrations and structures. Mimic the durability and heat resistance of ABS plastic, or test designs that require functionally graded materials. Digital Materials let you incorporate a range of hardnesses, opacities, shades or thermal properties into a single model for striking, true-to-life prototypes.
---
New Objet260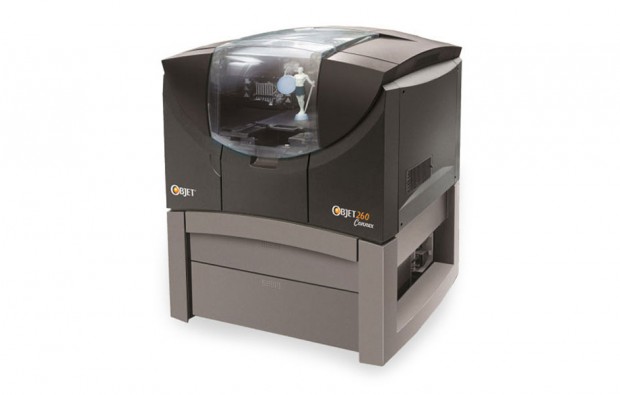 Objet260 Connex1
They say you can't rush perfection, but the Objet260 Connex 3D Printer will give your products a running start. With PolyJet precision and the ability to combine two or three base resins in a single print job, you can simulate overmolding, generate three-material prototypes, or produce trays of assorted models in hours – not days or weeks.
Objet260 Connex2
The Objet260 Connex2 3D printer puts the power and possibility of triple-jetting technology in a footprint that fits your office environment. With 120 materials to choose from, you can turn your 3D designs into impressive, high-precision prototypes.
Objet260 Connex3
Designers, meet the most liberating 3D printer in the world. The Objet260 Connex3 creates brilliantly colored prototypes with a range of multi-material components including rigid, flexible, clear and durable.
Get inspired by the possibilities. Then start prototyping with passion.
---
Objet350/500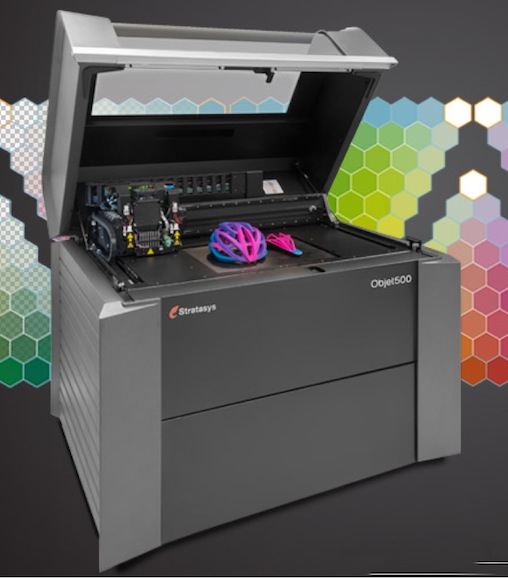 Objet350/500 Connex1
Rethink what's possible on tight development budgets and timelines. The Objet500 Connex1 lets you combine two or three base resins in a single print job to simulate overmolding, generate multi-material tools and models, or produce trays of assorted parts-all for immediate use without assembly or post-processing.
Objet350/500 Connex2
Leap over product hurdles from prototyping to production. The Objet500 Connex2 offers precise multi-material printing with Digital Materials for smooth, accurate parts that meet your precise blend of material requirements.
Objet350/500 Connex3
The world's most versatile multi-material 3D printer puts products on the fast track through development and production. From testing to rapid tooling, get the properties, pigments and precision you need to build great products faster.
---
Materials
With 120 material options, including more than 100 Digital Materials created on the fly, Connex 3D printers empower you to simulate a range of mechanical and physical properties, from rubber to rigid; opaque to transparent; and even ABS-grade.
Base materials include:

Composite Digital Materials include:
Digital ABS(RGD5160-DM fabricated from RGD515 and RGD535) for high heat resistance and toughness to simulate ABS plastic. Digital ABS2 matches those properties and provides superior rigidity and toughness in walls thinner than 1.2 mm (.047 in.).
High Temperature material for advanced functional testing, hot air and water flow, static applications and exhibition modeling
Transparent shades and patterns
Rigid opaque shades
Rubber-like materials with varying Shore A values
Polypropylene with improved thermal resistance