Cost Optimizing Through SOLIDWORKS Costing PART II
Sheet metal models can make use of multibody design techniques. What is a multibody part? It's 1 part file containing more than 1 solid body in 1 file. Did you know that in SOLIDWORKS sheet metal, each body can represent a different material gauge (thickness) and material? Let me show you how easy this is to do.
Here is an example of a Shelf Bracket.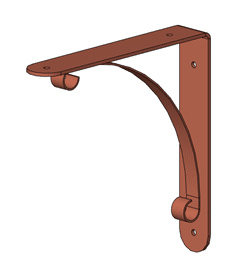 This is a multibody part, not an assembly. In some cases, it makes sense to develop a product and keep it within 1 part file. This sheet metal part is created the same way multibody parts are created but the uniqueness is that each body can have a different Sheet Metal material and thickness assigned to each.
For multibody sheet metal parts, the Feature Manager Design Tree is grouped into Cut Lists for each different body (See Arrow 1 below). Also in the Feature Manager Design Tree is the Sheet Metal Folder which stores the Overall Part Settings for each body (See Arrow 2 below). In this example, there are 2 Solid Body Settings folder. This indicates that the 2 Sheet Metal bodies each have their own material thickness.
For the L-Shaped Bracket (Sheet-Metal 6) is 16 Gauge and the Scrolled part (sheet-Metal 1) is 11 Gauge.
Not only can we change thickness of material for solid body, we can also change each part to be a different material too.
We see that Plain Carbon Steel is set at the overall material for this part file. .
Let's change the second Cut List Item named Base-Flange 2. Right Mouse Click on the cut list body, select Material, and choose from your Favorites or go to Edit Material to select a material not in your Favorites.
When changed, the material will be shown under the individual cut list item body.
An easy process if you prefer to keep 1 part file instead of an assembly and have different material types and gauges.
I hope you found this helpful! Thanks for reading.
Judy Marlo, CSWE, CSPP
Application Engineer Manager
Computer Aided Technology