Create an Options File for the SOLIDWORKS SolidNetWork License Manager
The SOLIDWORKS SolidNetWork License Manager (SNL) can use what we call an "Options File" to gain more control over your network license usage. This administrative control includes preventing users or groups from borrowing certain license types, reserving certain license types for specific users or groups, and setting an idle time limit when borrowing licenses. Upon manually creating this Options File, it will need to be linked to the existing SNL and re-activated to be established.
To create this SNL Options File, we need to generate a blank text editing document. Notepad or Notepad++ is the preferred tool to use when creating this Options File. Once inside Notepad, or your preferred text editor, the options are virtually limitless. Below is a listing of possible commands that can be used to create an SNL Options File (for a complete list of Options File keywords, see Chapter 13 of the FLEXlm End Users Guide).
| | |
| --- | --- |
| AUTOMATIC_REREAD | Turn off automatic reread of licenses at midnight |
| BORROW_LOWWATER | Set the number of borrow licenses that cannot be borrowed |
| EXCLUDE | Denies a user access to a feature |
| EXCLUDE_BORROW | Denies a user access to borrow a license |
| EXCLUDEALL | Denies a user access to all features |
| GROUP | Defines a group of users to use with any options |
| INCLUDE | Allows a user to use a feature |
| INCLUDE_BORROW | Allows a user to borrow a license |
| INCLUDEALL | Gives a user access to every feature served by the vendor daemon |
| MAX | Prioritize the usage among the users |
| MAX_BORROW_HOURS | Sets a limit for the number of hours a license can be borrowed |
| RESERVE | Sets licenses aside for use by a group of users |
| TIMEOUT | Sets a timeout for any feature before it is automatically returned |
| TIMOUTALL | Set timeout for all features |
Below is a listing of possible license types/products and their associated FLEXlm name.
3D CAD

SOLIDWORKS Standard
solidworks
SOLIDWORKS Office
swoffice
SOLIDWORKS Professional
swofficepro
SOLIDWORKS Premium
swofficepremium
SOLIDWORKS Premium with Simulation Professional
swofficepremium_cwpro
SOLIDWORKS Premium with Simulation Premium
swofficepremium_cwadvpro
eDrawings Professional
edrw

Simulation

SOLIDWORKS Simulation Standard
cae_cwstd
SOLIDWORKS Simulation Professional
cae_cwpro
SOLIDWORKS Simulation Premium
cae_cwadvpro
SOLIDWORKS Flow Simulation
cae_cosmosfloworkspe
SOLIDWORKS Flow Simulation HVAC Module
cae_cosmosfloworks_hvac
SOLIDWORKS Flow Simulation Electronic Cooling Module
cae_cosmosfloworks_elec
SOLIDWORKS Sustainability
swsustainability
SOLIDWORKS Plastics Standard
plastics_professional
SOLIDWORKS Plastics Professional
plastics_premium
SOLIDWORKS Plastics Premium
plastics_advanced

PDM

SOLIDWORKS PDM Professional CAD Editor
swepdm_cadeditor
SOLIDWORKS PDM Professional CAD Editor & Web
swepdm_cadeditorandweb
SOLIDWORKS PDM Professional Contributor
swepdm_contributor
SOLIDWORKS PDM Professional Contributor & Web
swepdm_contributorandweb
SOLIDWORKS PDM Professional Processor License
swepdm_processor
SOLIDWORKS PDM Professional Viewer
swepdm_viewer
SOLIDWORKS PDM Professional Web
swepdm_web
SOLIDWORKS PDM Standard CAD Editor
swpdmstd_cadeditor
SOLIDWORKS PDM Standard Contributor
swpdmstd_contributor
SOLIDWORKS PDM Standard Viewer
swpdmstd_viewer

Electrical

CircuitWorks
circuitworks
SOLIDWORKS Electircal 2D
elec2d
SOLIDWORKS Electrical 3D
elec3d
SOLIDWORKS Electrical Professional
elecpro

Technical Communication

SOLIDWORKS Composer
swcomposer
SOLIDWORKS Composer Check
swcomposer_check
SOLIDWORKS Composer Path Planning
swcomposer_pathplanning
SOLIDWORKS Composer Player Pro
swcomposer_playerpro
SOLIDWORKS Composer Sync
swcomposer_sync
SOLIDWORKS Composer Enterprise Sync
swcomposer_syncenterprise
SOLIDWORKS Inspection Professional
swinspection_pro
SOLIDWORKS Inspection Standard
swinspection_std
SOLIDWORKS MBD
swmbd_std

2D CAD

DraftSight Enterprise
draftsightpremium
Many times, groups are assigned first, followed by the commands you want to enforce for those groups or user(s). The following is an example of a possible Options File.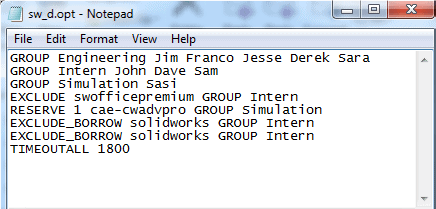 The text above specifies three different groups: Engineering, Intern, and Simulation. The group specific as Intern is excluded from using the SOLIDWORKS Premium license. The users in the Intern group are also not able to borrow SOLIDWORKS licenses. One license of SOLIDWORKS Simulation Premium is reserved for the Simulation group. Lastly, the licenses will timeout after 30 minutes of inactivity (1800 seconds). These Options Files can be as simple or complex as necessary.
Once this custom text file is generated, save it as sw_d.opt somewhere you can browse to from the server machine. Launch the SolidNetWork License Manager and within the Server Administration tab, click on the Modify… button to launch the Product Activation window.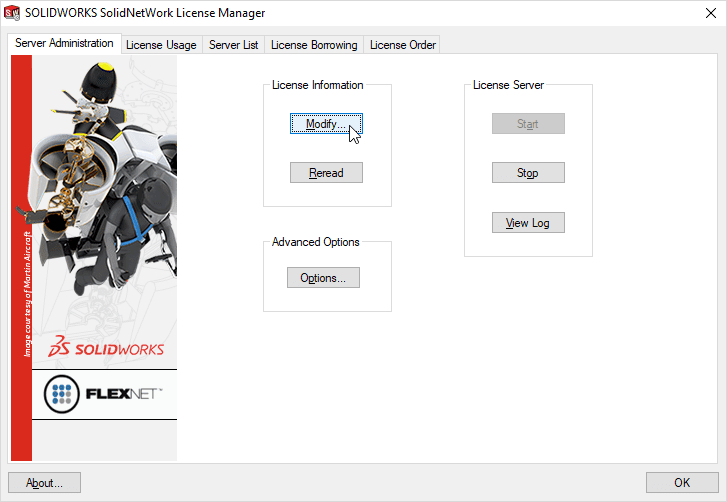 Next, select on the Activate/Reactivate your product license(s) and click Next. On the next screen, click the checkbox Options File: and click the Browse button to select on the Options File that was just created (sw_d.opt).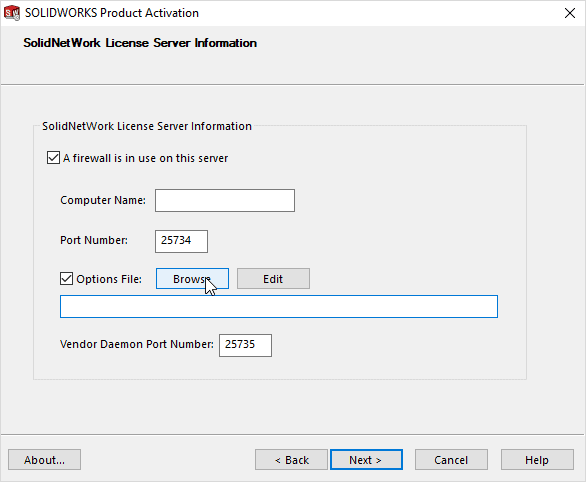 Finish the Activation/Reactivation process in which you should eventually see a "Result" screen which reads Activation/Reactivation Succeeded. Your newly created license file is now active.
Nathan Marsh
Application Support Engineer II
Computer Aided Technology, Inc