Customer Story: Avance Design

Step into Avance Design in Indianapolis, IN on any given day, and the whole team's firing on all cylinders. Just speaking with Business Development Manager Bill Fletcher briefly, the array of projects their team is working on at the moment is incredibly diverse: they're 3D printing 90 fixtures, designing the CAD model of a snow shovel, creating CAD data from a 3D scanned part for a machine part where the original data was no longer on file with the manufacturer, and casting polyurethane parts in silicone molds—and that's just a Wednesday.
Since 2002, Avance Design has been offering clients unique solutions to fit their product and design needs, whether it be:
3D printing/additive manufacturing (10 machines in-house)
3D scanning (reverse engineering)
silicone molds
urethane castings
product enclosures (design for IoT)
prototyping
technical illustration
industrial design
3D-printed manufacturing solutions

fixtures (tooling and CMM)
guarding/safety guides
masking
machine accessories
end-of-arm tooling
"We have been lucky to have partnered with CATI from the very beginning," says Bill Fletcher. CATI has worked with Avance since they started in 2002, providing them with a lot of tools in their arsenal to complete the services they provide, including SOLIDWORKS 3D CAD, an Objet 30 desktop 3D printer, a Stratasys Dimension 1200es SST, an Objet260 Connex3 3D printer, a Stratasys Fortus 250mc 3D printer, and a Creaform Go!SCAN 3D scanner. "It's been an awesome partnership working with CATI, not only with the tools they provide but their expertise and technical support," Bill adds.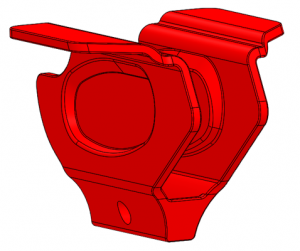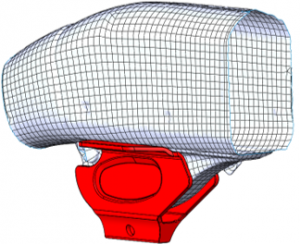 To fully illustrate the tools in Avance's toolkit, Bill walked me through a recent design, prototype, and end-use project they took on for company developing a trigger safety guard for a firearm. Bill explains, "The customer brought in the firearm and some rough design sketches for their product, and our team took it from there." That team consists of Matt Haws, Industrial Designer/Principal; Tony Parker, Design Engineer/Principal; and Kelly Rosenbaum, Administrator & Accounting Manager.
First, the team used the Creaform Go!SCAN 20 to reverse-engineer geometry off the firearm. This was a completely retrofit design idea, not coming from the firearm manufacturer itself, but an additional safety feature an independent company developed. Without the original CAD data, Avance was able to 3D scan the firearm and create CAD models off of the scan data in the Creaform scanning software, then refine it in SOLIDWORKS 3D CAD.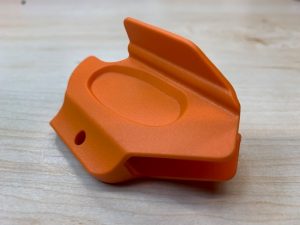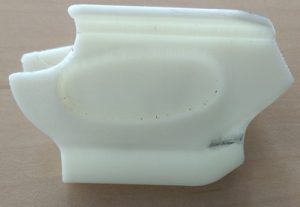 Next was 3D printing a prototype from the SOLIDWORKS CAD data using the Stratasys Fortus 250mc FDM machine with ABSplus thermoplastic. At last, after several design iterations and 3D-printed parts, an injection-molded final part was created. Avance's client now has a final part that provides safety from negligent discharges of a loaded rifle during transport, training exercises, storage, etc., all from steps Avance was able to take in-house.
"Don't get me wrong—it's a long process," Bill says, not to diminish the work their team has put in for this idea to come to life. "But before we had the scanner, getting the CAD data off of this rifle wouldn't have been doable. It has opened the doors to new projects that would not have been possible before." Now, they're able to take the idea fully from concept to end-use.
To learn more about Avance Design, visit them online at avancedesign.com.