Customer Story: Rough Brothers, Inc.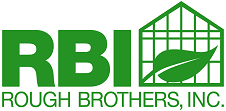 Rough Brothers, Inc. (RBI) is the largest greenhouse design, engineering, and manufacturing company in North America. RBI uses SOLIDWORKS to create the most economical, durable, and robust greenhouse structures for their clients. They pride themselves on their long-standing reputation for superior quality.
Chris Gullett, Design Manager at RBI, says SOLIDWORKS has changed the game for his team. "With the demand for more complex greenhouse systems growing, the CAD system we were using just wasn't able to do all of it," Chris says. Systems design engineers at RBI are working with SOLIDWORKS and SOLIDWORKS Simulation to create complex greenhouse designs with built-in hydroponic or self-watering systems, particularly since the legalization of medical marijuana. In the past year, RBI has upgraded to SOLIDWORKS Premium to keep with the demand they've been seeing.
"Our team is taking advantage of training with CATI to stay ahead of the game," says Chris, whose team has taken SOLIDWORKS training at our Cincinnati facility, including the SOLIDWORKS Routing: Piping and Tubing class, a necessary tool in greenhouse design. "With the CATalyst Professional membership, my team can ask questions and figure out how to make the most of the upgrade." You can learn more about RBI by visiting www.roughbros.com.