eDrawings -- An Easy Way to Share 2D and 3D CAD Data
eDrawings — An Easy Way to Share 2D and 3D CAD Data
One of the most valuable free tools that is offered in the 3D CAD world is eDrawings. eDrawings comes in two flavors – the free Viewer version and the Professional version. Although the Professional version is not "free", it is included with SOLIDWORKS Professional and Premium.
You are probably wondering — what makes this tool so valuable if I already paid for modeling software such as SOLIDWORKS? Well, the main benefit of this tool is the ability to collaborate with suppliers, customers, managers, manufacturers, and any other department that may or may not have SOLIDWORKS. eDrawings acts as a conduit to give anyone who does not have SOLIDWORKS the ability to view your parts, drawings, or assemblies without any translation. This allows them to directly see the design, and provide feedback or approval.
Some of the capabilities that eDrawings users have are the ability to measure distances, rotate the model and change orientations, view mass properties, add markups, create section views, and view different configurations. In assembly files, users can see exploded views and can filter certain parts of the assembly. For drawings, the eDrawings user can view all of the sheets and any layers that are in the drawings. Some of these capabilities can vary based on the SOLIDWORKS version that you created the file in and whether the file is an exported eDrawings file or a native SOLIDWORKS file opened in eDrawings. These capabilities and limitations are described in the table below.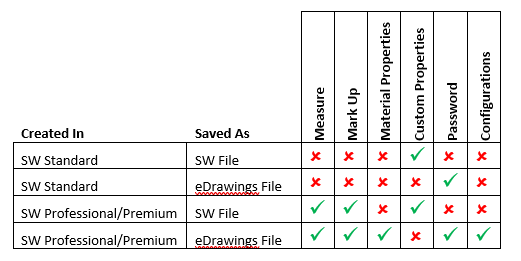 Another major perk of eDrawings is the various CAD file types and neutral file types that it supports, including SOLIDWORKS files, eDrawings native files, DXF/DWG files, ProEngineer files, STL files, STEP files, IGES files, AutoDesk Inventor file, CATIA files, and CALS files.
Whether you are collaborating with customers, suppliers, managers, or manufacturers, eDrawings is the platform of choice to easily share your 2D and 3D Data. If you have any other questions about eDrawings, please feel free to contact us at Computer Aided Technology or visit eDrawings.com for the free download!
Nicole Kelley
Application Support Engineer