SOLIDWORKS 2017: Every 3D Printing Feature
Did you know that since 2010, SOLIDWORKS has introduced new 3D printing features in each software release? Finding every single one of them can be a challenge. This year, for example, SOLIDWORKS implemented over 215 pages of new functionality into SOLIDWORKS 2017. It is a lot to digest.
For this reason, we created an infographic that includes each and every SOLIDWORKS 3D printing feature. As a preview, this article covers three of its biggest highlights in depth.
Show Faces that Require Supports
Because of the way most 3D printing technology works, it's somewhat common to find geometric regions that may require supports during the printing process. Typically, these areas extend more than 45 degrees from the print bed. In SOLIDWORKS 2017, SOLIDWORKS will point these regions out to you from within the Print3D PropertyManager.
Evaluate Costs for 3D Printing
3D printing is often regarded as a cost-effective way of making prototypes or end-use parts. With SOLIDWORKS Costing, an add-in included in and SOLIDWORKS
Premium, you can gather cost data on a variety of machining operations while you're modeling your parts. Additionally, you can generate a report that contains this data to show to upper-management, submit proposals, and more.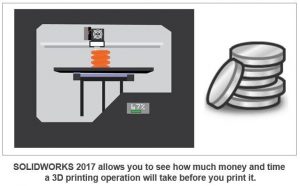 In SOLIDWORKS 2017, you have the ability to cost additive manufacturing operations as well. For 3D printing, SOLIDWORKS Costing can tabulate material cost based on part volume, print time, cooling time, and more.
Analyze Wall Thickness Issues
When printing using a 3D printer that utilizes FDM (Fused Deposition Modeling), it's important to consider the wall thickness of your parts. While 3D printing technology can produce parts that more traditional methods of manufacturing might balk at, some natural items (i.e. not having a wall that is super thin) still apply.
SOLIDWORKS 2017, given a certain ratio/value, will tell you beforehand whether the current wall thickness of a certain region of your part is too tiny to print. From there, you can make changes pre-print to 'beef up' the area.
See more in the infographic. With every 3D printing feature introduced into SOLIDWORKS over the last 7 years, this infographic may be something you'll want to pin to your wall.
Related Articles