Everything New in SOLIDWORKS Electrical 2020: User Rights, Reports, and More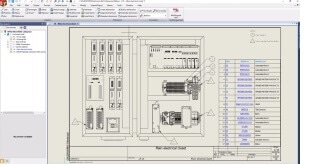 SOLIDWORKS Electrical is a powerful tool that lets you design and place electrical schematics and components in an easy-to-use, collaborative environment. SOLIDWORKS Electrical 2020 has added new features and functionality for reports, leader lines, user rights, and more. Learn more about these new enhancements and find out more about what SOLIDWORKS 2020 has to offer here.
Customize reports quickly and easily
SOLIDWORKS Electrical Schematics 2020 simplifies work from system setup to final project deliverables. For example, let's say you're looking at your reports and want to pass a Bill of Materials off to your parts supplier, but they need to be edited first. In SOLIDWORKS Electrical 2020, in addition to changing text height, you can define the row height. Select fixed to set a custom row height or opt for minimum height to set an incremental value.
Let's say you also want to add row numbers. Now in SOLIDWORKS Electrical 2020, you can add rows to any report with the click of a button, making it easier than ever to get your reports ready. Rows dynamically update with filters and sorts, or other edits preventing errors.
Leader lines get products to market quickly
Text and balloons with leader lines are a common method to convey design notes. New in SOLIDWORKS Electrical 2020 users can add in these annotations with dedicated commands and a leader style manager. It's easy to finish design work and get products to market quickly with SOLIDWORKS Electrical 2020.
Updates to mass properties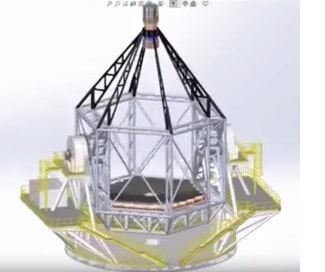 In designs like this telescope on the left, calculations around the center of mass and moment of inertia are essential. The approximately four thousand fiberoptic cables coming from the instrument will add significant weight to the rotating portion of the assembly. The instrument position accuracy must be incredibly precise. Just the tilt degree must be correct to four decimal places.
SOLIDWORKS Electrical 2020 now includes the ability to fill in mass properties for wires, cables, and even coverings, including partial coverings. This can be defined from the SOLIDWORKS Electrical libraries or the routing library manager. So, in addition to generating routs subassemblies with circuit summaries and connector pinout details, the mass is calculated automatically even as changes are made to the route. SOLIDWORKS 2020 makes it easy to understand how wires and cables will affect the center of mass and moment of inertia in the project.
New user right capabilities for admins
SOLIDWORKS Electrical 2020 has new functionality to keep your data secure and accurate. Electrical users can be assigned to user right profiles or groups that control how much users can view and modify. Previously, five profiles with gradient permission levels were provided. In SOLIDWORKS Electrical 2020, administrators now have more granular control over user rights access, create new profiles, and enable functionality access with one click.
And that's a wrap! Stay up to date with more new features and functionality found in the SOLIDWORKS 2020 by subscribing to our newsletter.
Related Articles
The Top 5 3D CAD Features in SOLIDWORKS 2020
SOLIDWORKS 2020 Features Revealed
Get up to Speed with 3DEXPERIENCE
About the Author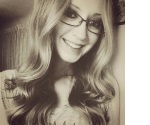 Angelle Erickson writes about how companies are using innovative technologies, such as 3D printers and SOLIDWORKS software to increase productivity, improve product development processes, and maximize business potential.