First Impressions: Stratasys F370 Review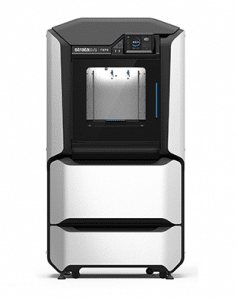 Stratasys officially announced the new F123 series at SOLIDWORKS World 2017 in Los Angeles on February 6th to thousands of attendees. The new lineup had big shoes to fill since Stratasys has discontinued production of the Fortus 250 and Dimension printers.
So is the new F123 series from Stratasys living up to all the hype? I spoke to two of our 3D printing experts who work with the full range of Stratasys 3D printers on a daily basis. After having the new F370 for well over a month now, I was interested in what kind of an impact it has been having on its daily users.
First impressions
Our 3D printing team was super excited to hear about the new F123 series. The prospect of multiple materials (especially ASA) and layer heights, means more flexibility in which machine can be used for a given build. More flexibility translates to faster delivery times.
Not only does the F123 series sound good, but it also looks good. These machines have been designed with a sleek look and feel that allows them to fit right into a modern office environment.
Quality and reliability
Our F370 has proven to be quite the workhorse in its time spent in our building so far and quality and reliability expectations have definitely been met. Part quality matches that of the 3D printers it replaced (Dimension and Fortus 250), which were exceptional machines. In fact, our oldest Dimension that we still support was installed in 2002.
Build time has been increased and the additional material bay allows users to start a build over the weekend without having to change the material.
Connection capabilities
The F123 series uses GrabCAD Print, an invaluable tool that can organize print queues, monitor material levels, and allows you to print from anywhere on any device. Even though it's not required for the F370, it's a good tool to have as it can run with the entire line of Stratasys 3D printers. Talk about staying connected.
Besides ethernet connectivity, the F370 also three USB ports to allow untethered printing, and is WiFi ready.
Final thoughts
The F370 has a lot in common with other Stratasys machines that you may already be familiar with. When our 3D printing experts "looked under the hood" they noticed many similar features.
Here's what they had to say: "The print heads are similar to that of a Mojo, built in separate, unique housings, which allows both heads to be hot simultaneously. This eliminates heat-up and cool-down times other series printers experience when switching from model to support extrusion. The chamber is heated and insulated much like a Fortus system, making that process faster, but most importantly, making the heat more stable. The material spools are similar to a uPrint, no longer closed canisters. The user interface is amazing as well with its touch screen capabilities, which is similar to that of the Fortus 380, Fortus 450, and Fortus 900."
Stratasys found a way to take the best of their machines and merge it into a series that has the best of the best. We love our new F370 and we bet you will too. We have all the resources you need regarding this line here.
How can the F123 series printers turn your business into a success? We're traveling the midwest sharing how the F123 series printers and new materials are helping to advance manufacturing. Join us in a city near you.