Fisher Unitech Customer Ringbrothers Keeps Their Future Digital with SOLIDWORKS
Jim and Mike Ring have had a passion for building innovative cars since childhood. Even at an early age they were busy building and painting cars anywhere and anytime they could. Now as successful adults, Mike and Jim carry their passion and imagination as co-founders of their company Ringbrothers. Along with being a collision and repair shop, they also deliver a few custom-built cars throughout the year.
Ringbrothers, headquartered in Spring Green, Wisconsin is not only a collision and repair shop, they also produce custom builds and high-quality accessories along with custom fiberglass and carbon pieces. Ringbrothers has soared to the top of American car builders and won numerous design awards including the General Motors award for "Best Chevrolet of Show", multiple Mothers Shine Awards, magazine covers, and more.
For Mike and Jim Ring, partnership has proven to be an important part of their business. Not only is having a good partnership and relationship with each other important but the outside tools and companies they use to make their business a success also make a crucial impact.
The Importance of Partnership
Fisher Unitech is proud to have Ringbrothers as a customer since 2016, supporting them with their needs of SOLIDWORKS CAD 3D software. In a recent article, Matt Moseman, Ringbrothers Product Manager, explained how partners can be more important than the product. "We have always been focussed on picking the right partners and it has always been a lot of fun to do business with partners who become your friends."
Picking the right partners also means that Ringbrothers always know they can rely on sturdy products to help them meet their design and manufacturing goals. The vision behind Ringbrothers is taking cars from past decades and turning them into cars of the future by using current technology such as modern machining and 3D printing.
Ringbrothers Takes Risks
Because technology is expanding and developing at lightning speed, companies are often faced with decisions as to what developments to utilize in production. Ringbrothers development manager explained, "there are so many different tools becoming available that it has become harder and harder to pick the right ones, but at the end of the day, you must make a decision. If you don't take a risk, you are not going to get anywhere."
When choosing a product you're also choosing the provider and technical support team that goes along with it. Ringbrothers product manager also stated that "it is important to get to know the team and to realize their core values, their view on the business, and to check if their goals align with our own goals."
Digital Future
The Ringbrothers have high hopes and big goals set for 2018 and they believe that by bringing in tools such as SOLIDWORKS PDM, SOLIDWORKS MBD, and SOLIDWORKS Inspection will allow them to release more products that they have in previous years.
"The future of this process is remaining digital. We are hopeful that SOLIDWORKS and Microsoft are willing to help."
Ringbrothers at SOLIDWORKS World 2018
Ringbrothers was recently in the spotlight during SOLIDWORKS World 2018 where they displayed their 1972 AMC Javelin Defiant a great example of how they are able to restore and revamp classic cars. Ringbrothers told the audience how they used SOLIDWORKS design tools to render the car's body panels which were then built in their machine shop and carbon fiber facility. The Javelin Defiant proved to the crowd that it was a high power muscle car when it squealed its tires in the parking lot and put on an exciting show before the main event.
Mike and Jim Ring have a true passion for what they do and we are excited to see what they are able to design, create, and bring to life this year.
Images courtesy of Ringbrothers
Related Articles
SOLIDWORKS World 2018 First General Session Lays Out the Future Direction of Leading Design Software
About the Author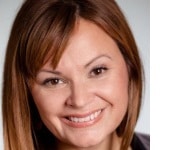 Stacey Clement is the VP of marketing at Fisher Unitech. She researches and writes about the latest business trends and technologies impacting manufacturers. Stacey is passionate about helping manufacturing companies with the best solutions and tools in 3D CAD, product development, additive manufacturing, and subtractive manufacturing. Stacey has worked in high tech marketing since 2001, and when not working you can find her enjoying the outdoors with her family. You can follow her on Twitter @StaceySClement.