Flex Your Creativity With the Objet500 Connex3
Achieve true-to-life prototyping with color multi-material 3D printing, plus new flexible color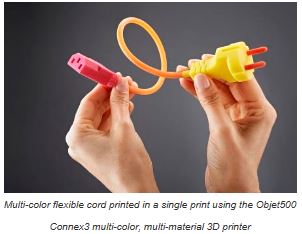 The world's first multi-color, multi-material 3D printer brings you another first – rubber-like color material for flexible prototypes. Create prototypes with the true look and feel of your future products using a range of materials – from transparent colorful models to flexible pieces combined with rigid.
3D print pliable, vibrantly colored prototypes that truly bend to your creative ideas with six new rubber-like color palettes in a range of Shore A values. Plus, a choice of new rigid color palettes give you sleek, reflective gray surfaces ideal for consumer goods, automotive or research prototypes.
Download the white paper and discover how to maximize prototyping capabilities with the Objet500 Connex3.