The Fortus 380mc Carbon Fiber Edition: Industrial 3D Printer at an Affordable Price
3D printers have been integrated into workflows and onto factory floors to cut down on lead times and save on costs. But anyone who has 3D printed for tough applications knows the initial investment in a 3D printer can be expensive. Tough applications need to produce prototypes, parts, and tooling that are reliable and strong, but this dependability and accuracy don't come cheap. Luckily, 3D printing company Stratasys has corrected this issue with an affordable carbon fiber 3D printer: the Fortus 380mc Carbon Fiber Edition.
What is the Fortus 380mc Carbon Fiber Edition?
The Fortus 380mc CF is a 3D printer that prints exclusively with FDM Nylon 12CF™ Carbon Fiber and ASA materials. It is meant to bridge the gap between desktop and production 3D printers, while also offering a cheaper solution in the growing carbon fiber market.
Like other Fortus systems, the Fortus 380mc Carbon Fiber Edition is easy to operate and maintain, without the need for special facilities. It draws its power from advanced FDM technology and operates with Insight and GrabCAD Print software for an easy CAD-to-print workflow.
What is Carbon Fiber Printing?
According to simplify3d.com, carbon fiber filaments "contain short fibers that are infused into a PLA or ABS base material to help increase strength and stiffness." Printing with these carbon-filled materials results in parts that are stronger and more dimensionally stable, but still lightweight. These qualities make carbon fiber printing a popular choice for functional prototyping and the creation of rugged tooling and production parts.
Which Material Does the Fortus 380mc Use?
The Fortus 380mc Carbon Fiber Edition prints with both Nylon 12CF and ASA materials:
– Nylon 12CF

has the highest impact strength of any FDM thermoplastic and is typically used to create jigs, fixtures, metal forming, drill guides, and other tools. It is most commonly used in the aerospace, automotive, and manufacturing industries.

– ASA materials

are chemically similar to ABS but are far more resistant to UV light. ASA materials are reliable, inexpensive and come in a variety of colors, making them a popular choice for prototyping and sacrificial tooling.
How Much Does the Fortus 380mc Carbon Fiber Edition Cost?
The price for the Fortus 380mc Carbon Fiber Edition is approximately $70,000, which is an affordable price range for industrial carbon fiber 3D printing. If your company could benefit from the use of carbon fiber 3D printing or to hear about our current promotions contact us.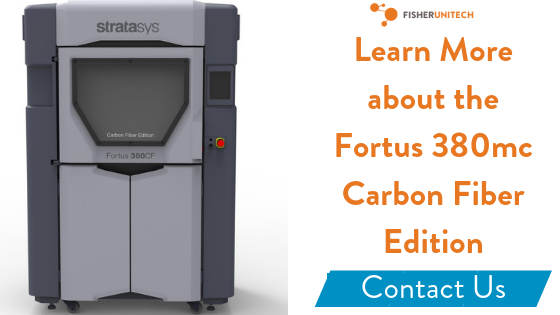 Related Articles
7 Design for Additive Manufacturing (DfAM) Principles
Driving Innovation in the Automotive Industry: Prototypes, Tooling, and More
3D Printing Packaging & Consumer Goods: Custom Designs, Lower Costs
About the Author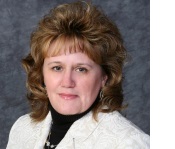 Lisa Hannon is a marketing manager at Fisher Unitech. She develops content for 3D printing topics that have an impact across all industries that are researching ways to maximize getting products to market faster as well as cost savings with 3D printing solutions. Lisa has worked as a marketing management professional since 1998, most recently with Stratasys. You can follow her on Twitter: @lmci37.