GrabCAD: A Learning Resource for All
If you're a SOLIDWORKS user, and you're not familiar with GrabCAD, you're missing out on a great free learning resource. Already with one million registered users, GrabCAD is becoming the standard for sharing 3D models online. Run by the users and for the users, there is no limit to what you might be able to find and download from the site.
SOLIDWORKS users, specifically, can reap some of the biggest benefits from GrabCAD. SOLIDWORKS (with its own user base greater than 2.25 million users world wide), is expectedly well represented in the GrabCAD community. 40% of the models uploaded are in native SOLIDWORKS format (notable competitors: Inventor – 10%, Pro/E – 3%).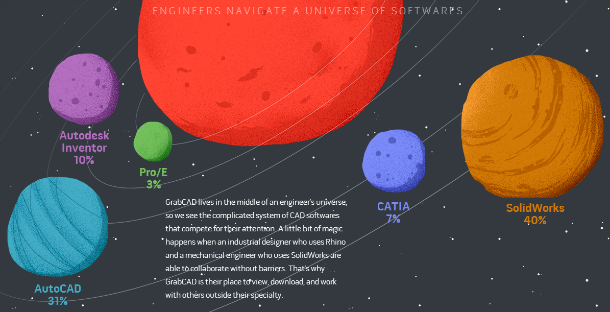 So what does this mean for a SOLIDWORKS user?
Save Time – Can't find a 3D model from 3D ContentCentral or a supplier's website? Then download one another user has already created for free!
Learning Resource – Tasked with creating some complex geometry and you have no idea where to start? By downloading a file in the native SOLIDWORKS file format, you'll be able to go through the entire feature tree and check every parameter to see how a very advanced user got it done.
A GREAT example (wink wink) of using GrabCAD as a learning resource was covered in Sara Sigel's blog post. I've uploaded this football helmet model as an example of how to use the SolidWorks' Part Reviewer functionality to our advantage. Just open it up, fire up the Part Reviewer, and click through my notes of how/why I created the features that I did. Stay tuned for more models like this from me in the future.
There are many talented users on GrabCAD. Create an account and start following them to enhance your skills.