3D Printing Gift Guide
Engineers and designers spend a big portion of their day down a continuous path of possibilities and creation. With technology changing and improving at such a rapid pace, having the latest and greatest can mean faster production and improvements in the overall work environment.
These engineers and designers in our lives are tech savvy. When inquiring about technical gadgets and gizmos they are the first person you turn to. So what kind of gift do you give to the person who is always on top of their game? In the 3D printing and CAD world there are many inspiring technologies.
Whether you're an engineer or a hobbyist, 3D printing has amazing capabilities.
For that engineer in your life, Makerbots have been allowing tabletop machine enthusiasts to pursue their passions in the comfort of their homes. This machine is small, yet powerful, giving the user the ability to make an assortment of designs such as Christmas tree ornaments and cookie cutters. Not only do many websites offer unique designs that can be chosen from an online catalog, but many also offer the user to design or draw their own creation—the possibilities are endless.
If a "toy" of a 3D printer is what they're after, M3D has a "micro" 3D printer that they describe as "the first consumer printer". So although it may not be for industry standard prototypes, it's a fun gadget to play around with at home.
Know someone who is new to machining or perhaps inquiring about following that field? Machinery's Handbook is a tried and true masterpiece that has been one of the most popular references for almost one hundred years. This classic is perfect for industrial engineers, draftsmen, designers, or home hobbyists who want to know the best practices in the industry.
Useful and unusual stocking stuffers can be found at thinkgeek.com, a website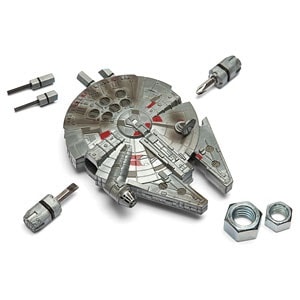 offering a plethora of unique products for just about everyone on the planet. Since 1999, the folks at thinkgeek have been "obsessed with creating and sharing unique and authentic product experiences that stimulate our fans' imaginations and fuel their geek core."
So go and get creative! We hope you have a wonderful season with your families—happy holidays from Fisher Unitech.
About the Author

Angelle Erickson writes about how companies are using innovative technologies, such as 3D printers and SOLIDWORKS software to increase productivity, improve product development processes, and maximize business potential.
Images Courtesy of:
Related Articles
White House Announces Inaugural 3D Printed Ornament Challenge
MakerBot Intoduces New Smart Extruder
3D Printing Goes for Gold at Olympics
3D Printing's Impact in Sports