How The "Direct Editing" Tab Can Help You in SOLIDWORKS
Sometimes a person might need to open and edit files that are not native to SolidWorks, and that is okay. This might seem scary to SolidWorks users as creating changes without a FeatureManager Design Tree can be intimidating. However, with Direct Editing tools, you no longer have to feel this way. The SolidWorks Direct Editing tab includes many tools that allow you to make changes to parts without modifying the existing sketches and features.
Adding the Direct Editing Tab To Your Command Manager
To more easily access direct editing features, you first need to add the Direct Editing tab to your SolidWorks Command Manager. To do this, right click on an existing tab, go to the "tabs" fly-out menu and make sure "Direct Editing" is checked. If you are using SolidWorks 2019 or an earlier version, simply right-click on a tab and make sure "Direct Editing" is checked.
Once the tab is added, the Command Manager shows very powerful features including:
Move Face
Move/Copy Bodies
Delete Face
Delete/Keep Bodies
These features seem similar, but they are all different and vital to making changes without an existing FeatureManager Design Tree.
Move Face
The first feature, Move Face, is a great way to move, shorten, or lengthen an extrude, translate an extruded cut, rotate a feature about a point or axis, and so much more. What is also great about this tool, as well as the other 3 I will mention, is that a feature gets added to the tree and can be easily deleted or suppressed if I do not like the change. More recently, this feature came in handy when a customer needed to shorten the length of his main extrude without changing the placement of his hole patterns. In the example shown below, I used the "Move Face" tool to move the extruded cut to the right by 3/8 of an inch.

Move/Copy Bodies
The "Move/Copy Bodies" feature is very helpful when a part file contains multiple bodies. In the example shown below, I decided to make a copy of the body and place it 10 inches to the right of the second body. This is a basic example that might not be something you need to do, but it is only one case of what you can do with this tool. You can also rotate the body, create mates to place bodies referenced to each other within a part file, and translate or rotate a body without creating a copy.
Delete Face
The "Delete Face" feature is commonly used in surface modeling and does exactly what the name implies. When it comes to imported parts, this tool is very useful if you need to remove features. For example, in the part shown below, I was able to completely remove the extruded cut from the box just by selecting the faces that make the extruded cut and selecting "delete and patch" as the delete option.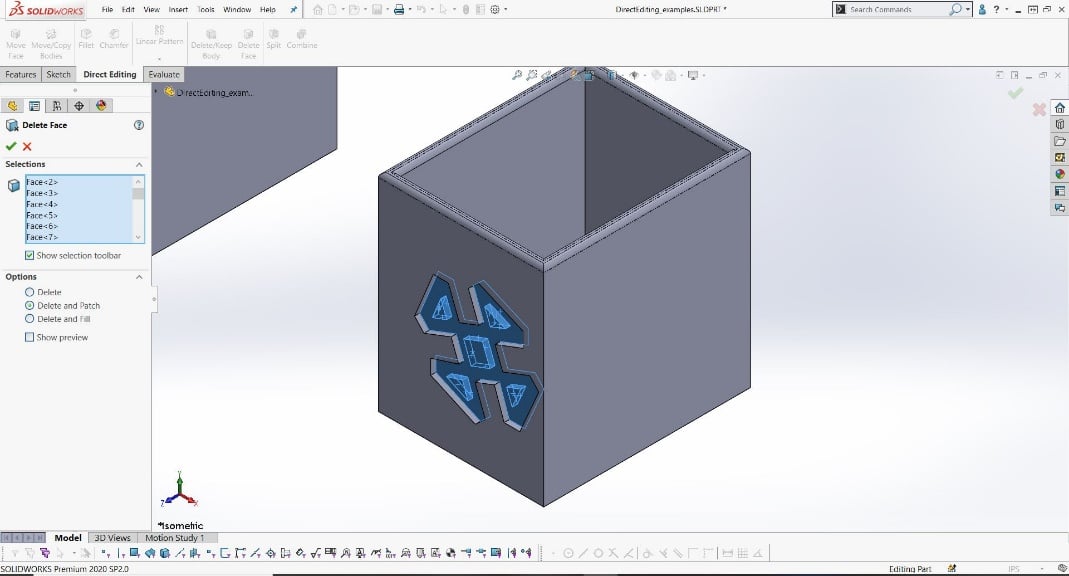 Delete/Keep Bodies
The Delete/Keep Bodies tool is great for when you need to delete a body in your part. This is mainly useful in multi-body part modeling, but can be very useful if you were to make a part based on another model brought in. In the past, I had a customer ask me how they could get rid of a body that they used to model a different part from. They kept trying to delete the solid body from the Solid Bodies folder, which in return would get rid of their entire tree. I asked the customer if they had tried deleting the body using Direct Editing and they said they had not heard of that. I showed the customer the "Delete/Keep Bodies" tool and showed them that the feature was added to the tree and therefore not changing the history. In the example shown below, I simply deleted the second body I created, so now I only have the first imported body.
There are a few other features listed in the "Direct Editing" tab that I didn't mention, but the ones I described are features that you'll be thankful you have when working with Imported parts. Just by adding one simple tab to your Command Manager, you can be confident in the models you create and how they were created.
Taryn Llorente
Application Engineer
Computer Aided Technology, Inc.

What is innovate3D: bring your ideas to life? It's a web-based event series focused on bringing you the latest information in design and manufacturing technology. We understand that many companies have had to adjust their plans for attending industry trade-shows and events in the wake of COVID-19 and we are here to help offset the impact. We're bringing you the same great content that you would have seen at those events via online webinars and virtual product demonstrations. Click here to learn more!