How to Use Selection Sets
If you have come across a model or assembly where you are repeatedly making the same selection of bodies, entities such as faces or edges, or even components then it is time to utilize Selection Sets.
Selection Sets allow you to choose items from your model or assembly and group them together as a single set. Selection sets are used in editing commands, changing appearances, hiding and showing components, making configurations, simulations and the list goes on!
How to get started
Hold your Ctrl key while left-clicking to make multiple selections from the graphics window. Once you have selected all the items you'd like to group together, right-click > Save Selection > New selection. If you missed an item you can always add it to the Selection Set by right-clicking on the item and choosing from the Selection Set(s) listed underneath New Selection Set.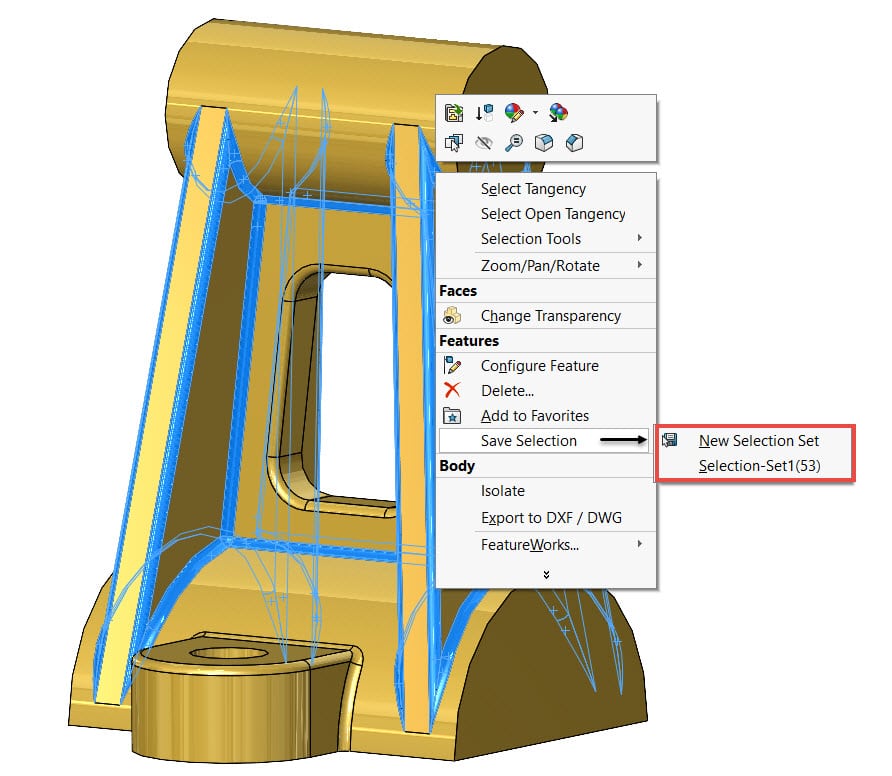 You should see all your Selection Sets located in a folder in your Feature Manager Tree. I suggest renaming these selections for easier use. To rename these tree items either slow double click on the set or by choosing the set once and pressing the F2 key.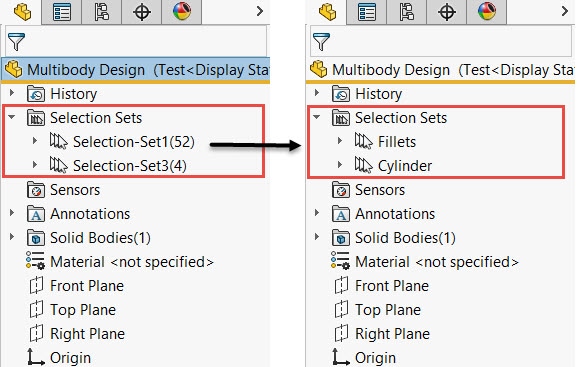 If you notice there is an item in your Selection Set that you would like to take out you can right-click on the item and choose Remove from Selection Set. Be careful here, if you choose Delete it will actually delete that item from the model or assembly.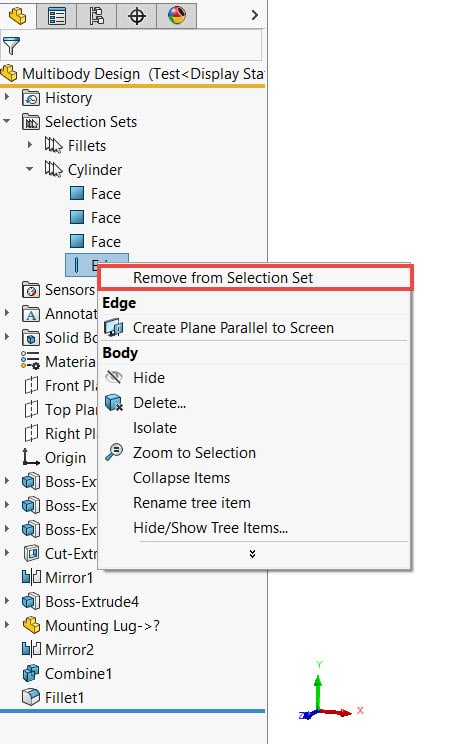 Once you have everything you need in your selection set and are ready to start using them there are also 2 different menus to look for.
The first menu, shown below, comes from right-clicking on the selection set in the Feature Manager Tree. This menu will allow you to remove a whole Selection Set from the folder.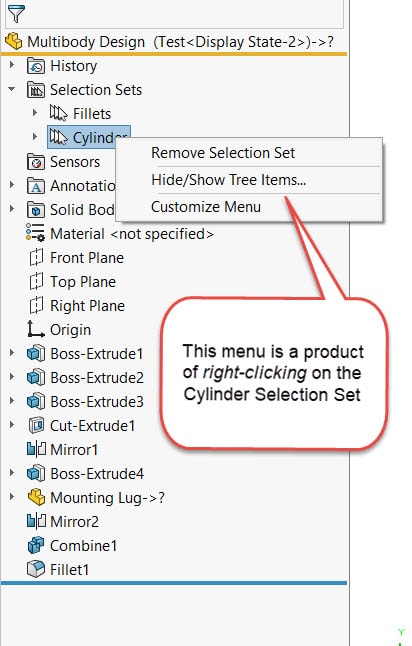 The second menu, shown below, comes from first left-clicking the Selection Set then right-clicking in the graphics area. This menu has tons more options and tools available for quick editing, altering the display, or creating configurations. Accessing this menu has the same process in both part files and assembly files.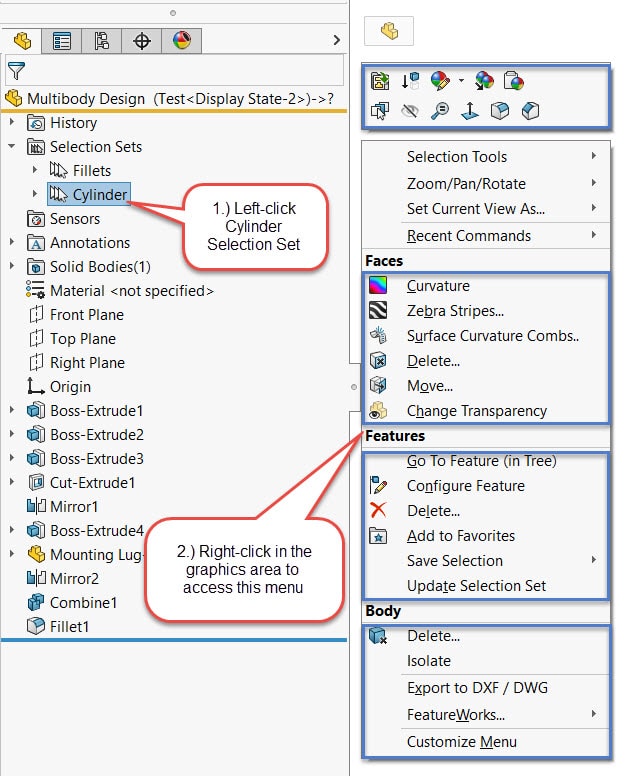 If you don't like using the right-click menu or don't see the tools you would like to use, you can always navigate to the tool of choice, expand your fly out Feature Manager Tree, and choose your Selection Set.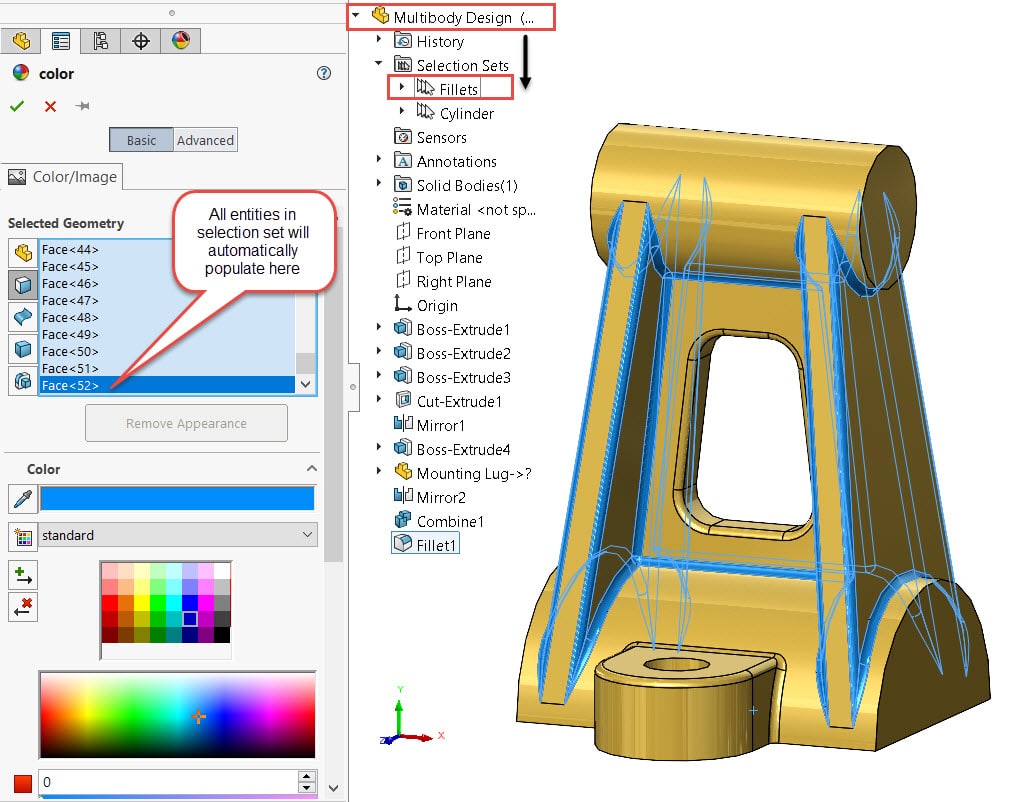 This efficiency will speed up your designing and editing process. Selection Sets are very powerful because they work with so many different tools in Solidworks. They are easily edited and located at the top of the Feature Tree for quick access.