Interactive SOLIDWORKS Composer Animations on any Device – Part Deux!
That's right, it's time to follow up on my previous blog post from 2020 where I boldly stated you can create interactive SOLIDWORKS Composer animations without using ActiveX. This was all possible through the use of the 3DEXPERIENCE. The follow up is; MOST of what I explained previously still remains true as of R2022x GA. Currently, there are a few changes to the platform side of things.
What Stays the Same: SOLIDWORKS Composer
The good news is the changes made in SOLIDWORKS Composer to the Play, Next, Previous, and Last buttons all remain the same. These changes ensure the animation allows for pause points and interactivity with the end user. To sum up from the last blog the changes that are needed for the 'Link' property for the various buttons are as follows:
First Button: marker://[Insert Name of First Marker]
Last Button: marker://[Insert Name of Last Marker]
Next Button: play://ref:play
Previous Button: marker://[Insert Name of previous marker]
If any of the 'Insert Name of X Marker' doesn't ring a bell, I'd recommend taking a look at the previous blog post again for additional details.
What's Changed
Now for the changes needed. The previous method of sharing a link with any user by selecting the file > Share > Share by Link > Activate Link is no longer valid. Currently, 'Share' was changed to 'Add members'. But using 'Add members' doesn't provide the share ability you might think. This method requires you to add individual members of your 3DEXPERIENCE Platform.
In order to share the file with ANY user whether they're on the 3DEXPERIENCE platform or not, you need to use a different method. For this method your administrator needs to activate the option to 'Share a File by Link with Guest Users'. With this option enabled, you can select the SMG file you want to share, then select 'Information', then 'Access by link', and activate the 'Activate external sharing link' toggle button.
Now you have a link you can share with any user outside the 3DEXPERIENCE platform. Simply selecting 'Copy Link' gives you a link that can be sent to a desired consumer of your SMG animation.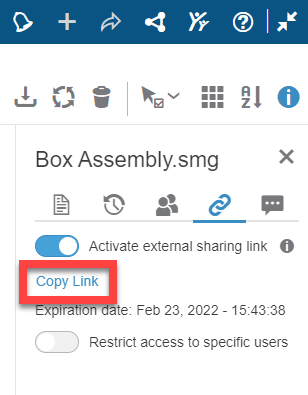 There is a caveat worth mentioning with this methodology. Much like Cinderella this link too has an expiration date (I don't think that's the way the story went, but close enough). Only instead of midnight, this link expires after 30 days.
For an even deeper dive, check out my 3DEXPERIENCE WORLD 2022 presentation on this topic.
Brandon Nelms
Application Engineer Manager
Computer Aided Technology