Is Your Borrowed SOLIDWORKS License Freezing?
A freezing issue like no other. When borrowing a network license to work remotely, some users have reported a specific performance issue during their SOLIDWORKS sessions that can slow productivity. In this particular scenario, it is stated that every so often, the session will freeze for about 10-15 seconds regardless of features, commands, or specific clicks.
Testing the waters for a recent support issue, an early suggestion was disconnecting the internet altogether to discover that the freezing had stopped. Drawing closer to a potential cause, we then learned that working on site while connected to the server also produced proper performance. After further testing, it was noticed that simply staying connected to the Network using a VPN remotely would not always do the trick.
When borrowed license sessions are hindered by an operational freeze occurring every two minutes on the clock, the case moves beyond system options or document properties and we start to look at network stability or the internal operations of the software in general. While you must be connected to the SolidNetWork License (SNL) Manager to borrow a license, an SNL Manager connection or a Network connection is not needed to run SOLIDWORKS. That being said, it is a lesser known issue that despite a successfully borrowed license, SOLIDWORKS may still attempt to intermittently check for the license. This seems to occur every two minutes and appears to be a bug for the 2019 version of any service pack. This bug does not seem to affect a lot of users, but we have a temporary workaround until the issue can be resolved.
Network Licenses can be borrowed for 30 days at a time which allows the current workaround to conveniently get us by until then. Assuming the above-mentioned scenario is what brought you to this blog and a license is currently checked out, then proceed to launch the SNL Manager from the Windows Start Menu. Once the window opens, select the Server List tab to show the current list of usable servers.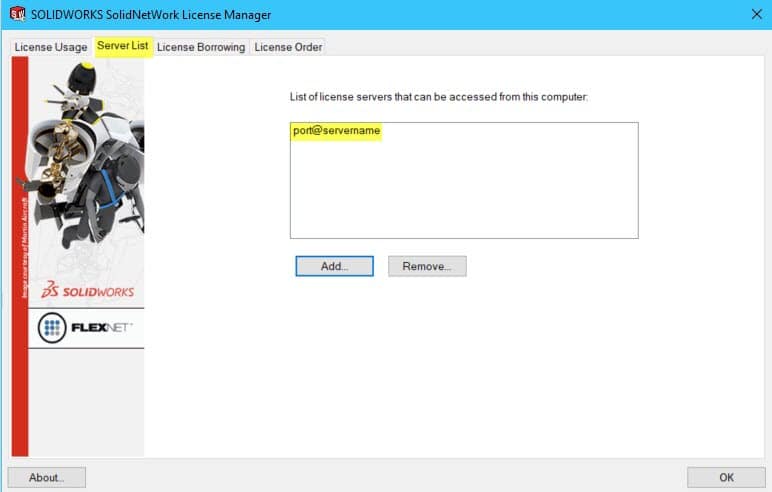 Next, take note of the frequently used server as you will need to reference it later. (The highlighted server shown is the generic example.) Select the server from the list so that it is highlighted. Then click 'Remove…' to remove it from the active list. In doing this, SOLIDWORKS will no longer know where to look for the license which prevents the timed freezing from occurring altogether.
The previously used server will then have to be added to the list again in order to check the license back in and/or out once more. This process should be followed each time a license has to be checked out while working from a remote network. For further Network License check-in/check-out problematic scenarios to avoid, reference another CATI blog that could be related. Here is that link: https://www.cati.com/blog/2019/06/never-borrow-a-snl-license-over-vpn/
If what you're experiencing is still an open issue, please contact your SOLIDWORKS VAR so affected users can be documented. SPR# 605194 may be referenced as an additional resource. If you would like to be made aware of a potential resolution in the future, please request to be added to the SPR notification list for SR# 1-22836640751.
Gabriel Rodriguez
Application Engineer
Computer Aided Technology, Inc.