Joining the SOLIDWORKS Community: Increase your Efficiency in a CAD Platform Transition
Going from one CAD platform to another is always a complex transition. You need to migrate files, templates, information of all kinds, and retain the accuracy you were accustomed to living in. No matter what system you are coming from, I want to walk you through the process of beginning to realign your system specifics to the SOLIDWORKS Environment.
Setting a Solid Foundation
If you think back to the first time you began working in your previous CAD environment, try to remember some of the pains of growth and what caused issues. Many times it is one thing, a lack of standardization. So to begin on a solid footing and allowing a full team to hit the ground running, the necessity for standards and templates is always a must have.
Generating Templates
Establishing a set template for the team is critical, but does not always have to be done from scratch. Utilizing previous templates is a great way to reestablish them in SOLIDWORKS. By going to open, I can open a file in the DWG or DXF format as my base.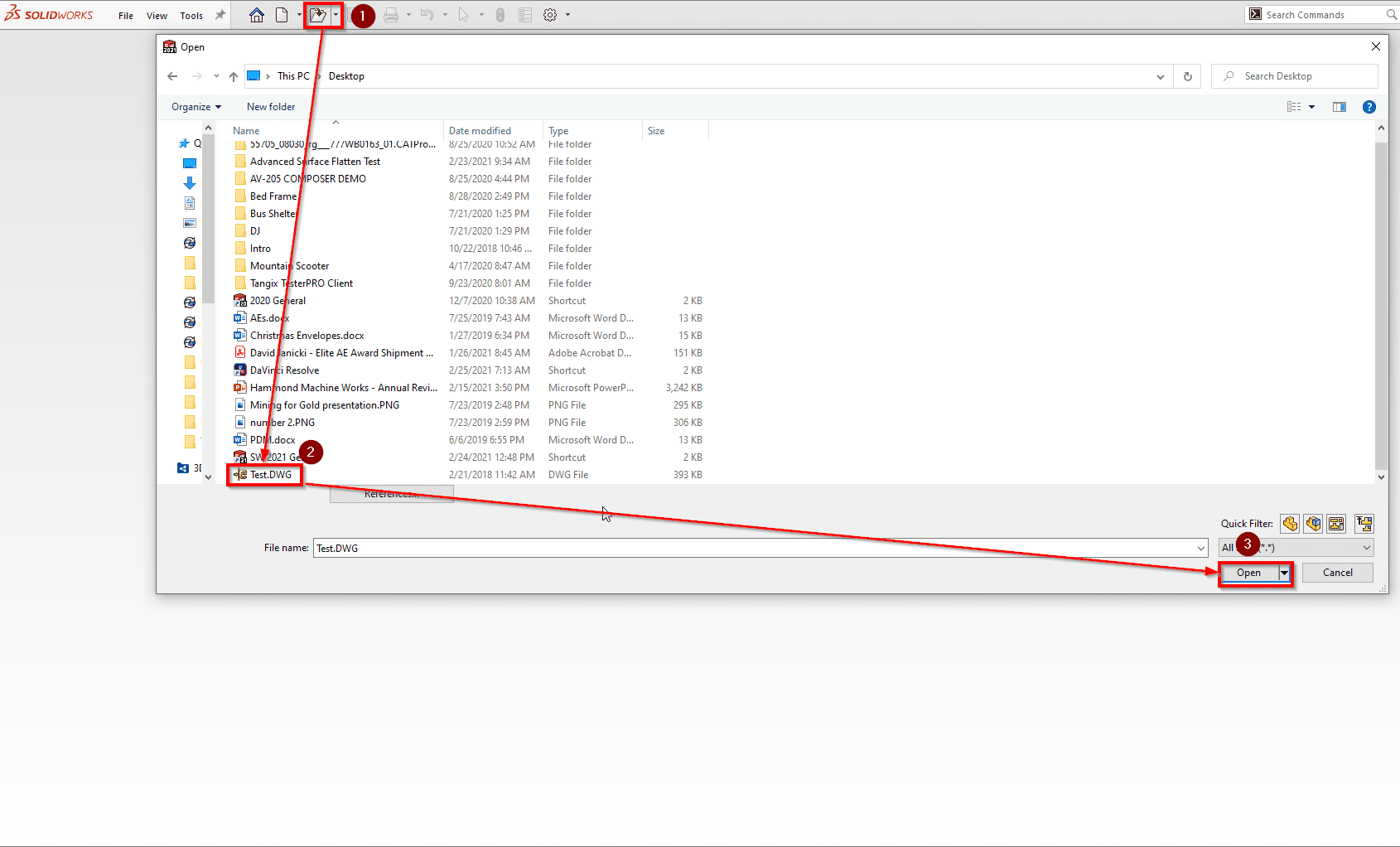 From here, SOLIDWORKS will prompt you to go through the process of how you wish to import. In our case, we want to Create new SOLIDWORKS drawing, and ensure the toggle for Convert to SOLIDWORKS is on. Select Next to go to choosing which layers of entities come along.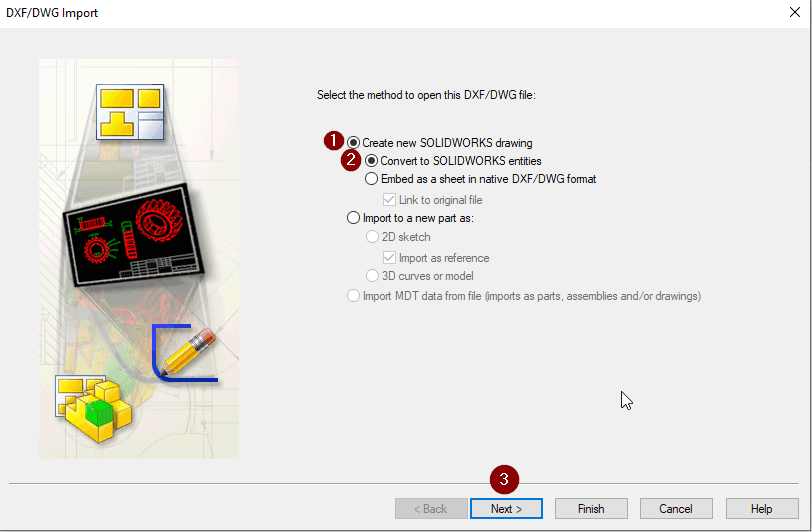 We will want to select the Layers selected for sheet format option and choose the specific layers we wish to bring in for template. Once set, click next.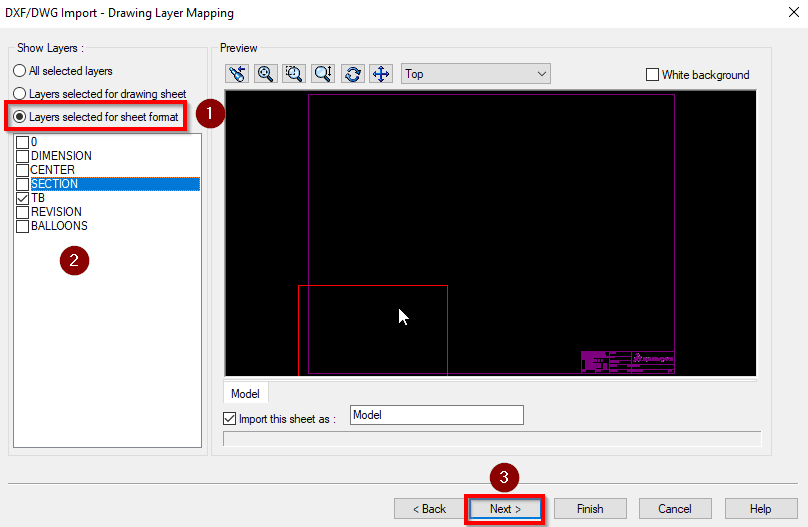 This page is where we set out sheet papersize. What we want it to be or what the current template was. There is a nice red box outline that shows a preview of what you will expect and you can drag the entire sheet to move the location of what will be brought in. Tip: use a template that is already empty so you do not have to work with double title block text.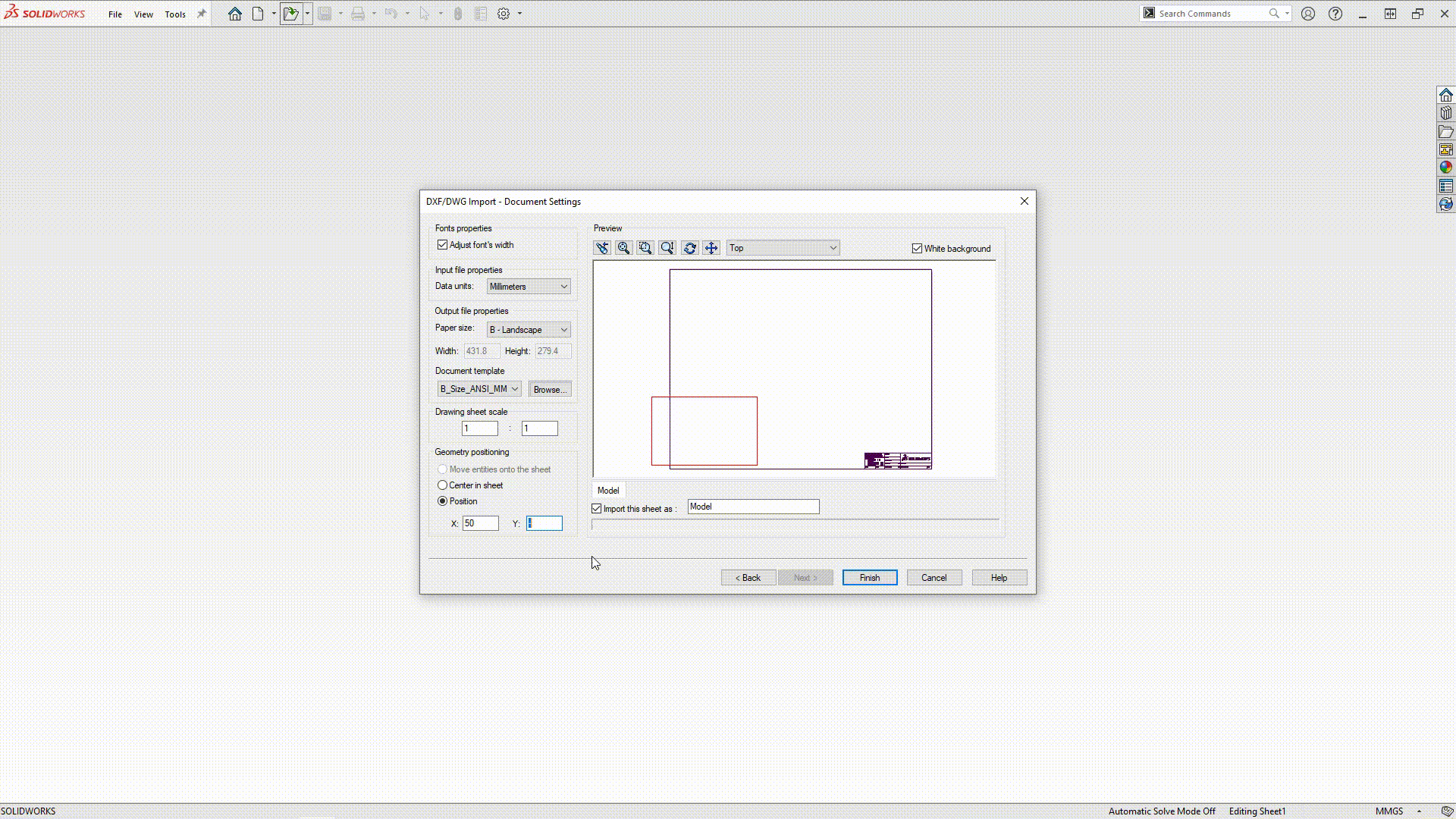 Setting Sheet Format
With the old template imported in, we need to edit and save it in a standard SOLIDWORKS Format. First comes clean up. For this, we head to the Sheet Format tab and click Edit Sheet Format.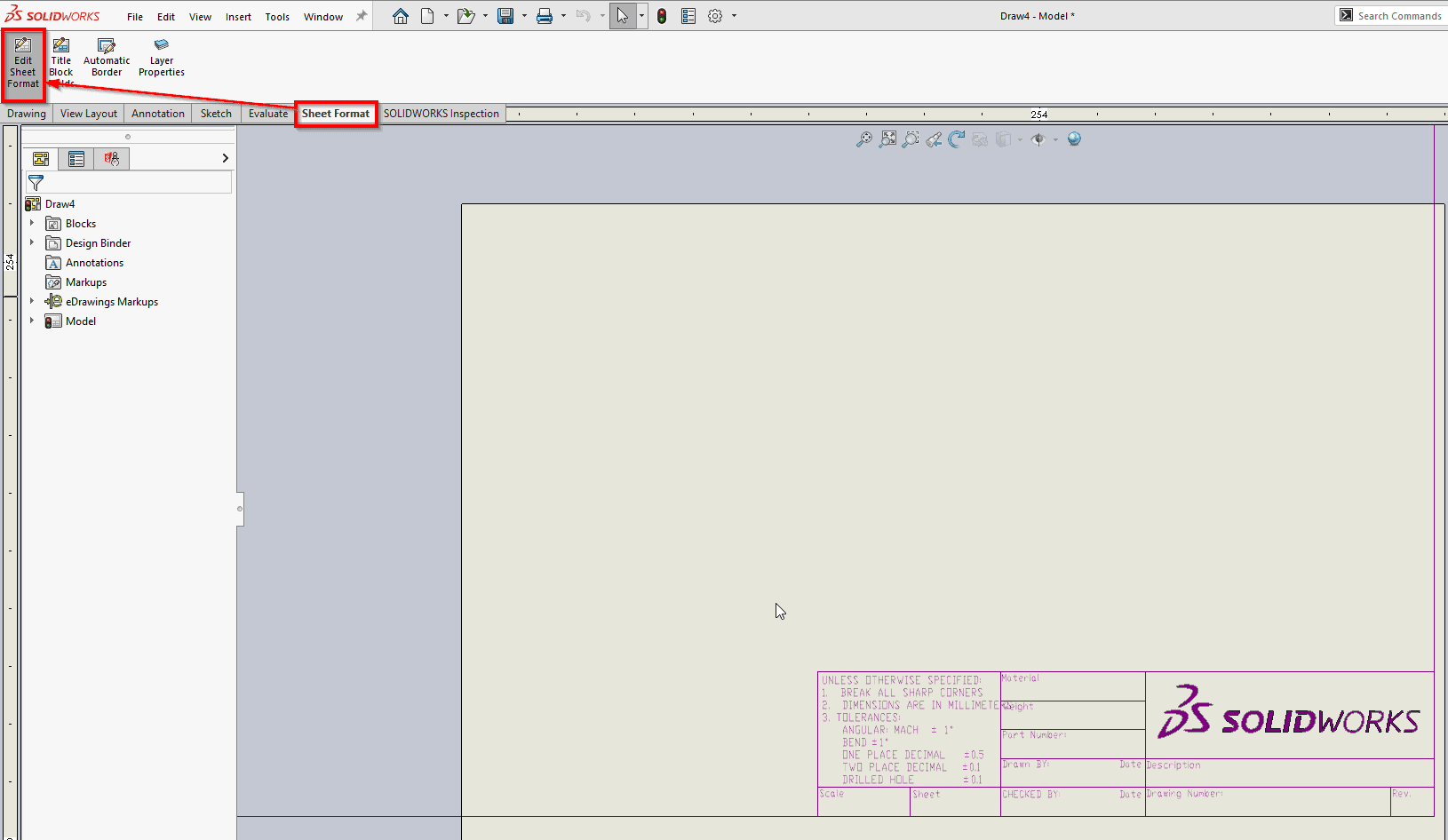 Back in 2016, SOLIDWORKS came out with a nice tool to assist in formatting your sheet borders, Automatic Border. This tool is used to define your overall sheet by deleting items, defining border and zone parameters, and masking up sectors near the title block.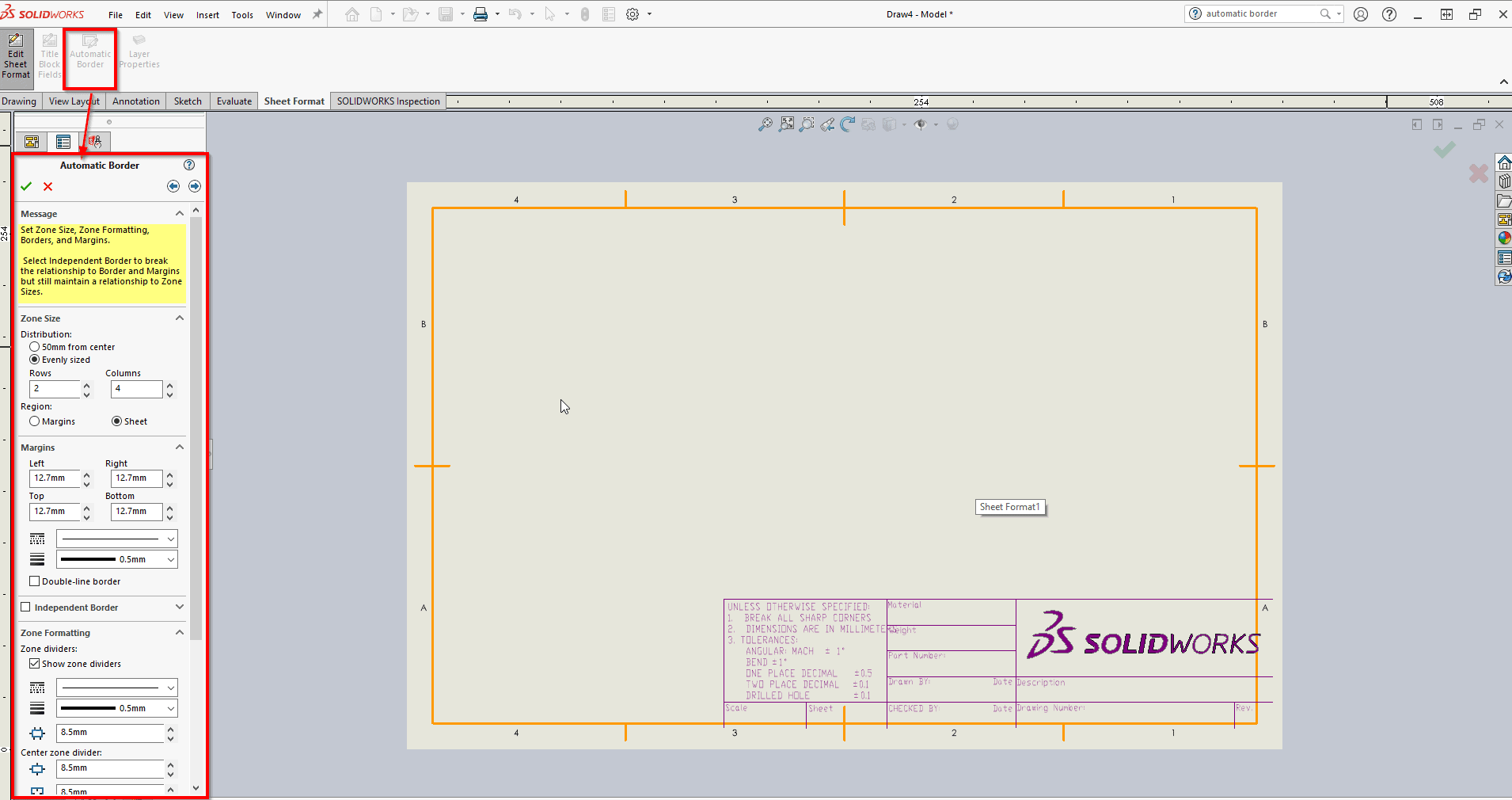 When finalizing the location for the title block, a helpful command to use is the Move Command. By pressing CTRL+A or box selecting, I can get all my sketch entities I want to move and determine a point to drag and drop.
Establishing Intelligence
One thing I find to be crucial to any good template is its ability to save me time, whether that be importing standard views or filling in my title block with information I need for each part/assembly. While I wont get into standard views, creating a title block with automation to it is key. While still editing the sheet format, add a note to one of the locations we want a custom property to come in. and select Link to Property.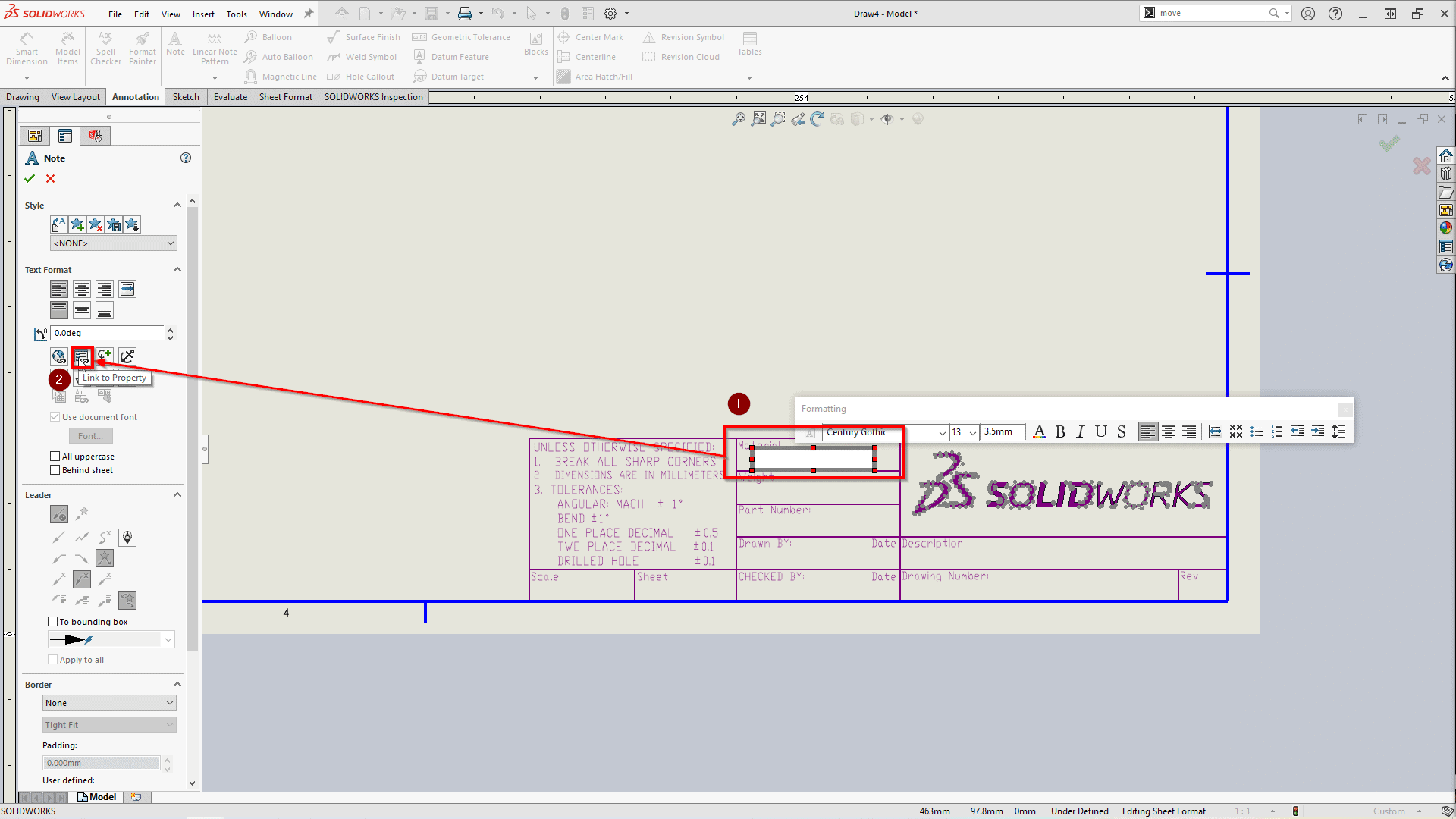 Tip: It is beneficial to place a part that has your standard custom properties on it to make setting up the properties in the title block more efficient.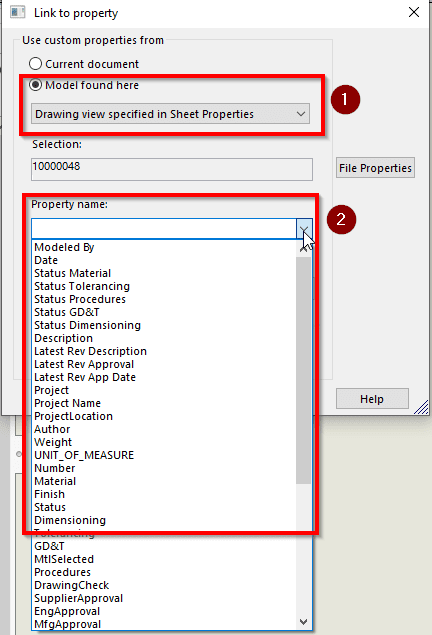 Saving Template
With all items setup in the title block where they need to be, we need to save both the Sheet format and the Solidworks template. If you want further insight into these two items, check out Matt Haywood's excellent blog detailing it.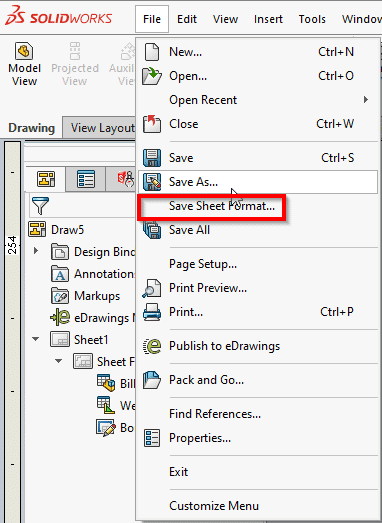 To be Continued…
While sheet formats are one aspect of a template, the drawing styles, tolerancing, and overall settings is another very important standardization. We'll discuss some of these items in Part Two.
In addition to the info above you can find a more intensive dive into Drawings, creating them, and the standardizations associated in our drawings class!
David Janicki
Application Engineer
Computer Aided Technology, Inc.